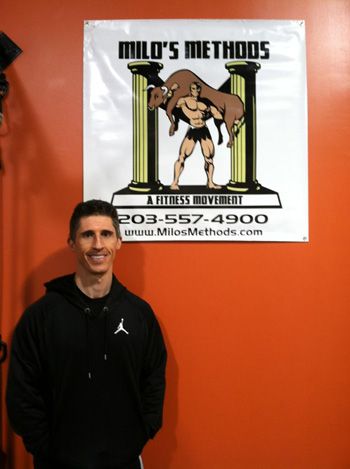 Having worked in major league baseball (and having the benefit of interleague play), I was able to not only get to almost every stadium in the country but also train myself and my players in some of the greatest workout facilities around.
As you can imagine, these major league weight rooms often spared no expense. In fact, when you're talking about multimillion dollar payrolls and just how important a player's health is to the team's chances of winning it all, do you really think that an extra foam roller or even a $10,000 Woodway Treadmill wouldn't make the budget?!?
That said, obviously the expectations can't be the same for the places that most of us train at…especially if what you're training for doesn't require you to put on a numbered jersey for work!
Or can they?
"Big League" Training…In My Back Yard
Well, I was more than pleasantly surprised when I was recently given access to a local gym in my neck of the woods here in Westport CT called Milo's Methods, and found what I believe is the closest thing to a "major league" caliber training facility without having attached seating for say…50,000 or so!
When I tell you there was nothing left unconsidered here, I mean it.
I don't care if you're training for your upcoming season or to be the next freaking American Ninja Warrior (yes, they have equipment that mimics some of the obstacles!), you'll find this place capable of meeting your needs.
Not a hardcore athlete? More the "weekend warrior" type that just wants to get healthier? No problem. You'll feel equally as comfortable here.
Be Progressive…If You Want to Progress!
You guys who follow ATHLEAN-X know how picky I am about making sure whatever training you're doing is above all safe and not only makes sense, but has a purpose, and is progressive…the crew at Milo's nailed this as well.
Even their story about the legend of Milo having to carry his cow on his shoulders back from shore every day (from the time he was a child to a full grown man) underscores their belief in progressive resistance. As the cow grew, so did Milo.
Funny how overload worked the same way so many years ago as it does now huh? It's the only way to ever truly ensure gains and personal improvement (and the reason why AX-1 prepares you to tackle AX-2 and why "Athlean Challenges" are as important as I stress that they are!)
My Recommendation To You…
Bottom line is…I don't often devote blogs to anything outside of the things that you often ask me like how to build Brock Lesnar like traps or the best supplements you can take for building muscle safely, however even my brief time here got me excited enough to make it a point to share.
If you ever find yourself passing through Fairfield County, CT (or are lucky enough to live around here and train at a place like this every day), you owe it to yourself to stop in and see what it's like to train in a facility that is truly at the "top of their game"!
Heck, if nothing else, see if you can "hang"…literally…from the Ninja-like Ascending Stairs or make it all the way across the horizontal peg board!
Don't worry. Even if you can't, you'll find that for less than a few rounds of overpriced ballpark beers you can get in a great workout and gain access to a team of "winning" trainers (Matt, Matt and Lisa) that will leave you feeling one step closer to your goals, every time you walk out the door.
For more information on Milo's Methods you can visit their website at www.milosmethods.com or call them at (203)557-4900 to set up a session.