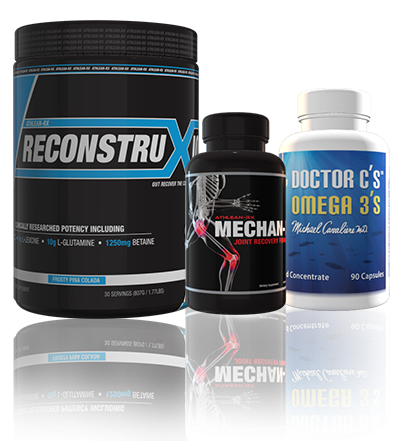 INCLUDING CLINICAL PROVEN DOSING OF:
10g L-Glutamine
6g L-Leucine
2g LCLT
3g 1080 EPA/720 DHA of Pharmaceutical Grade EFA'S
200mg L-Theanine
800mg Glucosamine Hydrochloride
640mg Chondroiton Sulfate
80mg Hyaluronic Acid
50mg Boswellia Serrata
550mg Cissus Quandrangularis
Athlean-RX
Recovery Stack
Enhanced Endurance
Assists Fat Loss
Improved Athletic Performance
Increased Lean Muscle
BUY ANY 2 SUPPLEMENTS | GET FREE SHIPPING + 5% OFF
One-Time Purchase
$131.69
PLUS S&H
AX Autoship
Save an Additional 5% on Autoshipped Items
?
$131.69
FREE SHIPPING

This order qualifies for FREE ground shipping* (Available in Continental US ONLY)

This item Qualifies for FREE UPS GROUND Shipping!
International orders receive discounted shipping
MECHAN-X
JOINT RECOVERY FORMULA
DOCTOR C'S OMEGA-3'S
OMEGA-3 FISH OIL
THIS BUNDLE INCLUDES:
RX3 RECOVERY
RX MECHAN-X
RX OMEGA 3's
OUT RECOVER THE COMPETITION
The Power
Recovery is more than just a buzzword. It is a recognized stage of the muscle building process. The fact is, if you aren't taking recovery seriously, you are never going to reach your full potential. Recovery is so important that several of the leading sports organizations in the world have created panels of specialists to make sure their million dollar athletes are recovering properly and adequately, and Athlean-Rx ReconstruXion has been a part of that conversation.
The Science
6g of Leucine, a whopping 10g of Glutamine, 1.25g of Betaine… These are just the kick off points for this powerhouse of a formula. As always, we put the science in everything we do, and each and every ingredient is thoroughly researched and backed by studies to prove its efficacy as a sports recovery supplement.
The Facts
You asked and we answered with our most potent formulas and open labels so you know exactly which ingredients and how much of each you're getting. Athlean-Rx contains no proprietary blends, and as always, no fillers, no substitutes and no harmful chemicals.
The Results
ReconstruXion is the go to recovery formula for some of the top teams in pro sports. It's been so effective with our athletes that we have several reports of it preventing delayed onset muscle soreness (DOMS) after particularly intense workouts. While these reports are anecdotal at this stage I can personally attest to RX3's effectiveness in helping me battle DOMS.
I use ReconstruXion daily as a recovery aid and to assist in blunting the effects of DOMS after training.
ATHLEAN RX-3 ReconstruXion
LCLT
CLINICALLY EFFECTIVE  DOSAGE: 1 - 2g
ATHLEAN ReconstruXion CONTAINS: 2g
CLINICAL STUDIES
Research suggestions that L-Carnitine L-Tartrate improves muscle recovery and repair times. This is probably due to a boost in nitric oxide (NO) production, which improves blood flow and oxygen consumption in the muscles. LCLT also increases androgen receptors in the muscle cells, which means more testosterone is recruited to build muscle.
Improves muscle recovery and repair between training sessions (probably due to a boost in Nitric Oxide and an increase in muscle oxygen consumption)
Increases androgen receptors in muscle cells, thereby recruiting more testosterone to build muscle
Improves insulin sensitivity
L-LEUCINE
CLINICALLY EFFECTIVE  DOSAGE: 2-10g
ATHLEAN ReconstruXion CONTAINS: 6g
CLINICAL STUDIES
Considered one of the most anabolic of all the individual amino acids, L-Leucine is considered to be the main activator of protein synthesis via its effects on the mTOR pathway. What makes it especially vital (and often in deficient supply) is that it is an essential amino acid, which means that the body doesn't produce it naturally. The only way for you to get this key amino acid in your system is through diet and or supplementation. Throw in its additional researched ability to prevent the breakdown of muscle tissue after intense training, and your ability to tip the balance of muscle growth in your favor just grew by leaps and bounds with ReconstruXion.
Reduces muscle breakdown caused by intense exercise or dieting
Stimulates protein synthesis, which increases the effectiveness of training and speeds recovery time between training sessions
May increase metabolic rate
L-GLUTAMINE
CLINICALLY EFFECTIVE  DOSAGE: .5-15g
ATHLEAN ReconstruXion CONTAINS: 10g
CLINICAL STUDIES
L-Glutamine is most commonly used for improving healing time following injuries or surgery. It can help speed recovery time between training sessions due to an increase in nitrogen levels in the muscle cells which assists in protein synthesis. L-Glutamine is also recognized for boosting the immune system, increasing energy levels and helping to regulate blood sugar levels.
Reduces healing time after injuries or surgery
Increases nitrogen levels in the muscle cells to assist in protein synthesis, which increases the effectiveness of training and speeds recovery time between training sessions
Boosts the immune system, which can be compromised by intense training
Increases energy levels and helps maintain steady blood sugar levels
BETAINE ANHYDROUS
CLINICALLY EFFECTIVE  DOSAGE: 1200mg - 1500mg
ATHLEAN ReconstruXion CONTAINS: 1250mg
CLINICAL STUDIES
One of the most important benefits of Betaine is its ability to improve muscle strength and power during training sessions. Some studies have shown that it can improve endurance, increase the number of reps that can be done with a given weight, and improve power and force with every rep. Evidence also indicates that Betaine improves protein synthesis following training sessions.
Improves muscle strength, power and endurance
Increases protein synthesis following training sessions
Increases growth hormone and insulin-like growth factor 1 production
May help promote fat loss
L-Theanine
CLINICALLY EFFECTIVE  DOSAGE: 100-250mg
ATHLEAN ReconstruXion CONTAINS: 200mg
CLINICAL STUDIES
L-Theanine is recognized for improving cognitive and mental processing, as well as focus, attention, memory, alertness and mood. It can also help improve sleep quality, reduce stress and help keep the body in a state of relaxation. It also helps improve immune system function, which can become compromised with heavy training.
Reduces the effects of stress
Increases serotonin and dopamine
Improves sleep quality
Improves focus, attention, memory, alertness and mood
Improves immune system function
The most effective dose for Theanine is from 100-250g per day
Twisted Lemon Lime
Pina Colada
Crisp Green Apple
Fruit Punch
Raspberry Lemonade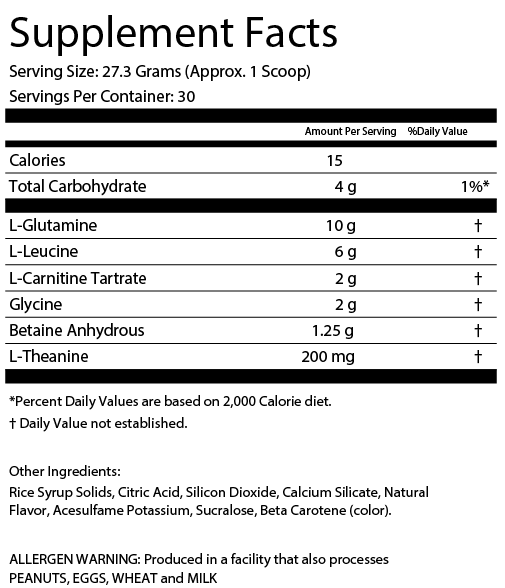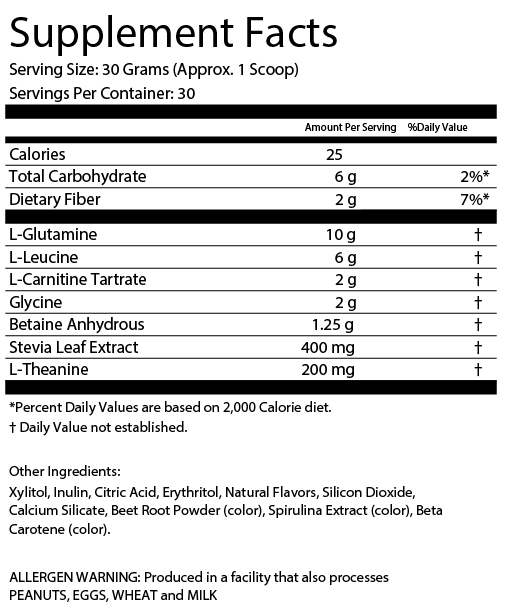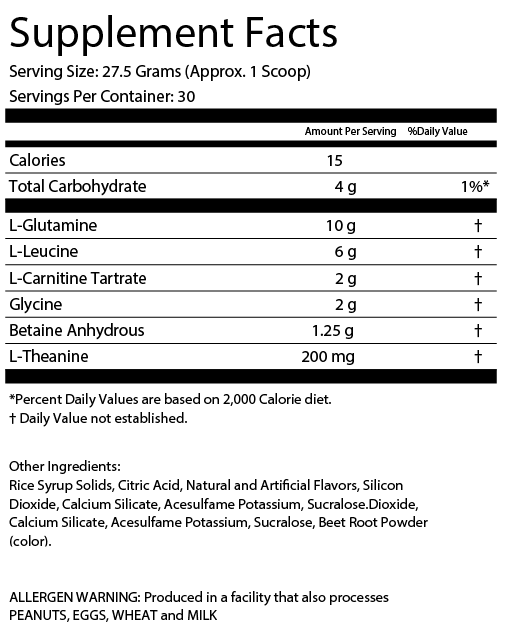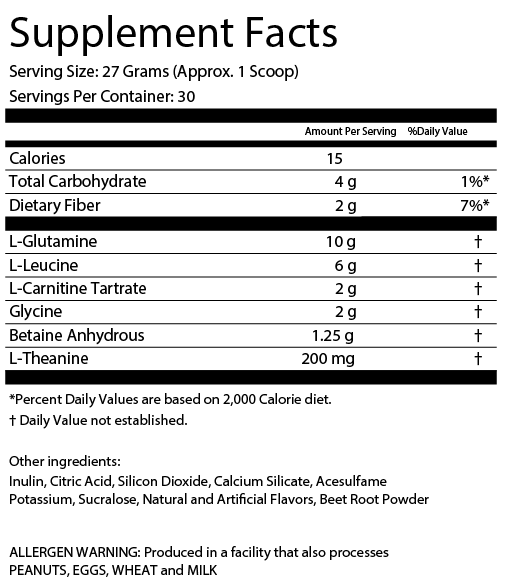 The Missing Link in Recovery
Recovery is the number one requirement for gains in natural drug free lifters. Without it, results are compromised. Muscle recovery only addresses one half of the equation. Joint recovery is the most overlooked element of intense training and mistakenly taken for granted. MECHAN-X redefines joint recovery and in doing so, will make you rethink the results you may have thought were achievable!
With the 5 best hand-selected joint recovery ingredients, MECHAN-X was created to normalize joint mechanics and restore pain free range of motion throughout your body.
MECHAN-X helps your body in two key ways:
If you're constantly shifting the load away from the muscles you're trying to build to make it easier to handle the joint discomfort you're feeling, you'll never get as big or strong as you'd like. Period. By relieving joint pain, MECHAN-X allows you to put the stress of exercise overload back on the muscles it was intended for! No more letting knee pain hold you back from getting bigger legs. No more allowing shoulder pain to keep you from developing the chest and upper body you deserve from your hard training.
By reducing joint inflammation, MECHAN-X allows you to stop compensating and shifting loads to other joints that are poorly equipped to handle them! Passing the job of the knees onto the low back is the fastest way to injure your lumbar spine! Asking your body to press overhead with poor or altered scapular mechanics is a recipe for chronic shoulder pain! With normalized joint mechanics now in place, you can lift heavier and harder, and recover faster than ever!
ATHLEAN RX MECHANX
Glucosamine Hydrochloride
CLINICALLY EFFECTIVE DOSAGE: 300-500mg
ATHLEAN MECHANX CONTAINS: 800mg
CLINICAL STUDIES
The primary source of nourishment for connective tissue and cartilage. Best dosed in a 5:4 ratio with Chondroitin for maximum absorption and efficacy, as is found in MECHAN-X.
Faster recovery from injuries
Pain relief / reduction in pain levels
Reduction in joint swelling
Improved physical performance
Chondroitin Sulfate
CLINICALLY EFFECTIVE DOSAGE: 4/5 ratio with Glucosamine
ATHLEAN MECHANX CONTAINS: 640mg
CLINICAL STUDIES
Used in concert with Glucosamine to restore healthy cartilage to bony surfaces comprising a joint. Best dosed in a 4:5 ratio with Glucosamine for maximum absorption and efficacy, as is found in MECHAN-X.
Faster recovery from injuries
Pain relief / reduction in pain levels
Reduction in joint swelling
Improved physical performance
Cissus Quandrangularis
CLINICALLY EFFECTIVE DOSAGE: 300-600mg
ATHLEAN MECHANX CONTAINS: 550mg
CLINICAL STUDIES
Strengthens bones by enhancing calcium uptake. Studies of use in athletes revealed a significant reduction in sidelining bone fractures (6-8 week DL minimum) and speedier recovery from existing breaks.
Anti-inflammatory agent
Improves joint pain
Increases IGF in Bone Cells
Shown to protect against bone loss
Hyaluronic Acid
CLINICALLY EFFECTIVE DOSAGE: 50-200mg
ATHLEAN MECHANX CONTAINS: 80mg
CLINICAL STUDIES
The missing element of a truly complete joint recovery formula, preserving joint fluid viscosity to ensure friction-free joint movement and prevent premature breakdown. When supplemented, has been shown to drastically reduce "warmup time" required to get game ready.
Supports healthy immune function
Protects joints from chronic inflammation
Boswellia Serrata
CLINICALLY EFFECTIVE DOSAGE: 50-100mg
ATHLEAN MECHANX CONTAINS: 50mg
CLINICAL STUDIES
The Earth's natural anti-inflammatory shown to safely and effectively combat joint inflammation at its source and prevent chronic pain from overuse.
Reduces cartilage degredation
Reduces pain
Improves Joint function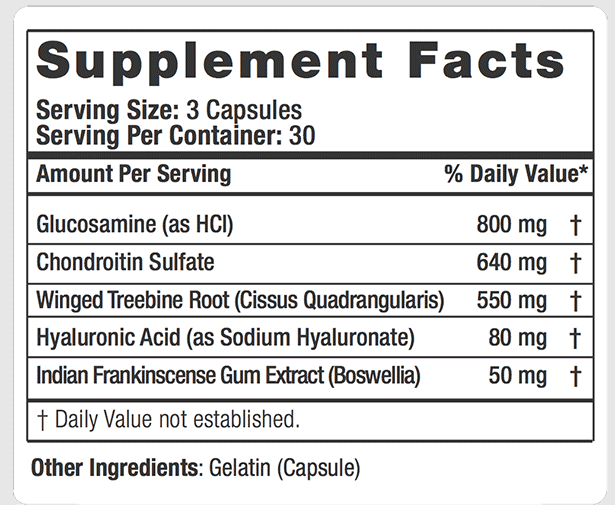 THE POWER
Labeled the "Gatekeeper To Your Metabolism", highly purified Omega-3's have been shown to control whether your body stores fat or burns it... builds new muscle or breaks down what you have. Stop letting joint pain and inflammation ruin your workouts!
Pharmaceutical grade Omega-3's get right to the source of the pain by lubricating achy joints and preventing inflammation before it starts so you can feel what it's like to train without pain again!
If you're not eating fish at least 4 times a week you're not getting enough of the Essential Omega-3 fatty acids you need and it could be costing you any chance of maximizing your lean muscle building and fat loss efforts.
Appearing in highest concentration in brain cells... Omega-3's are deeply rooted in the functions of memory, mental alertness and reaction time. Multitask and organize with ease with a level of laser focus you most likely haven't experienced in awhile.
Omega-3 fatty acids can protect your body against the accumulation of the protein believed to be linked to Alzheimer's disease, according to studies published in The Journal of Neuroscience. Just another example of why EFA's have been given the reputation as an ingestible Fountain of Youth.
As the ONLY supplement endorsed by the American Heart Association... Omega-3's have been PROVEN to increase "good" cholesterol and decrease LDL cholesterol, triglycerides, and heart disease risk! (Arm yourself with your daily combatant against the #1 killer in America)
THE SCIENCE
When you workout you cause a mechanical breakdown of muscle tissue and muscle fiber micro-damage/inflammation. While this is a desired and necessary stimulus from which muscle regeneration and growth can occur... left uncontrolled, your body finds it nearly impossible to recover prior to the next workout and you wind up quickly descending into a vicious cycle of inflammatory overtraining. Simple math states that when you break down muscle cells faster than you can repair them... YOU DON'T GET RESULTS!
Omega-3's prevent this from happening by blocking excess inflammation before it starts (through powerful chemicals called prostaglandins) and therefore keeping the muscle repair process between workouts to a minimum. Think of them as your body's natural "firefighters" that race to the scene to put out the "flames" of muscle and connective tissue breakdown just before they get out of control and make growth impossible. But that's not all. Exciting new research is showing that the combination of ultra high grade omega-3's with protein is proving to produce even greater muscle building gains than protein alone, so those already consuming the typical high protein "bodybuilders" diet will see even more immediate changes to their bodies and reward for their hard efforts in the gym with the addition of pharmaceutical grade EFA's!
As fat burners, their potential gets even more intriguing. By keeping virtually every cell in your body operating at peak efficiency, pharmaceutical grade omega-3's can help you to achieve what's known as Peak Metabolic Activity (PMA) and speed up even the slowest metabolism to become a virtual fat burning furnace! Add in their scientifically proven abilities to stabilize key weight management hormones like insulin and leptin (which control your appetite and how your body stores fat) and you've got the ultimate ally in your battle to achieve sub-10% body fat levels year round.
As the key building blocks to not only your muscle and fat cells but EVERY cell in your body, omega-3 fatty acids can impact your overall health and metabolism more significantly than any other supplement you can put in your body. Fail to include them in your supplement regimen (or even worse... turn to inferior sources to get them) and your body will pay the price as you suffer the effects of overtraining at a cellular level.
THE FACTS
You cannot synthesize essential fatty acids on your own... you absolutely need to find a reliable source to get them from if you're going to optimize your health. They're called ESSENTIAL for very good reason!
DR C's OMEGA'3
1080 EPA/720 DHA Concentration of Pharmaceutical Grade EFA's
CLINICALLY EFFECTIVE DOSAGE: 2-3g
OMEGA3 CONTAINS 3g per daily serving
CLINICAL STUDIES
Omega–3 fatty acids are considered essential fatty acids because humans cannot make them; therefore, they must be obtained through the diet or supplementation. Fish oils are an excellent source of omega-3 fatty acids that offer numerous health, as well as a variety of performance-enhancing effects, such as increasing muscle growth, improving strength and physical performance, reducing exercise-induced muscle damage and delayed-onset muscle soreness, combating negative immune effects of intensive training, strengthening bones, improving heart and lung functioning, and enhancing cognitive functioning.
Increases protein synthesis
Lowers cortisol and counters mental stress
Reduces vascular response to stress
Improves immune response to intense exercise
REFERENCES
Harris WS. Fish oil supplementation: evidence for health benefits. Cleve Clin J Med. 2004 Mar;71(3):208-10, 212, 215-8 passim.

Watkins BA, et al. Dietary supplementation with n-3 PUFA attenuated musculoskeletal atrophy associated with disuse. Federation of American Societies for Experimental Biology, Washington D.C., April, 2004. Abstract #610.4.

Walser B, Giordano RM, Stebbins CL. Dietary supplementation with DHA and EPA augments skeletal muscle blood flow during rhythmic contraction. Federation of American Societies for Experimental Biology, #688.8, San Diego, CA, April, 2005.

Hill AM, Buckley JD, Murphy KJ, Howe PR. Combining fish-oil supplements with regular aerobic exercise improves body composition and cardiovascular disease risk factors. Am J Clin Nutr. 2007 May;85(5):1267-74.

Tartibian B, Maleki BH, Abbasi A. The effects of ingestion of omega-3 fatty acids on perceived pain and external symptoms of delayed onset muscle soreness in untrained men. Clin J Sport Med. 2009 Mar;19(2):115-9.

Schuchardt JP, Schneider I, Meyer H, Neubronner J, von Schacky C, Hahn A. Incorporation of EPA and DHA into plasma phospholipids in response to different omega-3 fatty acid formulations - a comparative bioavailability study of fish oil vs. krill oil. Lipids Health Dis. 2011 Aug 22;10:145.