OUTWORK THE COMPETITION
The Power
X-Cite continues to carve out its place as one of the most effective pre-workout supplements on the market. Made from the most researched, most effective ingredients in sports nutrition, it's no wonder why X-Cite is the choice for serious athletes.
The Science
Like everything we do at Athlean-X, our supplement facts panels contain a collection of the world's best and brightest supplement ingredients. Each one is backed by research and science in sports medicine to ensure you're getting the most effective dosages and the proper combinations to get real results.
The Facts
You asked and we answered with our most potent formulas and open labels so you know exactly which ingredients and how much of each you're getting. Athlean-Rx contains no proprietary blends, and as always, no fillers, no substitutes and no harmful chemicals.
The Results
I've been working on this formula for well over a year, and I've promised to always deliver the same things that I recommend to my pro athletes and that I take myself. I've gotten a lot of comments on our YouTube channel about the gains I've made over the last few months. I can honestly say these formulas have had a major role in those results and they're finally here so I can share them with you!
I take my training seriously, that's why I take X-Cite before every workout.
ATHLEAN RX-1 X-CITE
Beta Alanine
CLINICALLY EFFECTIVE DOSAGE: 800-2000mg
ATHLEAN XCITE CONTAINS: 3200mg
CLINICAL STUDIES
Beta Alanine Increases intramuscular concentrations of carnosine thereby increasing strength, power, endurance and recovery, thereby increasing athletic performance and muscle mass.
Increases fat loss and muscle growth
Reduces post training session fatigue
L-Citrulline Malate
CLINICALLY EFFECTIVE DOSAGE: 3-10g
ATHLEAN XCITE CONTAINS: 6g
CLINICAL STUDIES
One of the best benefits of L-Citrulline DL-Malate is enhanced ATP production. This is needed by every living cell in the body and equates to higher energy levels. This is even more important for muscles which are engaged in heavy training or otherwise working. Increased ATP production also leads to the ability to train harder and recover faster.
Improves muscle endurance and aerobic performance
Boosts energy
Increases ATP production allowing for harder training and faster recovery
Supports lean muscle mass gains
Creatine HCL
CLINICALLY EFFECTIVE DOSAGE: 2-5g
ATHLEAN XCITE CONTAINS: 2g (4g when taken with a stack)
CLINICAL STUDIES
Creatine hydrochloride's main benefit is helping to build muscle faster and easier. This is thought to be due to an increase in the production and supply of ATP to working muscle cells. This also provides more energy to the muscles, helping to avoid lactic acid build-up and allowing for longer and more intense workouts.
Increases muscle strength and power
Allows for faster and easier muscle growth
Is better absorbed than Creatine Monohydrate and does not require a loading phase
Reduces muscle damage and post workout soreness
L-TYROSINE
CLINICALLY EFFECTIVE DOSAGE: 500mg - 2g
ATHLEAN XCITE CONTAINS: 1.5g
CLINICAL STUDIES
One huge benefit of L-Tyrosine supplementation is that it can be useful for weight loss. It does this by improving some of the neurobiological disturbances typically caused by dietary restrictions. Medical research also indicates that L-Tyrosine supplementation can sharpen the memory, if taken on a regular basis. Tyrosine is able to protect the nerves from toxins and it is even able to cross the blood-brain barrier, which is one of the reasons why it is effective at raising the levels of key neurotransmitters. Another interesting l-tyrosine benefit is it helps the body adjust to situations of cold and fatigue.
Supports weight loss
Improves memory
Regulates hormones
BETAINE ANHYDROUS
CLINICALLY EFFECTIVE DOSAGE: 1200mg - 1500mg
ATHLEAN XCITE CONTAINS: 1250mg
CLINICAL STUDIES
One of the most important benefits of Betaine is its ability to improve muscle strength and power during training sessions. Some studies have shown that it can improve endurance, increase the number of reps that can be done with a given weight, and improve power and force with every rep. Evidence also indicates that Betaine improves protein synthesis following training sessions.
Improves muscle strength, power and endurance
Increases protein synthesis following training sessions
Increases growth hormone and insulin-like growth factor 1 production
May help promote fat loss
TAURINE
CLINICALLY EFFECTIVE DOSAGE: .5g - 2g
ATHLEAN XCITE CONTAINS: 1g
CLINICAL STUDIES
Brand new studies suggest that Taurine is the most abundant amino acid in the body (above glutamine), particularly in the power generating type II fibers. Through supplementation it is possible to maintain peak stores of this important nutrient to enable more consistent force production without energy dropoff. Long term, taurine has been shown to be a cell volumizer that boosts internal muscle hydration…resulting in higher rates of muscle growth and function.
Supports greater muscle growth and function
Helps support cardiovascular function
Helps temporarily restore mental alertness
Assists in periods of increased mental and physical exertion
CAFFEINE ANHYDROUS
CLINICALLY EFFECTIVE DOSAGE: 3 - 6mg per kg of bodyweight
ATHLEAN XCITE CONTAINS: 200mg
CLINICAL STUDIES
Caffeine is a widely used stimulant which is well studied and known to be safe in dosages of up to 500-600 mg. X-Cite provides the perfect amount of natural anhydrous caffeine, to produce unparalleled mental alertness and energy without the jitters or dangerous side effects of other popular pre-workout stimulants.
Increases muscle endurance and strength
Decreases muscle fatigue during workouts
Boosts thermogenesis
Improves concentration and short term memory
Jolly Watermelon Pucker
Fresh Squeezed Orange
Sunny Pink Lemonade
Cherry Lemon Ice
Sour Gummy Candy
Icy Berry Blast
Sour Green Apple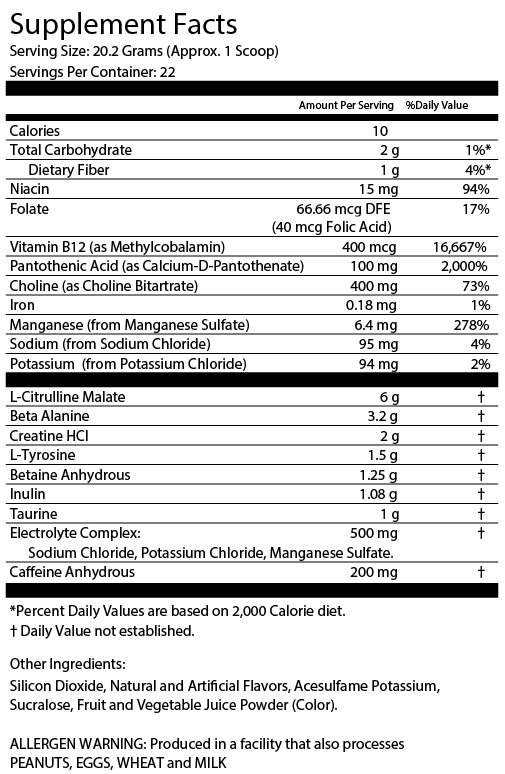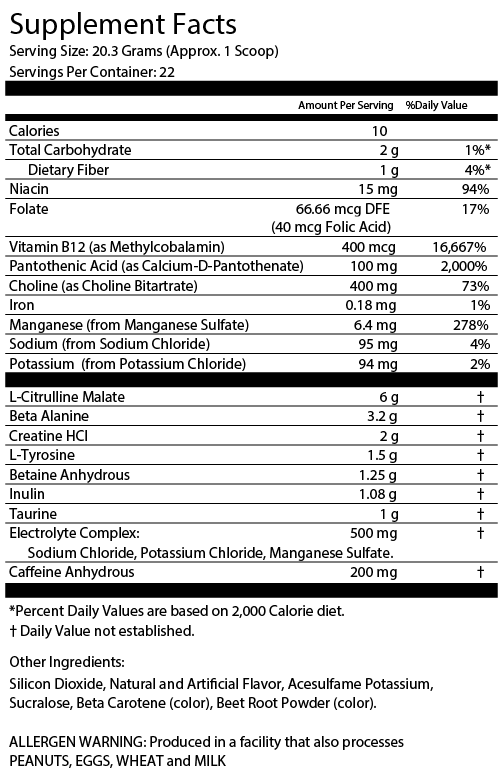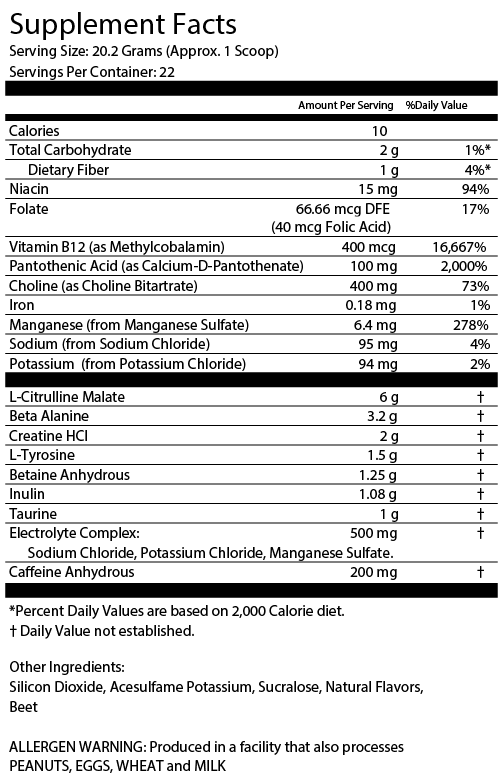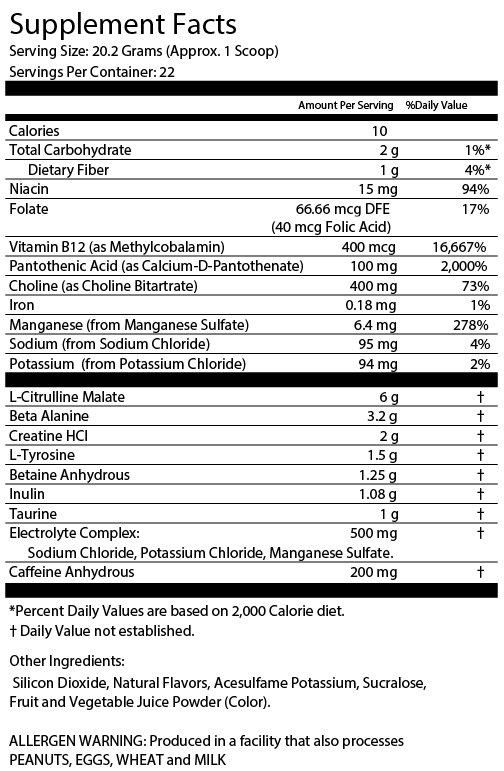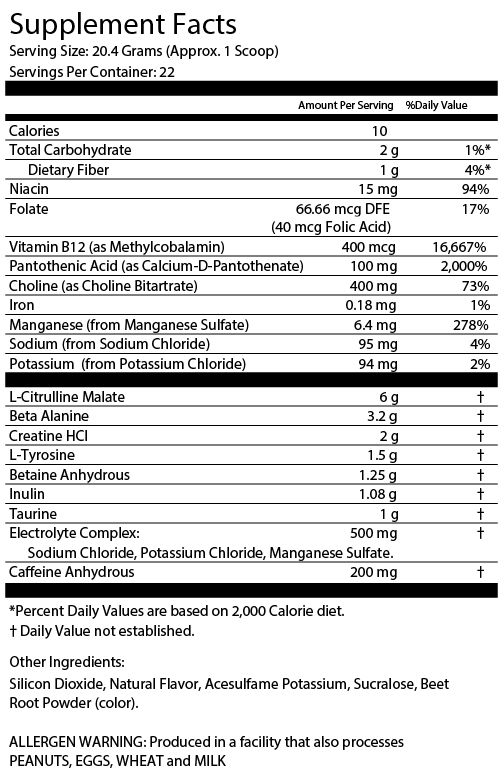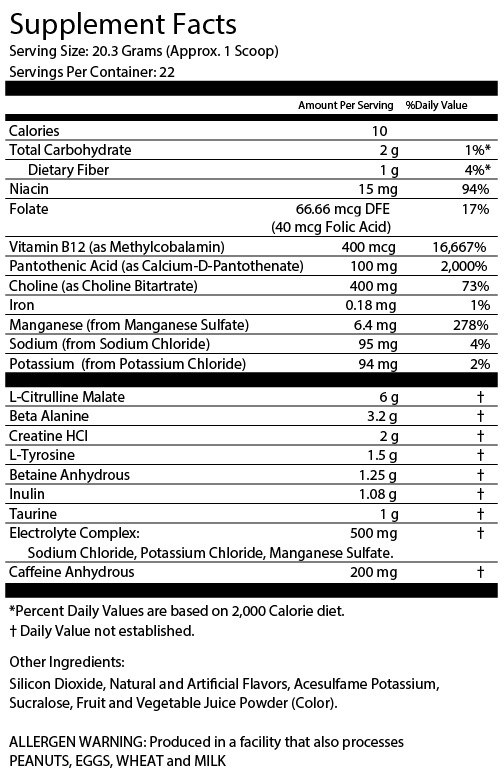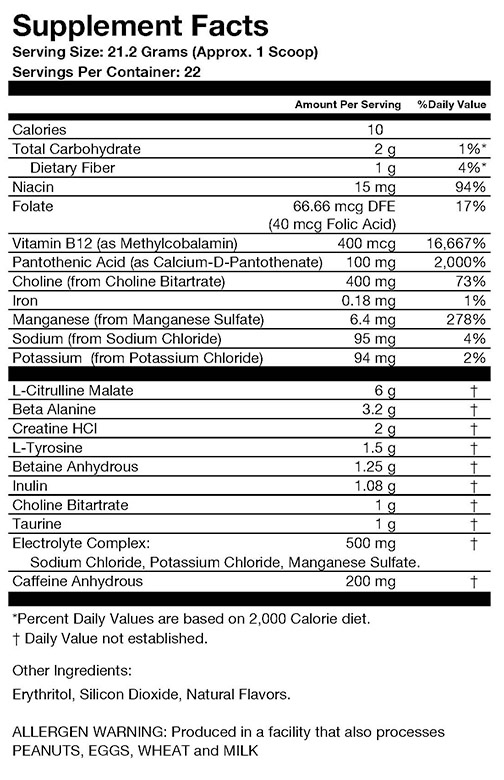 Made with patented
Creatine Hydrochloride

Con-Cret® is a registered trademark
of Vireo Systems, Inc.
Patents: www.vireosystems.com/patents
Made with patented
carnoSyn
Natural Alternatives International (NAI) is the owner of patents as listed on www.carnosyn.com and registered trademark CarnoSyn®