Estimated Read Time: 2 minutes
It's just 10 minutes! How hard can it really be?? That's what WWE Superstars Sheamus and the Tag Team Champion Uso's thought too. Famous last words!
I have a feeling that you'll be looking a lot like these guys when you're done. Well feeling the same way about me as they do here! But trust me, it will be worth it!
Always great to have my guys stop by the X-Box for a session. And for those who were worried about Jesse not being around anymore, I have good news and bad news. Good news – He's back! Bad news – You have a new reason to worry about him now! You'll see what I mean.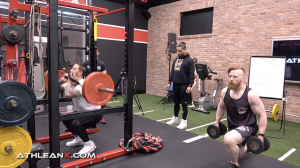 STAY STRONG…
JEFF
P.S.  This is a sample of a metabolic workout that is designed to train you athletically while burning fat and using one of the three mechanisms of muscle growth!  Want to see how quickly a whole program like this can transform your body?  Click here…
Transform Your Body in 90 Days – Max Shred
P.P.S.  If you like this video and want to see more like it, do me a favor and let me know by leaving a comment and sharing it with someone else.  It's literally the best way for you to say "thanks" and let me know you like it.  It's much appreciated…