Estimated Read Time: 2 minutes
I bet you think that in order to be ripped year round, you HAVE to do what I do:
1.  Never Drink Alcohol
2.  Eat Sweets Just ONCE a Year
WRONG!!!
In fact, it's much easier and less restrictive than that. This is going to be the most honest NO B.S. video you'll ever see on this topic. Why? Because the truth works.  Period.
I'm sure you know someone that needs to hear what is said in this video. If so… Please do me a favor and share it with them. It's the greatest way to let me know that you like the videos that I put up for you.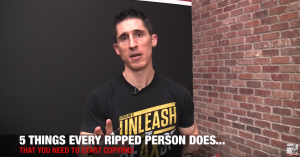 STAY STRONG…
JEFF
P.S.  The key to getting ripped without having to sacrifice muscle growth is the right approach to nutrition and training.  I've got you covered there.  I'm literally giving you my exact step by step approach here…
My step by step plan for eating and training here
P.P.S.  There is a whole lotta truth being dished up in this video, and in a world of YouTube fitness filled  with lies and B.S. it's exactly what is needed.
5 Things EVERY Ripped Guy Does (COPY THESE!)