Estimated Read Time: 1 minute
If you've been into fitness for any length of time, you've surely seen your share of fads.
The Shake Weight (DUMB!)
Electrical Ab Stimulation (SCAM!)
Bowflex (WASTE OF SPACE!)
But, these 6 will NEVER go out of style and they require ZERO equipment!
From the strongman days to now… These 6 strategies and movements will help you to make gains without fail. And you can start them in your very next workout!
For those of you who were worried… JESSE IS BACK! And he's sporting a whole new look. I have to admit, this one is a classic! Hahaha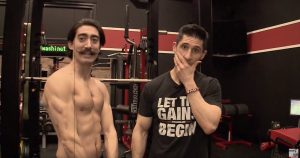 STAY STRONG…
JEFF
P.S.   This is actually Jesse's facial hair in this video! Nothing fake about this (although I wish I could say it was).  Wait until you see this….
The 6 Greatest "Muscle Growers" of All Time (THEN & NOW)
P.P.S.  If you're looking for a supplement brand that has also stood the test of time and puts science into the selection of ingredients and dosing used, then look no further than RX…
Research Backed Supplements That Deliver Serious Results Here