Estimated Read Time: 1 minute
Did you ever see what someone with 1.6% body fat looks like? Well, I'm going to show you, but you may be surprised because it's not who you think it's going to be!
This issue has gotten a ton of attention in the sports media since this past weekend. Why? Because NFL Prospect D.K. Metcalf wowed the Combine with his amazing physical and athletic stats. His body fat was just one of them!
If you've ever been curious about your own level of body fat, then you're DEFINITELY going to want to watch this video. It's going to clear up a LOT of confusion!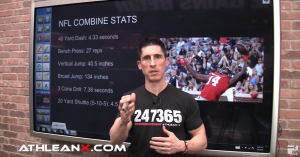 STAY STRONG…
JEFF
P.S.   The thing about body fat is that it is 99% controlled by what you eat?  Want a simple to follow meal plan that will keep you ripped year round without having to cut carbs?  Eat like an athlete here…
Step by Step Meal Plan and Workouts Here (Be Ripped Year Round!)
P.P.S.  If you find this video helpful, please do me a favor and share it with someone else.  It's the best way you can let me know that you like the content I'm bringing to the channel.  It's greatly appreciated!