Estimated Read Time: 1 minute
There's no debating that the squat is critical to leg development and function.
BUT WHAT IF…
1.  You're just not that strong at it?
OR
2.  It causes pain in your knees when you do it?
In either case, I can help you fix that immediately!
Don't worry, this isn't going to require more than about 2 minutes to do. You can literally start doing it the next time you squat. AND you'll feel it right away! Promise.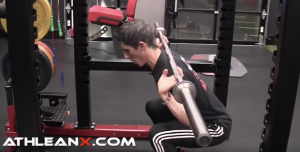 STAY STRONG…
JEFF
P.S.  The key to any workout tip is that it has to be something you can do easily and feel instantly.  This one will do just that!  Can't wait for you to try it out for yourself…
Do This EVERY Time You Squat (INSTANT DIFFERENCE!)
P.P.S.  Remember it's not just what you do but how you do it the makes all the difference in your training.  This is just one more example of that.  If you're ready to unlock potential gains that you never knew you had by letting me coach you through every workout, I can't wait to show you the real you!
Unlock all new gains by training with science here (pick your program)