Estimated Read Time: 2 minutes
So you want to get bigger traps huh? Well, I've got you covered, and I'm going to be able to help you do this with very little extra work!
Doing shrugs alone WON'T get you the most complete traps you want. So don't get frustrated; because this approach will build your best traps ever!
I think you're going to find this quick video to be really really helpful. In fact, it will probably change the way you think about "trap" training once and for all.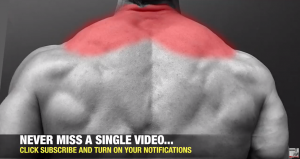 STAY STRONG…
JEFF
P.S.  One of the biggest mistakes you can make is having the image shown here in your mind when you think about traps exercises.  I'm going to make sure you get this right every time from here on, in this video…
How to Get Bigger Traps (DO THIS!)
P.P.S.  If you ever wondered what kind of results you could see if you had access to a pro athlete trainer for 90 days, I'm going to show you what's possible.  Join me on TEAM ATHLEAN below and let's work together.  I'll take you step by step through every single workout.  Click here to get started…