Estimated Read Time: 10 minutes
THE PROBLEM WITH TYPICAL TRAP WORKOUTS
Most people think of shrugs as the go-to exercise when it comes to training the traps.
But you have to realize that doing shrugs alone WON'T get you the most complete trapezius muscles.  This single exercise is missing some very important elements of trap training.
Another common problem is that many people end up overtraining their traps and causing muscle imbalance and posture problems. This is a mistake that you definitely want to avoid!
I'm going to show you why shrugs aren't the best exercise for the traps, help you understand how to keep from overtraining them, and give you a fast and simple way to incorporate complete trap training into your workouts.
Before we get started let me ask you a question.  When you think of the traps is this what comes to mind?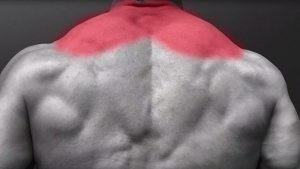 Most people do, and that's part of our problem. This is not the traps, but just the upper traps. If this is how you are thinking of the traps, you're forgetting to train two thirds of the muscle you're trying to grow!
The trapezius is a kite-shaped muscle which is divided into three zones (upper, middle and lower) due to the orientation of the muscle fibers along the belly of the muscle in each of these zones. Once you can see the complete picture of the traps, you realize that a straight up and down shrug is not enough to hit the entire muscle optimally.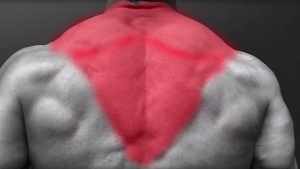 In order to have a fully developed back, more importantly, a fully functional back, you need to make sure you're not just training the upper trap, but the middle trap and lower trap as well.  When you train all 3 zones of the traps, your shoulders can work more efficiently and effectively.
As I always say, you want to make sure to 'follow the fibers' to train a muscle optimally, so you need to have exercises and strategies in place for doing this in your traps training.
Mistaking just one small part of the traps for the whole muscle is just one common mistake many people make in their trap training.  Next I'm going to discuss why overtraining is a real danger for your upper traps, how to avoid it, and how to be sure you're hitting all 3 trapezius zones. Before I do that, let's take a quick look at the location of the upper, middle and lower traps.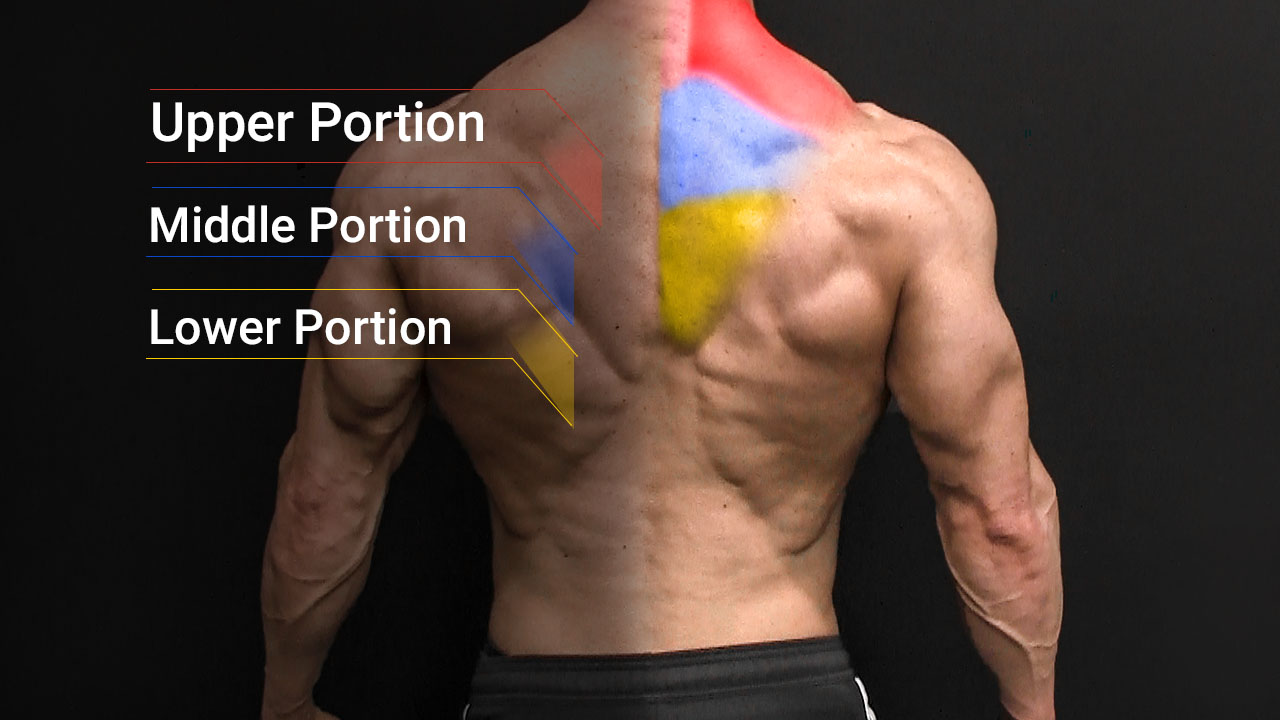 WHY THE UPPER TRAPS ARE AT RISK FOR OVERTRAINING
When it comes to training the trapezius muscle, the upper traps are what get most of the attention because it's what stands up tall making us look like we're larger and have a bigger neck.
However, I don't really program a lot of direct upper trap work into our programs. There's a good reason for this!
We can actually target the upper traps pretty efficiently with some of our compound movements that form the foundation of our training.
Performing the heavy compound lifts like the deadlift, row and carry are an incredible way to build bigger thicker upper traps without having to add in specialty exercises on top.
Below are a few examples to illustrate how these exercises definitely incorporate the traps:
A heavy deadlift is certainly going to overload the upper traps especially if you go a little wider on your grip.
A row is another compound exercise that can definitely overload the upper traps.
The farmer's carry is an endurance based move that is a very effective way to load the upper traps.
Since many of our foundational movements incorporate the upper traps, you don't necessarily need to have a lot of upper trap work in your training program.  As a matter of fact, if you do train upper traps separately you have to be careful about overtraining them if you're also performing compound movements.
The overdevelopment of the upper portion of the traps at the expense of the middle and lower will create muscle imbalances that feed into shoulder dysfunction and faulty posture over time.
Overtraining the traps can lead to some serious problems including muscle imbalance, postural issues, a dominant forward shoulder, shoulder weakness and upper cross syndrome.
We don't want to go down that path, so we need to make sure that we're training the upper traps cautiously as well as incorporating movements for the middle and lower traps.
HOW TO HIT THE MIDDLE TRAPS
We've established that performing the big compound moves is sufficient for overloading the upper traps. 
However even with these foundational movements you still may be lacking development in the other two thirds of the muscle.  The Wraparound Row is a great way to hit the middle traps.
It can be done with bands or cables, and to perform it you grab the left handle with the right hand, and the right handle with the left hand. This should be done with the elbows bent and tight to your body to minimize the action of the rear delt and make the scapular retraction come primarily from the middle trap fibers.
You can experiment with different cadences and sequences to see what feels most effective to you.  Some options are doing one arm at a time, holding one in contraction while I bring the other one around or both arms at the same time.
Some of you might wonder about a movement in which bring our arms out into a T at our sides. That would be a middle trap exercise but it involves a lot of rear deltoid as well, which we're not trying to target.
Instead, we want to keep the movement short and wrapped in tight to our body so we get more of that scapular retraction driven by the middle trap.
Whether you're going to be doing classic shrugs for the upper traps or are hitting the traps when doing your compound movements, incorporate an equal number of sets of this exercise to make sure you're hitting the middle traps.
HOW TO HIT THE LOWER TRAPS
The lower traps are incredibly important for the proper motion of the shoulder as you raise it up over your head.
If you don't focus on specifically trying to target the lower traps, you are likely to have weak or undeveloped muscles in this area. The Prone Dumbbell Press is a great exercise option for targeting the lower trapezius.
The key here is not to focus on the amount of weight that you're lifting, but instead focus on the quality of each contraction.  These lower trap fibers are usually very underdeveloped and need your maximum mind muscle connection in order to flourish.
You don't need to use a lot of weight to do this exercise. As a matter of fact, some people will find that just doing the motion alone is all they need to overload this area because it's a chronically weak portion of the traps.
Now, I'm going to show you a really easy way to incorporate this movement into your workouts. If you've been watching my YouTube channel for any length of time, you already know how much I value the face pull, and you should be doing face pulls after every, single workout!
If you're already doing your face pulls there's a slight modification you can make to get this exercise to hit the middle trap and lower trap even more effectively.  The Face Pull Press is a fantastic way to train your traps without having to add in additional sets of separate exercises.
Perform the face pull as you normally would and then add the additional overhead press to engage the lower traps.  The act of pulling back on the cable or band alone is enough to fire up the middle and upper traps into the exercise.
Pull back using the same proper mechanics as you would for a face pull.  Lead with the hands and not with the elbows to avoid internal rotation of the shoulder. You want to create external rotation and get the shoulder working together with the rotator cuff and the mid-scapular muscles as they prefer to do.
From there, we raise our arms up over our head into the press portion of this movement.  The force is pulling our arms out in front of your body so you have to work hard to keep the scapula retracted. You are combining that retraction with elevation and going through the entire range of motion.
Hopefully now you have a better understanding and appreciation of the traps.  From now on you'll be drawing that whole picture of the kite in your mind, and working the upper middle and lower traps in your training!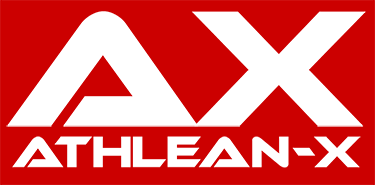 THE HIGHLIGHT REEL:
HOW TO GET BIGGER TRAPS
Most people only do shrugs when they train their traps. This is because they think the upper traps are the entire trapezius muscle, but actually they're neglecting an entire two-thirds of this muscle!
I don't typically include upper trap exercises in my training programs because the upper traps are engaged and incorporated into our foundational compound movements like rows, deadlifts and farmer's carry. In fact, doing additional upper trap specific movements could put you at risk for overtraining the upper traps, which can cause muscle imbalances and postural problems.
Whether you perform those compound movements or do shrugs for your traps, you are still neglecting the middle and lower portion of this muscle.
You can target the middle trap with the Wraparound Press and the lower trap with the Prone Dumbbell Press.
If you're already doing Face Pulls after every workout (as you should be) you can modify them into a Face Pull Press to hit upper, middle and lower traps with just one exercise!
I say it all the time… "All muscles matter!"  If you're looking for a complete step by step program that doesn't overlook any muscle and that applies science to every exercise selection, check out our complete selection of programs at ATHLEANX.com.