Estimated Read Time: 1 minute
You probably know already how important it is that you LIFT weights. BUT… Did you know how important it was to focus on HOW you lift them? Don't worry.  I'll tell you exactly what's best!
Just think of all the time you may have spent wasted in the gym doing this the wrong way. I'm going to make sure that never happens again in this video!
It doesn't matter if you've been lifting for one week… OR If you're a 30+ year veteran of the gym. This one is going to be very helpful! I'm looking forward to you seeing this one.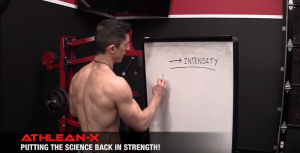 STAY STRONG…
JEFF
P.S.  Yep, Jesse making a cameo in this one.  Let's just say it's the "ROBOT" version of Jesse!  He makes a great point though and worth listening to.
The Best Way to Lift Weights (NO MORE WASTED TIME!)
P.P.S.  It's not just what exercises you do, it's how you do them. I'll walk you through not just exactly what to do but how to do them in every program I have.  Just choose your goal and I'll get you the absolute best workout and meal plan for you here…
Click here to let me recommend the best workout and meal pan for you