Estimated Read Time: 1 minute
Ok, I know what you're thinking. You thought I actually LIKED the pushup as an exercises.
I DO!
But, there's one thing that 90% of those doing them wind up messing up and it's a big negative game changer. Time to fix that.
Guess what? I'm so guilty of making this same mistake; I have to force myself to break a bad habit when I do them, but when I do, the results are so much better!
This is going to be one of those videos that "punches" you right between the eyes, but it's a good thing, because it will force  you to get honest about the way you're doing the exercises you're doing. AND start getting more out of them!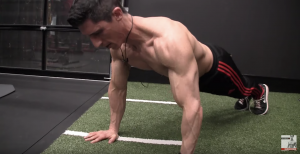 STAY STRONG…
JEFF
P.S.  This video goes to show you that even the most basic of exercises need to be respected on each and every rep of them you do!  Share this with a friend you think is making this same error…
Pushups are KILLING Your Gains (I'M SERIOUS!)
P.P.S.   The most important thing about a workout is not necessarily what exercises you're doing, but HOW you're doing them.  Get the most out of every move you do in your workouts with the step by step programs here…
Pick the program that matches your goals here (and let's crush it!)