Estimated Read Time: 1 minute
Have you ever wished you were either a little or a LOT…
Stronger
Leaner
Healthier
If so, you're in good company. And even better: you're in luck with this video. WWE Superstar Sheamus isn't all that different than you. What?!?!  "He's a freaking monster" you're thinking. He is but…
He had the same struggles as everyone else (until now)
I'm giving you a "behind the scenes" look at how one of my athletes made his transformation. And more importantly, how you can apply the same exact things to yours!
I think you're going to like this a lot.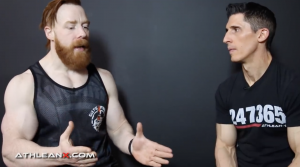 STAY STRONG…
JEFF
P.S.  The greatest part about this video is likely going to be how your perceptions will be changed.  People assume everything comes easy to athletes.  Not a chance.  There's a lot to learn from them (and to like about them as you'll see!)
How to Get Stronger, Leaner and Healthier (COPY THIS GUY!)
P.P.S.  If you're looking for a step by step workout and meal plan to get you more muscular, ripped and feeling better than at any other point in your life…I've got you covered.  Let's get to work.
Click to be more muscular, stronger and healthier in the next 90 days…