Estimated Read Time: 1 minute
There are two ways to build bigger biceps:
1. The Slow Way
AND…
2.  The Fast Way
I figured you'd want to know the fast way!
I tried everything as a kid to try and get my arms to grow. I wanted to fill my baggy looking shirt sleeves! This worked faster than anything else and still does even today!
The cool thing about what I'm going to show you is that, even if you've done lots of curls in your life already, this will still work. It's all in the way you do what you do! Watch and I'll show you how.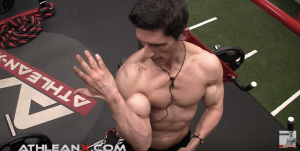 STAY STRONG…
JEFF
P.S.   If you want a step by step program with daily meal plans included as well, I've got you covered. Just follow along the easy instructions each day and I promise you, you'll love how you look, feel and perform in just 90 days from now!
Click here to find the step by step plan suited to your specific goals
P.P.S.  If you know of someone that could benefit from the info in this video (other than you of course!) then please do me a favor and share it with them.  It's always so greatly appreciated by me.
The Fastest Way to Build Big Biceps (WORKS EVERY TIME!)