what is athlean-x
ATHLEAN-X™ is the only workout program on the market specifically designed to get you looking and moving like a pro athlete…without needing a pro contract to afford this level of attention or generate these kind of results! Created by one of the most sought after celebrity fitness trainers and physical therapists in professional sports; Jeff Cavaliere, ATHLEAN-X™ is comprised of the exact principles, exercises and training techniques forged in championship weight rooms and proven on the fields, courts and octagons of today's professional sports.
The ATHLEAN ADVANTAGE
TRADE IN WORKOUT LENGTH FOR INTENSITY

No workout longer than 20– 40 minutes!

UNLOCK NEW GAINS WITH "MAXIMUM MUSCLE INTERAXION"

Realize all new muscle growth potential by finally letting them work together the way they're meant to!

CORE IN EVERY EXERCISE

The real secret to training like a pro…and faster six pack abs!

BUILT-IN ACCOUNTABILITY AND MOTIVATION

See how you stack up to the pros with our "ATHLEAN Challenge"™ workout scoring system
Bottom Line: The ATHLEAN-X™ training system provides you with great results in less time with less workouts per week than the leading competitor, by putting the latest in sports science back in strength…and your muscles into anabolic overdrive!
A Program You Can Trust!
Pro athletes rely on their body for their performance (and ultimately their paycheck!). Imagine what having access to the same exact program used by these elite, million dollar athletes could do to ensure that you are following a plan able to deliver the same results… fast. Would you trust your most valuable asset to just anyone? Neither would the owners of these major league franchises, and they've put they're trust in ATHLEAN-X™.
HERE ARE JUST A FEW OF THE

60 UNIQUE WORKOUTS

AND CHALLENGES FROM ATHLEAN-X!
…Plus 48 More "GAME CHANGING" Workouts!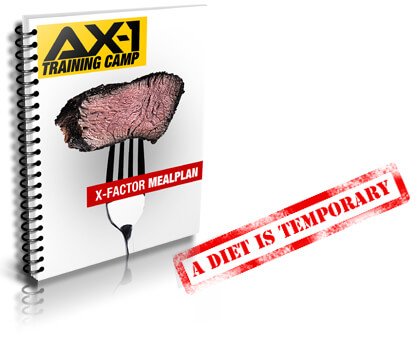 Never count calories or measure ever again
Recipe-free plans any guy can easily follow
Flexible options to fit any eating style
Your 90 day nutritional blueprint to a 6 pack
Burn fat while building muscle with the power of "Nutrient Fusion"
BURN FAT AND BUILD MUSCLE
Eat More…Burn More
The best efforts in the gym are only going to get you so far. To get the rest of the way you need a solid nutrition plan. For any eating plan to work it has to do two things; Deliver a lifelong solution and deliver fast results that keep you motivated to stick to it! The ATHLEAN-X X-Factor Meal Plan does both. No elaborate food preparation or complicated recipes. We deliver you quick and easy meals that fill you up while ripping up your midsection and fueling your intense lifestyle. The best part is, it's a meal plan you can live with because it revolves around the way men like to eat; often and alot!
Calorie Counting…Not A Chance
We've taken the guesswork out of nutrition and provided you with the definitive guide to shredding fat and building ripped, lean, athletic muscle. We will never ask you to weigh, or measure a morsel, let alone count calories. With a promise like that you'd probably expect to be left eating nothing but salad and tofu.
Fact is, the ATHLEAN X-Factor Meal Plans are designed for men…by men. Men who LOVE to eat steak, potatoes, rice, pasta, bread…you know…REAL FOOD.
In fact the X-Factor Meal Plan is so effective that it's been suggested that it be sold as a separate product. Knowing how important nutrition is to making gains in the gym we give you the X-Factor Meal Plan as part of the 90 Day ATHLEAN-X Training System.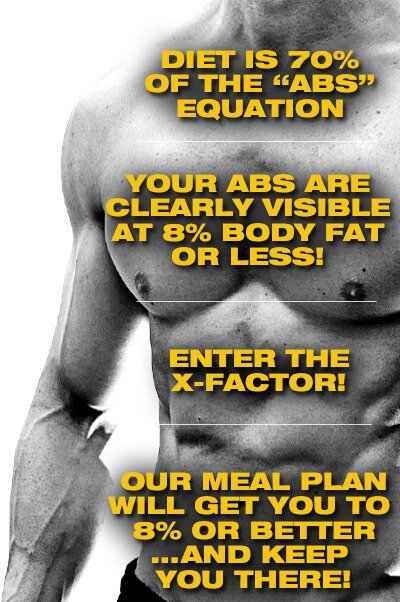 Frequently Asked Questions