Athlean-X Live 2022
July 28th-31st Stamford, CT
AX Live is more than a conference. It's an inspirational, action packed global gathering of like minded individuals looking to raise their knowledge and training with the latest in groundbreaking, science based, athletic training. And it wouldn't be complete without you! Featuring all new topics, guest speakers and an all new A-X Games with higher cash prizes for overall winners as well as all new individualized categories and prizes.
What are you waiting for? Learn, Train, Compete, Athlean-X Live!!

Overview
About Athlean-X Live (July 28th – 31st 2022)
A-X Live offers BOTH the education PLUS the hands on, take-home experience you need to take your training to the next level. A-X Live is where members of Team Athlean from all ranges of experience come to learn from one of the brightest minds in the fitness industry.
Discover new ideas, learn new skills, and make lifelong connections with other members of the team. Get face-to-face time with Coach Cavaliere and the other members of Athlean-X who share your passion for cutting edge, science based training.
Put your skills to test at the third annual A-X Games. All attendees are eligible to compete for cash and prizes in various categories for men and women.
With a bolder-than-ever Keynote, poignant session topics, and the Athlean-X Games, A-X Live is the must attend event of the year for anyone serious about their training. To get started, take a look at the schedule and the tickets available to see which package best suits your needs.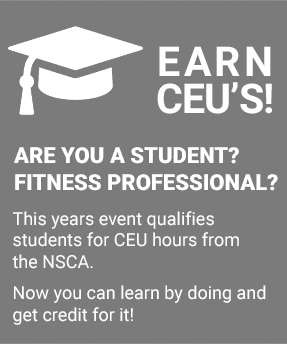 TICKETS
ALL-STAR Package
July 29-31 2022
Friday events
One ticket to Friday lectures
One Ticket to Athlean-X Games Pairing Qualifier
One Ticket to Friday Night Coaches Reception
SATURDAY EVENTS
One Ticket to Sixth Annual Athlean-X Games
SUNDAY EVENTS
One Ticket to Sunday Awards Ceremony
MVP Package
July 28-31 2022
Inlcudes ALL-STAR PACKAGE
PLUS

 exclusive all-day Thursday MVP workshop
Hands on training and coaching
Thursday night MVP social / Hors d'oeuvres
Join Jeff and his hand picked MVP exclusive coaches
Video of all ballroom Lectures

(NEW!)
NOW FEATURING:
Extended MVP experience including over 6 hours of gym time and MVP BBQ! (NEW!)
*Speakers and Daily schedule are subject to change.


2022 Schedule

MVP Only Event

All Attendees
Exclusive MVP Day at the Gym
Spend a full day at the Gym with Jeff and his hand picked guest coaches.
The MVP coaches will only be available on this day.
Catered cookout at the GYM to refuel before the afternoon sessions.
Exclusive MVP social / Hour d'oeuvres back at the hotel.
Team Athlean Day
Meet in the Ballroom for a day of presentations from selected experts on important topics.
Topics like
Training techniques – Learn about specific important techniques hand picked by Jeff and his expert speakers
Nutrition –  We all know that proper nutrition is important,  learn more details about why and how to achieve your nutrition goals.
Motivation – Be inspired to achieve more from people that have.
Open Q&A sessions – Get your important questions answered from the expert coaches.
Friday night coaches reception –  Join your fellow guests for drinks and Hour d'oeuvres with Jeff and his speakers.
This is a time to relax, socialize and meet your fellow members of Team Athlean.
AX Games
This is your chance to compete for the coveted "AX LIVE CHAMPION" titles and the thousands of dollars in prizes.
There are only 2 champion medals,  but everyone has the chance to compete and win prizes.
After the games you will have the rest of the day (and night) to enjoy the Stamford area,  relax at the pool, maybe get your extra ab workout in?
Awards / Event Wrap up
Meet back in the Ballroom for the Sunday sessions that include,
6th annual Awards Ceremony
Key Note speaker presentation.
Q&A session with Jeff.
*Speakers and daily schedule are subject to change.

Hilton Stamford Hotel & Executive Meeting Center

Located outside of New York City -- with access to Amtrak, Metro-North and I-95 — the Hilton Stamford Hotel & Executive Meeting Center offers the ideal combination of convenience, comfort and courteous service. Following a multimillion-dollar renovation, our Southern Connecticut hotel boasts newly refurbished guest rooms, spacious suites, and Executive Meeting Center. Unwind after a long work day at our Restaurant and Lounge, serving American cuisine and cocktails throughout the day. Or relax in our sparkling swimming pool or heated whirlpool. Surrounded by dynamic businesses and local attractions, our upscale accommodations will enhance your upcoming visit or corporate gathering. A popular choice among Stamford hotels, the Hilton is a landmark destination with easy access to both Boston and New York City.
Hotel Address - 1 FIRST STAMFORD PLACE, STAMFORD, CONNECTICUT, 06902
Book Rooms Here
Travel
Recommended arrival and departure times.
We start first thing each morning and you don't want to miss any of the sessions.
MVP guests will want to arrive on Wed July 27th.
All Star Guests.  You will want to arrive on Thursday July 28rd.
Departure:  the event will conclude by 12:30pm on the Sunday July 31st.  The awards and keynote are something you really don't want to miss.
Recommended airports:
Westchester County Airport (HPN)  –  Smaller airport that may not have routes from your departing city.
LaGuardia Airport New York City – (LGA)
John F. Kennedy International Airport (JFK)
Airport Shuttles:
There are a number of 3rd party Shuttle / Limo Services  that provide service from the airports to the hotel. The airports are out of the hotel shuttle range.
During Event:
Any required travel between the hotel and the event location will be provided.  The hotel does provide shuttle service around the Stamford area.
Covid protocol during the event:
Currently there are no special Covid requirements in the hotel. Masks and social distancing will not be required during the event.
Interested in being a vendor for this year's event? Contact [email protected] for more information.