MAX STRENGTH THAT LASTS
SET ALL NEW PR'S
FASTER RECOVERY BETWEEN SETS
INTRAWORKOUT OR CAFFEINE-FREE PRE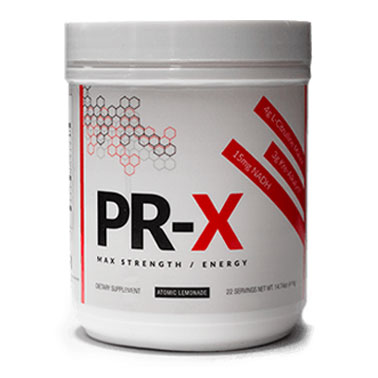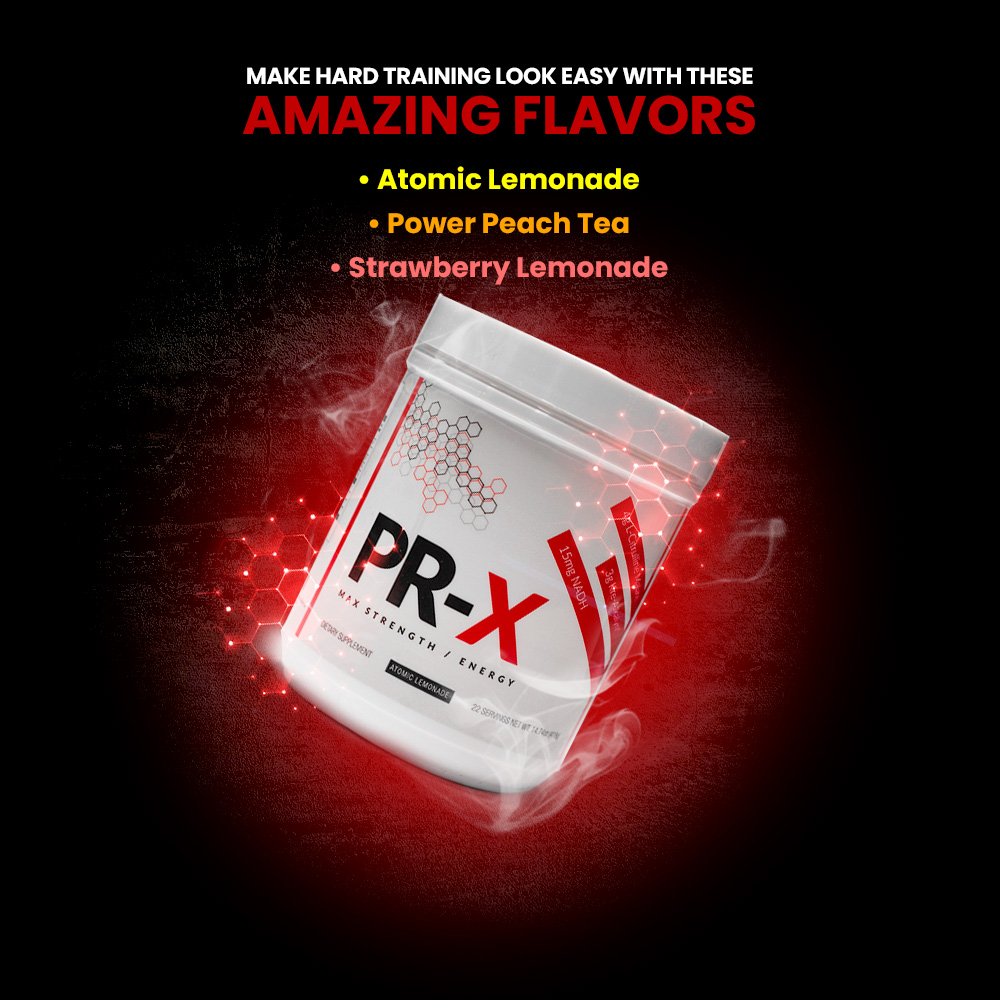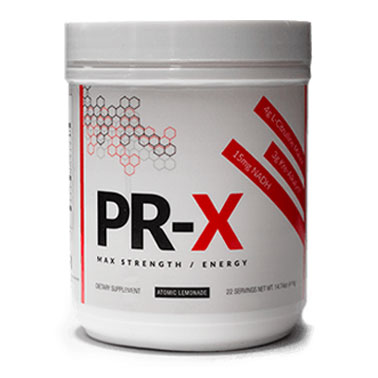 Roll over image to zoom in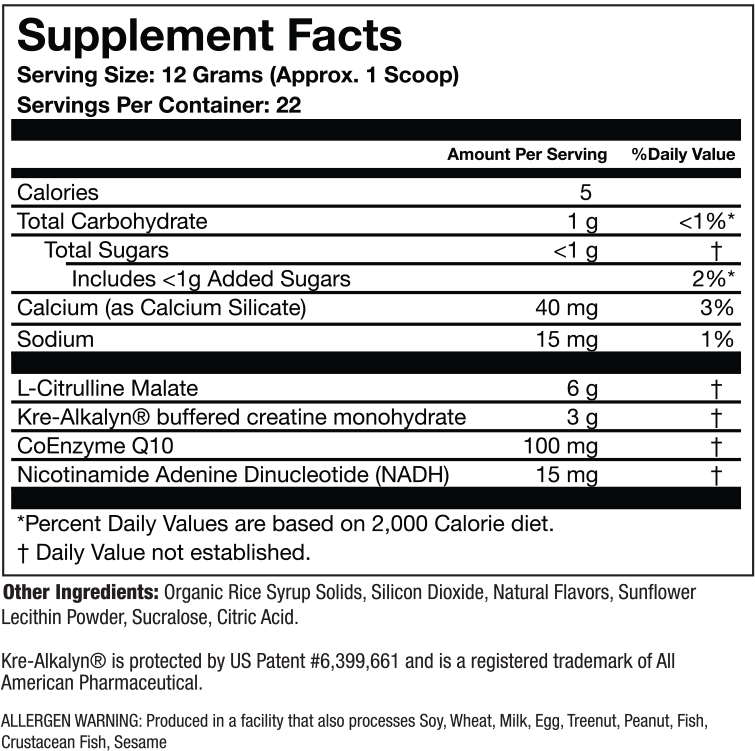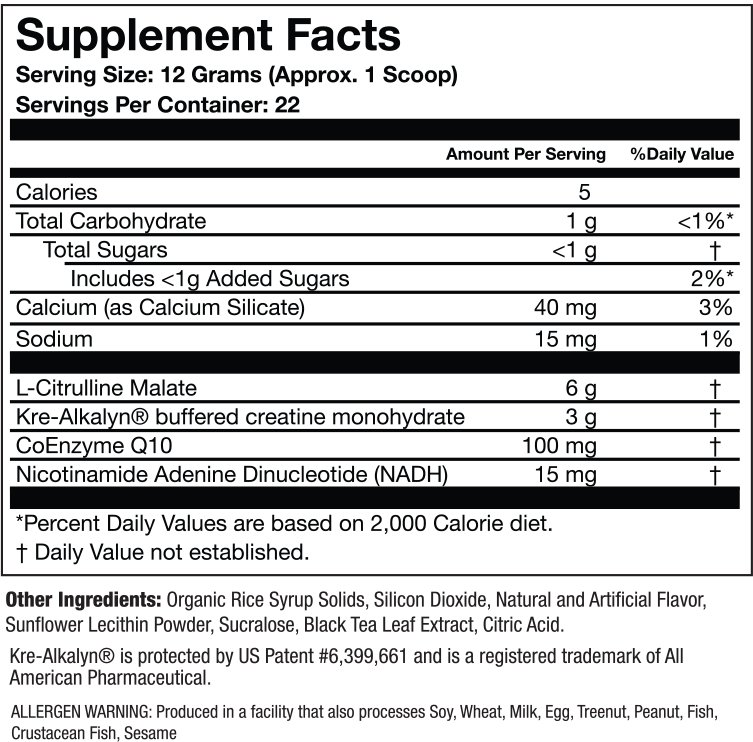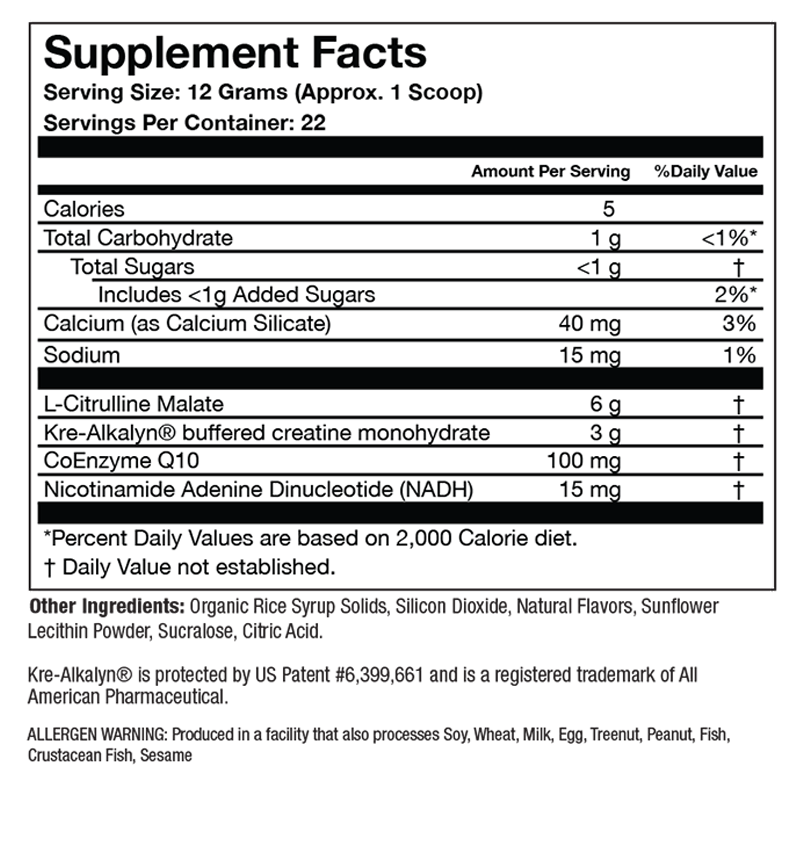 MAX STRENGTH THAT LASTS
SET ALL NEW PR'S
FASTER RECOVERY BETWEEN SETS
INTRAWORKOUT OR CAFFEINE-FREE PRE
VERIFIED BUYERS
4.8/5
78 RATINGS
Been using this for a few weeks now as a pre-workout. To start off, it is WAY too concentrated for the recommended usage in water, I add a scoop to my 64oz bottle and it is still plenty flavorful (peach tea flavor), so experiment with the ratio before going full-scoop. I chose this over X-Cite because I wanted the no caffeine option, I get enough caffeine through my daily coffee and unsweetened tea intake, and don't want to be addicted to it outside of that lol. I'll either guzzle half of the 64oz mixture 15-20 minutes prior or I'll sip on the 64oz mixture throughout the entire workout, not sure which one is better yet but that's to be determined. The main benefit, there is no over-stimulus, which is beneficial bc I do my workout routine a night, get a shower, then off to bed, and can sleep like a baby. Using this as a pre-workout allows me to go into overdrive, going another round of sets or cranking our more reps in those sets with the same weight. This powder allows your workout to go into overdrive instead of building up to 4th gear and red-lining, you can just keep going and going, would recommend.

Totally loving this intra workout, just seems to keep you focused mentally and physically during some of the most gruelling AX workouts, highly recommended.

North Carolina
,
United States
Have used this doing the Jacked program and definitely have seen improvement in recovery between sets. Both flavors are amazing and no aftertaste. Highly recommended!

Best Supplement I have ever used
Been using training supplements for over 40 years, this one had the most immediate and more importantly lasting impact. Worked first time I used it, still works many months later.
I am getting back to lifting weights again. My friend introduced me to these workouts and this supplement. I have never even taken any kind of supplements before. I did weight lifting with and without supplement to see if it makes any difference and I could tell it REALLY does make a difference and it helped me with quicker recovery and let's you carry on your workouts without longer rest periods in between sets. Lemonade flavor taste delicious.

Works just like Jeff says
I am 59 and I would start running out of gas doing Ultimate Arms program, I bought the PR-X product, 3 months ago, my strength/energy has gone up a lot and I can now handle the weighted pull ups now. Great product because it delivers.

When I was given this "report" of PR-X, I couldn't answer straight away. The reason was our lovely 2020, I had to stop going to the gym for 6 months and I was trying to exercise at home. But it wasn't the same. I increased my weight 9kg, making me 106kg.
I started taking PR-X when it first came out. Of course the taste is delicious, but that's not important here. I believe it has increased my strength but I am more concerned about this weight. From half way through April, I have lost 5.6kg mainly because I have dropped the amount of dinner. All other meals are the same and I get up to exercise at 4am in the morning.
So all of that plus I am 49yrs old now, it is hard to judge PR-X, as there are many variables. Also tomorrow is my last day of MAX-Shred.
Still, I take this religiously. After taking RX-1, I take this to gym. It does make me stronger during the workout. I started weight training at 14yrs old and you do get to know that a lot of products are not worth a bar of soap. Even though Athlean-X products are on the expensive side, plus being approved, I'm commited!

PR-X Max Strength / Energy
I purchased PR-X Max Strength /Energy. I noticed a difference right away. I felt an increase of energy and since then, I look forward to sipping through my workout. I will definitely purchase again. Atomic Lemonade is my favorite and just purchased 3 more on Monday. Great product with great benefits.


Great Addition to an Already Great Line of Supplements
I have been using both the Doctor C's and the Mechan-X supplements for awhile now and love them, so I was excited when PR-X was launched. I got both flavors to have on hand as I started the new Old School Iron Program. They both taste great! I am using it intraworkout and can really tell a difference in recovery time between sets. I forgot it a few mornings ago and could tell a big difference as I went through the workout. Another thing I like is that it doesn't give me the jittery feeling that I have gotten from pre-workout supplements. You know if Jeff stamps his name on it that it is going to be top shelf and this one doesn't disappoint. I have already ordered more! Thanks team Athlean!
Load More
The Power
If you are looking to take your strength to all new heights and push your muscular potential to its natural limits, then PR-X is the right supplement for you. Designed to specifically target the phosphagenic energy system (responsible for most all heavy training that occurs in the 1-8 rep range), PR-X will help you increase not only the strength you have on all of your lifts but recover from each heavy set more fully and at a much faster pace. This groundbreaking new intraworkout supplement is perfect for any seasoned lifter that has found themselves struggling to make strength gains and longs for the "early days" when adding plates to the bar seemed to happen with each new workout. It's time to bust through your strength plateaus and hit all new PR's with PR-X. Training hard has never felt this easy.
The Science
After listening to the wants and needs of our athletes, we developed a supplement that is designed to do one thing and one thing only - keep you feeling stronger…for longer. This could not be done without the rigorous testing and research ATHLEAN-Rx is known for to include the highest quality and safest ingredients available…formulated to deliver quick and noticeable results. Focusing on both the increasing ATP production in the fast acting phosphagen energy system and speeding up the recovery inducing glycolytic aerobic energy system for fast ATP replenishment between sets, PR-X provides the potent one-two combination necessary to take intraworkout supplementation to all new heights, and your performance along with it.
The Facts
PR-X uses not only the most effective and safest ingredients on the market, but is clinically dosed to make sure that you are never shortchanged in what you purchase. Other supplements often contain fillers that do nothing for the efficacy of the formula while at ATHLEAN-X, we avoid such fillers to make sure that you are getting exactly what you paid for. PR-X ingredients include L-Citrulline Malate, Kre-Alkalyn® Creatine Monohydrate, CoEnzyme Q10, and NADH; all of which, when dosed together as in PR-X, are designed to deliver unparalleled results.
As with all of our supplements, PR-X is proudly produced in the United States to the highest industry standards. Our commitment to transparency and quality has our RX supplement lineup trusted by many of the top teams and athletes in professional sports where rigid drug testing practices are the norm.
The Results
If you find yourself feeling fatigued during a heavy training session (either too tired to lift what you know you're capable of or excessively worn out after each set, requiring extra time to recover with each subsequent set) and know that your compromised effort is holding back your gains, then PR-X is exactly what you need. When taken during your workout, PR-X will ensure you leave no gains on the table and help you to maximize your performance in every workout to reach all new levels of strength and size. Get ready to attack each set of your workout without compromise. PR-X is going to change the way you train forever.
"We've all had times when we feel fresh and ready to attack the weights at the start of a workout, only to be left feeling drained and discouraged by our overall effort at the end. With PR-X, how you start is how you'll finish. Strong. I've always felt the ability to consistently string together high effort workouts, uncompromised by fatigue, is the true differentiator between the good and the great. It's time to unleash the greatness that's been in you all along."

- Jeff Cavaliere M.S.P.T, CSCS

PR-X MAX STRENGTH / ENERGY RECOVERY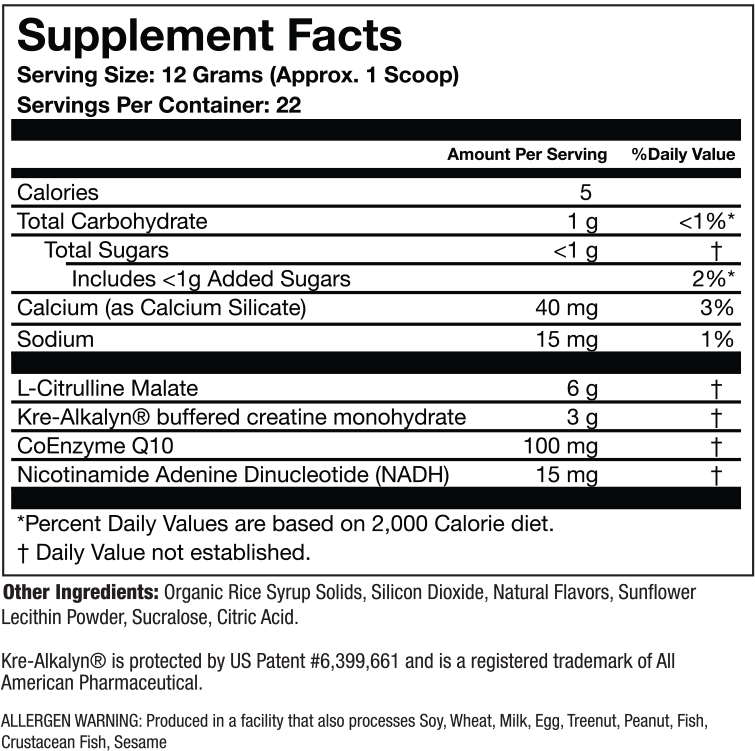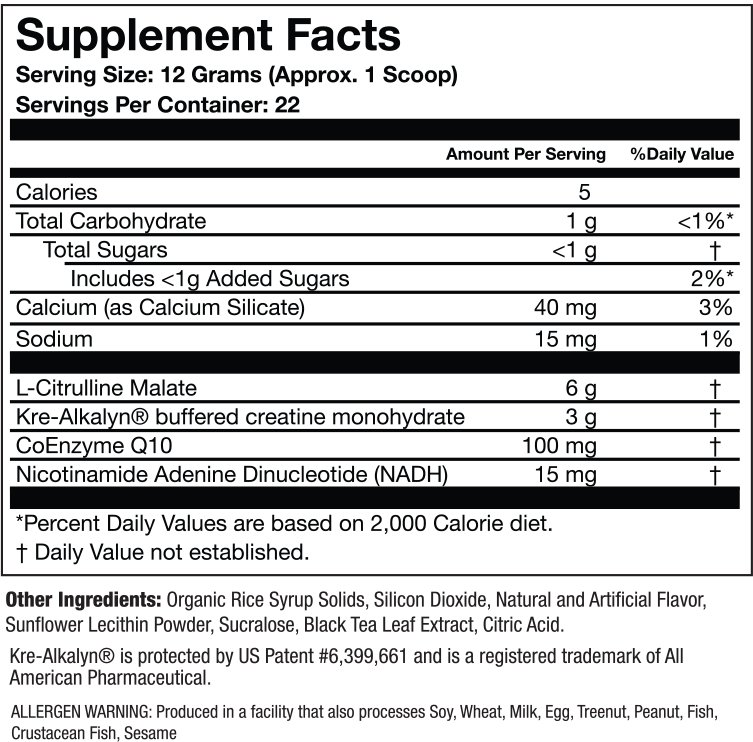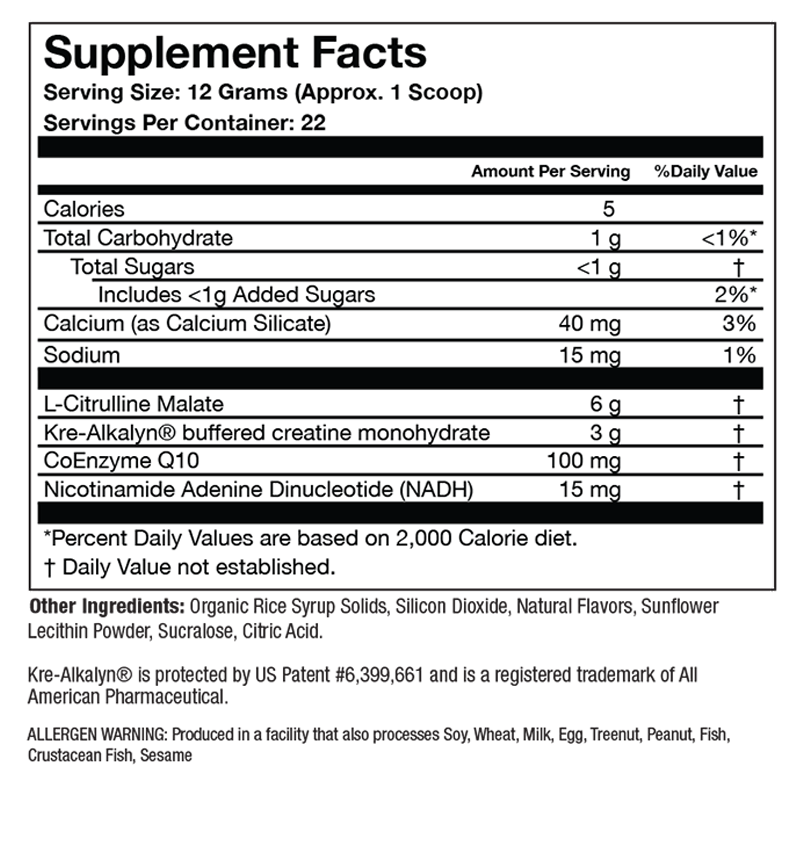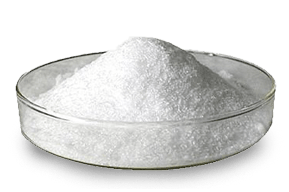 Reduces the sensation of fatigue and increases the rate of ATP replenishment following intense exercise.
CONTAINS
100

MILLIGRAMS

MG
NICOTINAMIDE ADENINE DINUCLEOTIDE (NADH)
CONTAINS
15

MILLIGRAMS

MG
For increased energy and quick recovery between sets, mix 1 scoop of PR-X with 8-12 oz of water and sip it throughout your training session. PR-X can also be taken as a stand alone caffeine-free preworkout option (mixed as above and taken 15 minutes prior to training) or taken alongside your RX-1 for an incredibly powerful performance enhancing combination. It is advised that you mix each separately however since the taste may be adversely effected when combined (then again, it could be amazing but we don't want to be responsible for your taste buds!)
REFERENCES
Lee E.C., et al. Ergogenic effects of betaine supplementation on strength and power performance. J Int Soc Sports Nutr. 2010 Jul 19; 7: 27.

Trepanowski, J. F, et al. The effects of chronic betaine supplementation on exercise performance, skeletal muscle oxygen saturation and associated biochemical parameters in resistance trained men. J Strength Cond Res. 2011 Dec; 25(12): 3461-71

Pryor, J. L., et al. Effect of betaine supplementation on cycling sprint performance. J Int Soc Sports Nutr. 2012 Apr 3; 9(1): 12.

Apicella, J. M., et al. Betaine supplementation enhances anabolic endocrine and Akt signaling in response to acute bouts of exercise. Eur J Appl Physiol. 2013 Mar; 113(3): 793-802.

Cholewa, J. M., et al. Effects of betaine on body composition, performance, and homocysteine thiolactone. J Int Soc Sports Nutr. 2013 Aug 22; 10(1): 39.