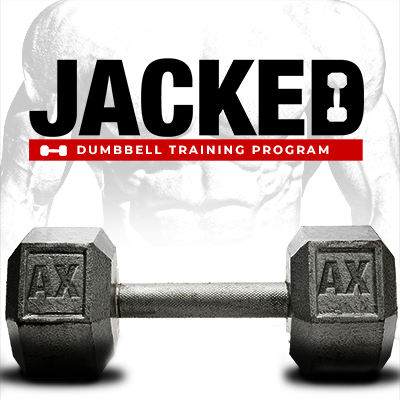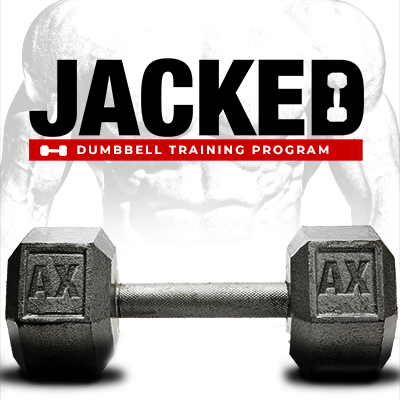 Get the JACKED
90-day training plan

GET JACKED AT HOME
for just one payment of $9850
ORDER NOW
GET JACKED

USING
ONLY DUMBBELLS
JACKED works whether you have a full rack or
A SINGLE PAIR OF DUMBBELLS!
JACKED takes advantage of the latest in science based muscle building to place you in hypertophy range whether you have a full rack of dumbbells or a single pair of dumbbells. Removing the need for a full gym, you can perform JACKED in your own home, a hotel gym or anywhere you have access to a rack of dumbbells, adjustable blocks or even a single set of dumbbells.
JACKED GETS RESULTS WITH
A PAIR OR RACK OF
DUMBBELLS
+
ADJUSTABLE BENCH
+
THE ROAD TO JACKED!
Our unique understanding of the Science of Muscle Building has led us to create different pathways all designed to deliver results. Which pathway you use changes depending on the weight you have access to. Whether you're training with a full rack of dumbells, a couple of pairs, or just one pair you can get results from JACKED! JACKED's Ignitor set helps you dial into the proper path ensuring no matter what dumbbells you have access to you can get JACKED!!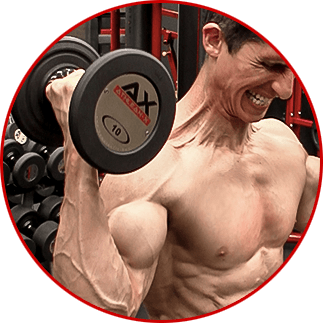 JACKED UP
If your dumbbells are too light the jacked up path will provide you exercises, techniques and strategies designed to make the exercise more difficult. There's no escaping hard work on your way to bigger muscles!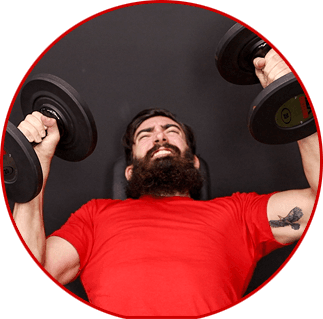 JACKED DOWN
Weight too heavy? Don't sweat it, the jacked down path gives you options for making movements easier without compromising gains. Train the same muscles with the weight you have.
Pink DB Protector
The PDP path is there to make sure that even if you have an extremely light set of dumbbells, you can still get a good workout and reach your goals. Even the "pink dumbbell" crew isn't safe from the power of Jacked!
HI-LOAD LIFELINE
If the weights you have are way too heavy to meet your rep goals The HI-LOAD LIFELINE provides an alternative training path that works the same muscles, delivering equally amazing results!
GET LEAN & MUSCULAR
Adding muscle mass while not adding fat has never been easier! Our simple to follow meal plan provides the step by step guidance to make sure your nutrition never gets in the way of your results again. All meals are adaptable and flexible to your specific tastes, with NO calorie counting or measuring needed. It's scary how simple (but effective) this is…
DAY-BY-DAY MEAL PLAN & SUPPLEMENTATION GUIDE
ADAPTABLE TO MEET SPECIFIC TASTES
NO CALORIE COUNTING OR MEASURING REQUIRED
SIMPLE YET PROVEN TO GET RESULTS!
NEVER COUNT A CALORIE OR MEASURE
…AND STILL GET SHREDDED!

lifetime access
for just one payment of $98.50
ORDER NOW
Not at all. Since you're not working with any barbells, I've had to incorporate some of my most sinister training techniques in order to force muscle growth! Rest assured, you will be training hard. Beginner, intermediate or advanced, if all you have is dumbbells you can still get JACKED!!
You will be training 5-6 days a week with JACKED.  With unique stages of training, this will vary within this range depending on the mode you're training in and the specific goals of that phase.
Approximately 45-60 minutes. Less for higher intensity training days.
Yes! If you've got the desire (and the dumbbells!) Jacked has the ability to deliver the gains you're after.
All that's needed is dumbbells and an adjustable bench. That's it. Whether you have access to a full rack or even just a few pairs that you bought at a local tag sale - you've got what you need to get the gains you're seeking. The Science of Jacked does all the work for you by ramping up the intensity or dialing it down to meet you where you're at (in both your ability level and access to equipment).
Yes! You can't get jacked without a good nutrition plan! I've got you covered with a day by day meal plan.
Yes! Anyone that orders the program when it comes out will receive permanent lifetime access to it in their portal.
Yes! ELAST-X was designed to line up with JACKED so people who have to travel for business can stay on track. Both ELAST-X and JACKED follow the same muscle split and most of the same on and off days, so if you have to be away from your dumbbells you can jump into ELAST-X and not miss a beat. Either way, we gotcha covered!
TIME TO GET JACKED!
ORDER NOW