Speeds Up Muscle Recovery
Promotes Lean Muscle Mass
Increases Quality Sleep
Eliminates Muscle Soreness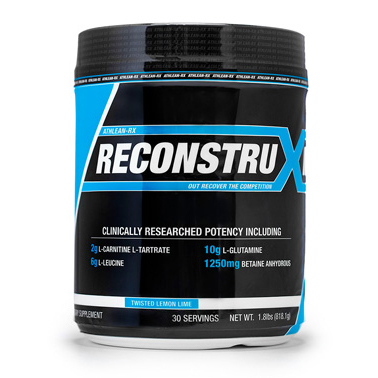 Speeds Up Muscle Recovery
Increases Quality Sleep
Promotes Lean Muscle Mass
Eliminates Muscle Soreness
BUY ANY 2 SUPPLEMENTS | GET FREE SHIPPING + 5% OFF

One-Time Purchase
$52.99PLUS S&H
AX Autoship

Save an Additional 5% on Autoshipped Items

?
$50.34FREE SHIPPING

This order qualifies for FREE ground shipping* (Available in Continental US ONLY)
VERIFIED BUYERS
4.8/5
71 RATINGS

Connecticut
,
United States
This supplement would have earned a 5 if it dissolved completely in water. However the granular grating sediments in the mouth make it literarily and metaphorically hard to swallow. I might also add that this is comparing it with Amino-Build.
If you do not mind the grittiness, then consider it a 5/5 for achieving said muscle recovery and rehydration.
I'm not a pro athlete but I do train pretty hard with some of Jeff's most challenging programs. Also, I live in the country so I end up physically tired quite easily.
Because of that, I don't take this supplement daily, but only when I'm completely wasted; and I tend to take half or 3/4 of the recommended dose.
It's clearly black magic! Never had any kind of issue (and I have the most delicate digestive system) or reaction (and I have tons of intolerances) and when I take it, I sleep like a baby and I wake up totally refreshed. I have to ship it internationally, but you know what? Totally worth the money!
Feel better, even slept better
I got out of the Army, got lazy, and started AX-1 about 3 weeks ago.
Soreness has been reduced and I actually came back to the product page because I have been sleeping better and didn't know if that was related. Go figure, it's a documented benefit!
Twisted lemon lime is pretty decent and refreshing.
Noticed a significant decrease in muscle soreness, great for guys or gals that really go balls to the wall. Taste is fine by me. I admit it doesn't taste like a Tropicana fruit drink but why are you sipping. Just drink it and be done, it's not a freaking half gallon jeesh…

Good recovery tool but TOO SWEET!
I love the recovery benefits, but this is way too sweet. Please tone down the sweetness or offer a tasteless version

Love the product overall. But the flavors are not it
Some of the flavors are just to artificial. Lemonade is alright. Fruit punch is too sweet and Green apple is disgusting honestly. The products really helps with recovery and better sleep. I have experience personally. I took longer to recover from workout before taking this. So I guess I could say they just have to work on the flavors making more natural, less sweet and subtle.

It does what it says it does. It helps reduce soreness and I had a pretty excellent sleep too. I had a pretty serious case of muscle soreness and this helped ease the edge and get me back to at least 75% vs completely debilitated. I work out a lot and usually when I go through DOMS it's a few days of soreness. Having this reduced what would have been very bad DOMS to a more manageable tenderness. Looking forward to more tonight to be back to training ready tomorrow.

This is unbelievable. It's the best I ever had. Not only recovery time but in taste as well. Very good product that I continue to buy. Thank you for making such a great product. I don't have time to be sore and this really helps.

Could def tone down the sweetness. Tastes good of course, but doesn't need to be this sweet!
Using this supplement has really boosted my recovery process. I notice a huge difference when i dont use it.
Load More
The Power
Recovery is more than just a buzzword. It is a recognized stage of the muscle building process. The fact is, if you aren't taking recovery seriously, you are never going to reach your full potential. Recovery is so important that several of the leading sports organizations in the world have created panels of specialists to make sure their million dollar athletes are recovering properly and adequately, and Athlean-Rx ReconstruXion has been a part of that conversation.
The Science
6g of Leucine, a whopping 10g of Glutamine, 1.25g of Betaine… These are just the kick off points for this powerhouse of a formula. As always, we put the science in everything we do, and each and every ingredient is thoroughly researched and backed by studies to prove its efficacy as a sports recovery supplement.
The Facts
You asked and we answered with our most potent formulas and open labels so you know exactly which ingredients and how much of each you're getting. Athlean-Rx contains no proprietary blends, and as always, no fillers, no substitutes and no harmful chemicals.
The Results
ReconstruXion is the go to recovery formula for some of the top teams in pro sports. It's been so effective with our athletes that we have several reports of it preventing delayed onset muscle soreness (DOMS) after particularly intense workouts. While these reports are anecdotal at this stage I can personally attest to RX3's effectiveness in helping me battle DOMS.
"I use ReconstruXion daily as a recovery aid and to assist in blunting the effects of DOMS after training."

- Jeff Cavaliere M.S.P.T, CSCS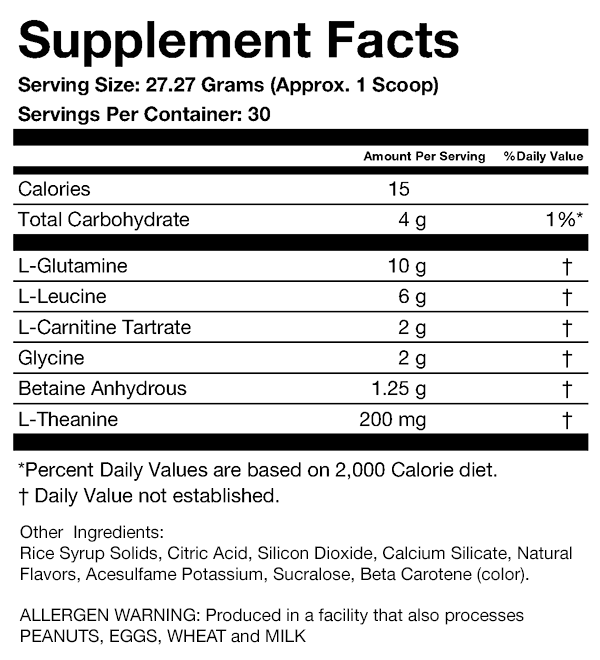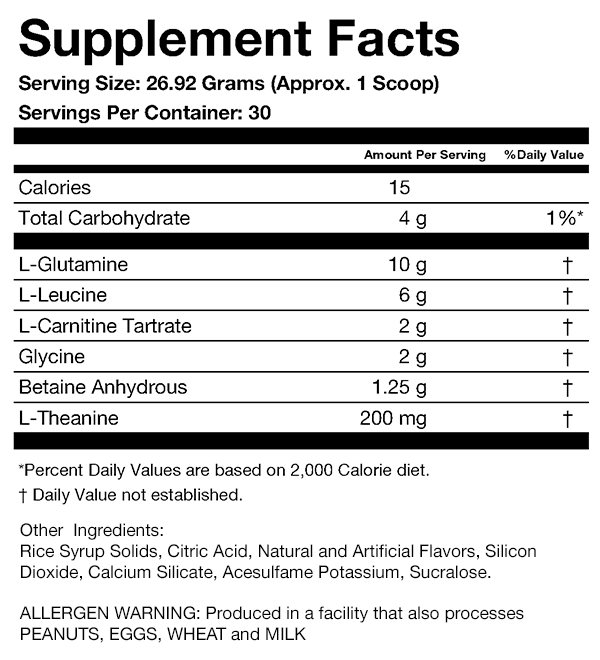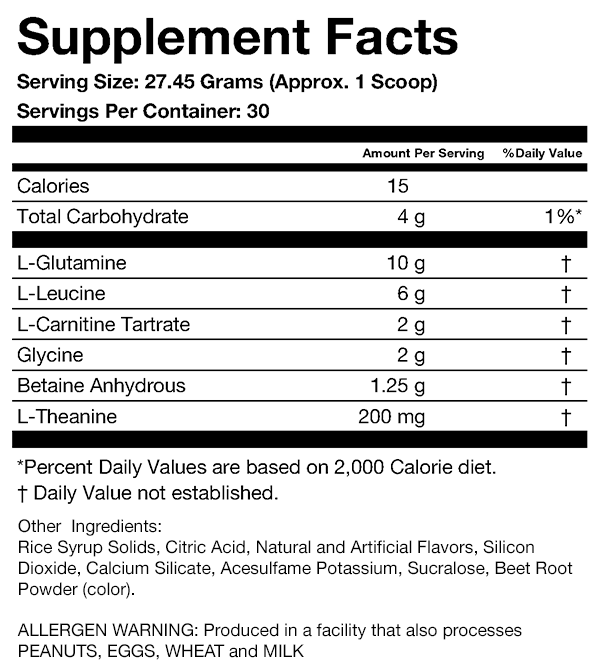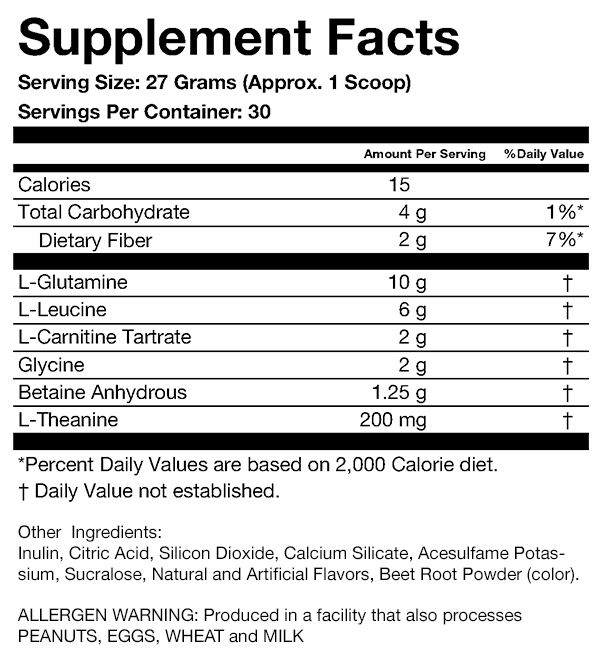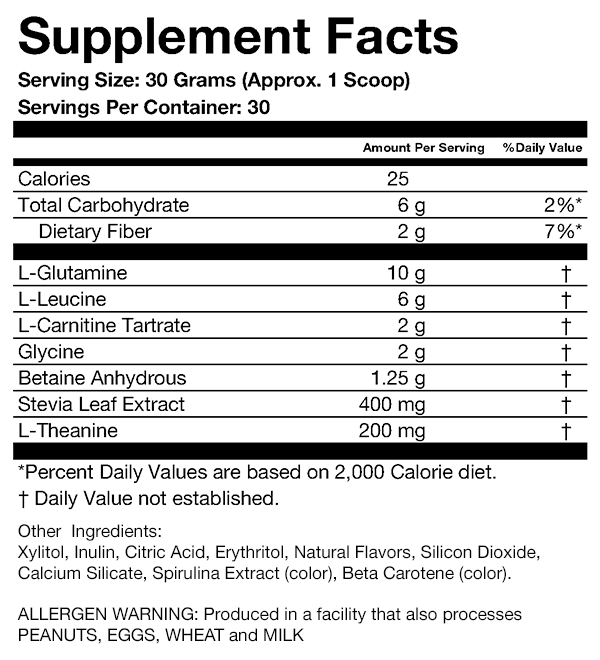 Ingredient
ReconstruXion Contains
LCLT

- 2G
CLINICALLY EFFECTIVE DOSAGE: 1-2g
Research suggests that L-Carnitine L-Tartrate improves muscle recovery and repair times. This is probably due to a boost in nitric oxide (NO) production, which improves blood flow and oxygen consumption in the muscles. LCLT also increases androgen receptors in the muscle cells, which means more testosterone is recruited to build muscle.
Improves muscle recovery and repair between training sessions (probably due to a boost in Nitric Oxide and an increase in muscle oxygen consumption)
Increases androgen receptors in muscle cells, thereby recruiting more testosterone to build muscle
Improves insulin sensitivity
RECONSTRUXION CONTAINS
2 GRAMS
Clinically Effective Dosage: 1 - 2g
LCLT Clinical Studies & References
L-LEUCINE

- 6G
CLINICALLY EFFECTIVE DOSAGE: 2-10g
L-GLUTAMINE

- 10G
CLINICALLY EFFECTIVE DOSAGE: 0.5-15g
L-Theanine

- 200MG
CLINICALLY EFFECTIVE DOSAGE: 100-250mg
CONTAINS
200

MILLIGRAMS

MG
BETAINE ANHYDROUS

- 1250MG
CLINICALLY EFFECTIVE DOSAGE: 1200-1500mg
CONTAINS
1250

MILLIGRAMS

MG
For enhanced muscle recovery, mix 1 scoop with 8-12 ounces of water and take daily. Use ReconstruXion daily as a recovery aid and to assist in blunting the effects of DOMS after sessions of intense training.