Brand New Bonus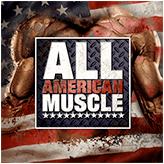 This all new limited time bonus program features a full 30 days of training with a focus on building all of the attributes of a top performing athlete. Muscle size, raw strength durability, mental toughness and overall athleticism.
ALL AMERICAN. ALL MUSCLE.
Program Focuses On
Muscle mass
Raw Strength
Explosive Power
dynamic athleticsm
increased leanness
core stability
GET IT BEFORE IT'S GONE!
*Unlocked in your portal on July 4th at 3pm