Speeds Up Muscle Recovery
Promotes Lean Muscle Mass
Reduces Joint Pain & Inflammation
Bundle-n-Save Discount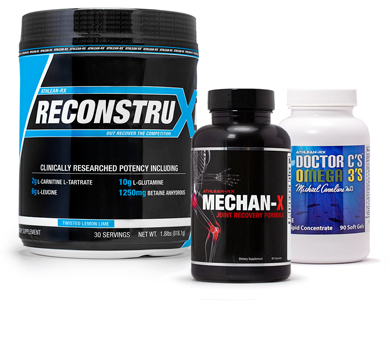 INCLUDING CLINICAL PROVEN DOSING OF:
10g L-Glutamine
6g L-Leucine
2g LCLT
3g 1080 EPA/720 DHA of Pharmaceutical Grade EFA'S
200mg L-Theanine
800mg Glucosamine Hydrochloride
640mg Chondroiton Sulfate
80mg Hyaluronic Acid
50mg Boswellia Serrata
550mg Cissus Quandrangularis
Speeds Up Muscle Recovery
Promotes Lean Muscle Mass
Reduces Joint Pain
Bundle-n-Save Discount
BUY ANY 2 SUPPLEMENTS | GET FREE SHIPPING + 5% OFF
AX Autoship
Earn free shipping and an additional 5% off!

This order qualifies for FREE ground shipping* (Available in Continental US ONLY)
MECHAN-X
JOINT RECOVERY FORMULA
DOCTOR C'S OMEGA-3'S
OMEGA-3 FISH OIL
VERIFIED BUYERS
4.4/5
14 RATINGS

Washington
,
United States
Healthy joints and less soreness
This stack helps me get through intense training and come back the next day ready for more.

Washington
,
United States
This stack helps me stay pain free for my workouts and stay consistent every month.
Healthy joints and less soreness
This stack helps me get through intense training sessions and able to come back the next day ready for more.


I love the overall result of these supplements they work but the sweeteners make me nauseous.

Pennsylvania
,
United States
Better as a Bundle - Cost Effective and High Quality
I've been buying a lot of fish oil through Amazon after careful research. In terms of price and all you get with this stack you honestly can't beat the quality.

Good stuff from a great company
Jeff puts out good programs and good supplements. This is no different. If you have joint or DOMs pain. This is your solution

Tennessee
,
United States
I do gymnastics and competitive cheer. My boyfriend gave me some of his post workout recovery drink one night after a rough workout. I didn't really like the taste but it made me feel so much better the next day. My dad is a Doctor and he recommends taking a fish oil and since I'm doing so much wear and tear on my joints a glucosamine supplement as well. This stack has all three. I get the pina colada flavor and like that much beter then the one my boyfriend had.

I don't know what to say about this other than it works. The flavor of the RX3 is pretty intense. Its not bad but it's not sweet like the pre workout. The other a re just pills you take. I take the BCAAs before and during my workouts, the other one I take before bed. I've been lifting for about 30 years…a long time. This helps me feel like I could do this for another 30.

Not the sexiest purchase but well worth it.
I used to take cannabis oil for joint pain but something about it didn't sit right with me. I started taking RX3 and I noticed it helped with muscle soreness. I didn't expect much, I sort of just took it on a whim but it worked. I figured why not go for the whole stack. This is my fourth one!
Load More
The Power
You can't make gains if you're constantly battling with the discomfort of muscle soreness or chronic joint pain. Our recovery stack is perfect for veteran level athletes who have been in the game for awhile or for anyone who simply can't afford to not be at their best for their next training session or competition. RX-3 accelerates muscle recovery and helps mitigate Delayed Onset Muscle Soreness (DOMS). Those who have used it often report "night and day" differences in body readiness after even just one dose, swearing to never train without it again. Also included in the stack are our pharmaceutical grade omega-3 fish oils for their muscle anti-inflammatory and heart health benefits as well as MECHAN-X, our three part joint recovery formula for restoring pain free range of motion and function. If you're constantly sidelined with injuries or missing workouts due to soreness or nagging aches and pains, this stack is just what you need.
The Science
Years of research and planning went into the formulation of ATHLEAN-RX Supplements. Not only did we make sure to include the most scientifically proven and trusted ingredients during their development, but our commitment to constantly updating our formulas to reflect the latest advancements in sports nutritional science has and always will be our top priority. We set an amazingly high bar for quality supplementation, continuing to test and retest our formulas based on the feedback of some of the world's greatest professional athletes as well as our loyal customers. What you have before you is the result of our obsession...the best supplements available on the market, not just in efficacy and performance - but in taste and reliability as well.
The Facts
All of ATHLEAN-RX supplements have been researched to provide clinically proven dosages of the most effective supplement ingredients in the world. We never use fillers, harsh chemicals or banned substances which is why our customers never experience jitters, crashes, or bloat common in lesser quality brands. Our supplements include premium, patented ingredients such as CarnoSyn® Beta-Alanine as well as creatine in its more readily absorbable state (as both CON-CRET® patented Creatine Hydrochloride and Kre-Alkalyn®), to ensure you're getting the best product on the market.
All of our supplements are proudly produced in the United States to the highest industry standards. Our commitment to transparency and quality has RX supplements trusted by many of the top teams and athletes in major league sports subject to the most rigid drug testing standards.
The Results
If you find that you are too sore or are dealing with excessive muscle and joint pain after an intense training session, the RX Recovery Stack will help to mitigate those aches and pains and have you ready to attack your next workout. RECONSTRUXION will help to fight the dreaded post-workout soreness, with MECHAN-X aiding to restore joint health while DR C's OMEGA-3's is working to reduce muscular inflammation. With the Recovery Stack, you won't have to worry about being ready to tackle your next training session...you'll be looking forward to it.
"As I got older, I realized two things. The first was that I was grateful I started taking fish oil early in my life. My father, an internal medicine physician, saw the anti-inflammatory benefits supplemental high grade omega-3's could provide so he went on to create a brand he and his patients could trust in. The second was that I wish I started taking a quality glucosamine and Chondroitin formula (like that found in MECHAN-X) much earlier. With the natural aging process generally resulting in 5-7% strength loss per decade, doing everything we can to maintain normal, healthy joint biomechanics is a must. When you break the pain and inflammation cycle with quality recovery supplements you can still hit it hard to keep the hands of time at bay...and those gains coming long after they should have stopped."

- Jeff Cavaliere M.S.P.T, CSCS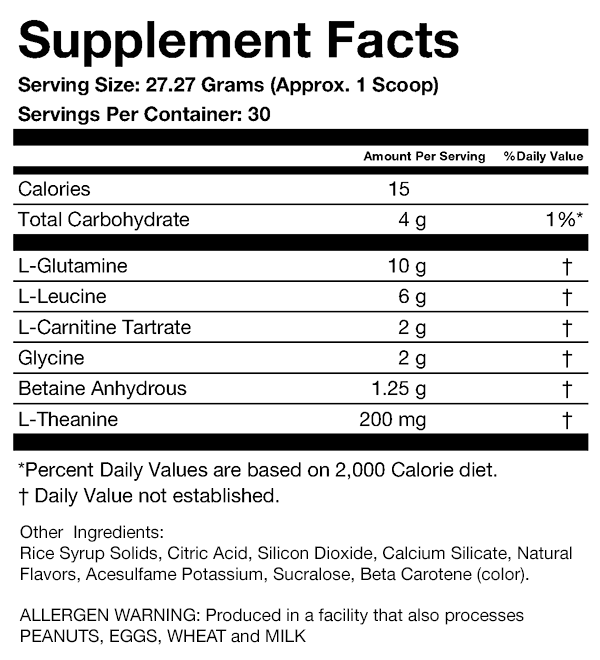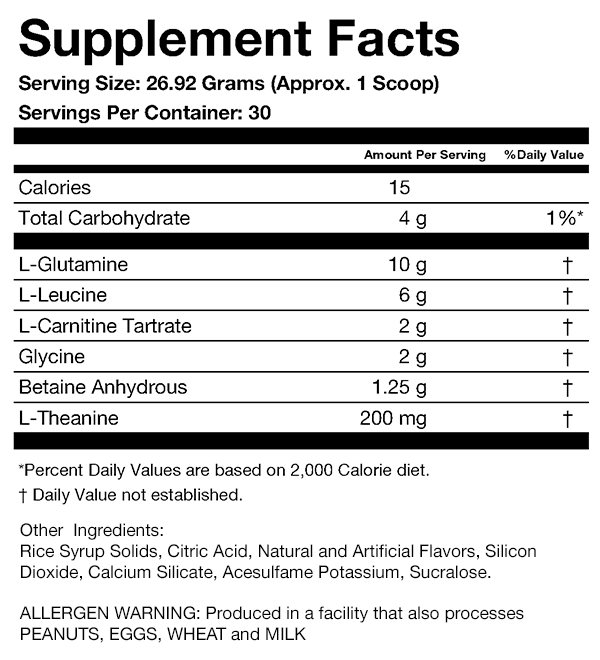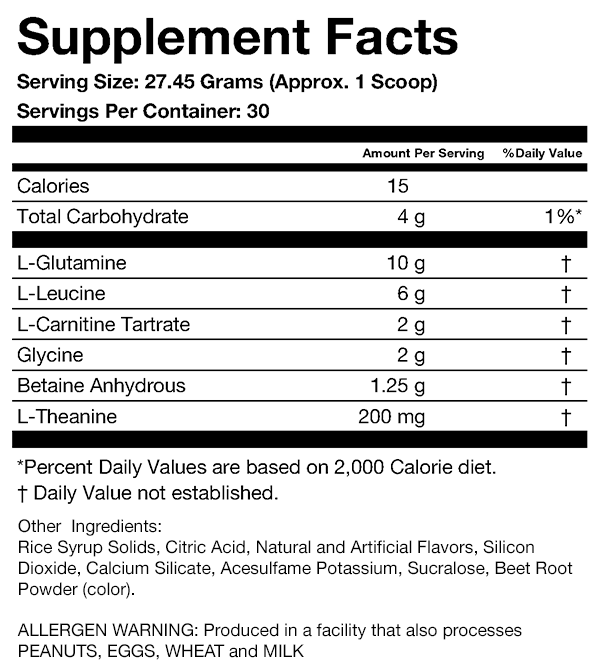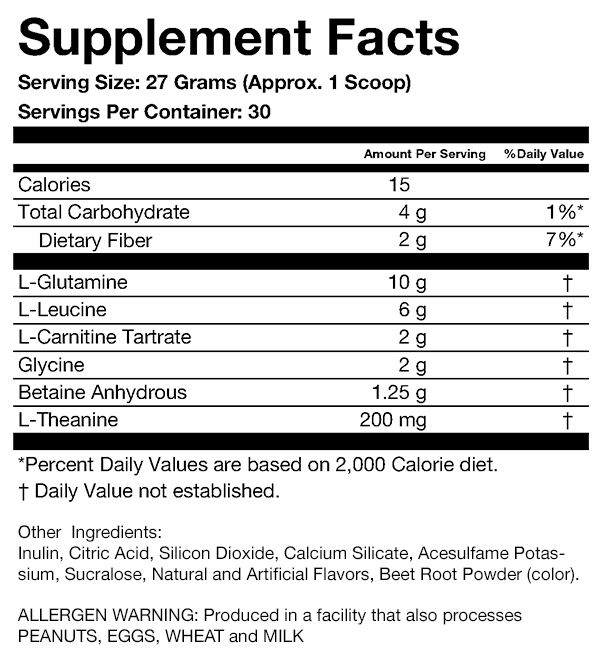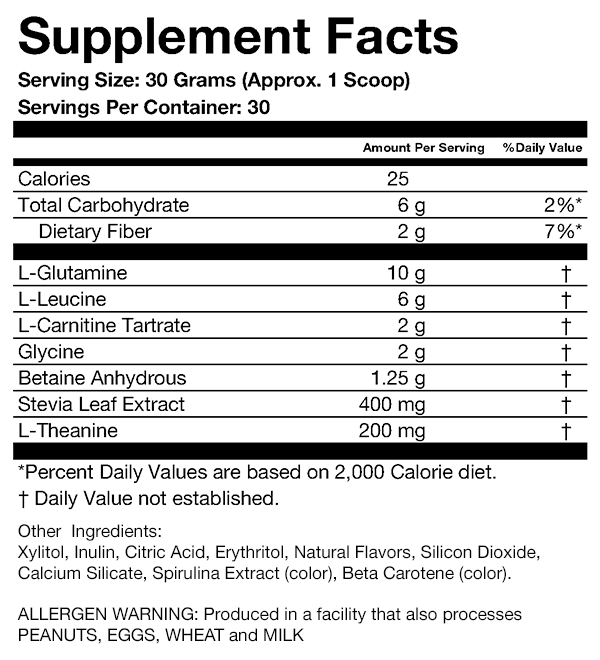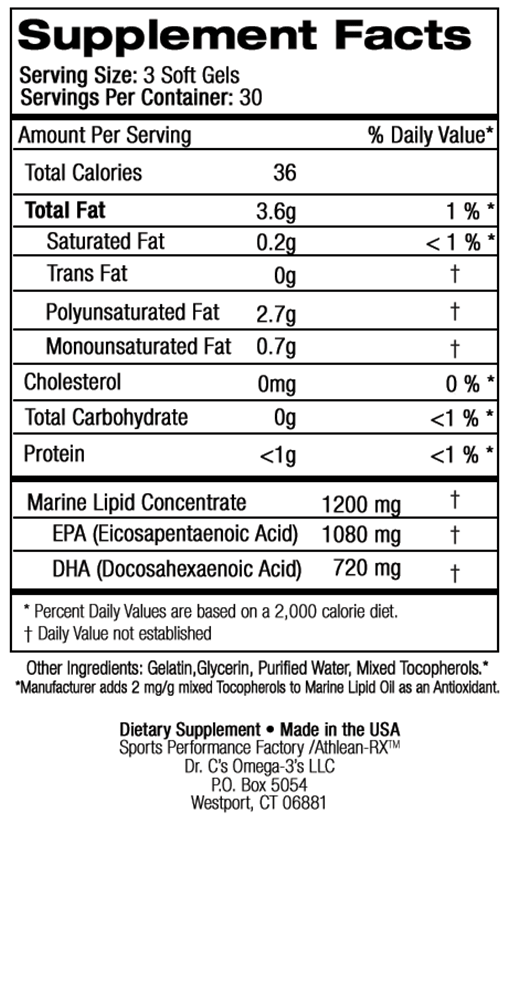 Ingredient
Recovery Stack Contains
LCLT

- 2G
CLINICALLY EFFECTIVE DOSAGE: 1-2g
Research suggests that L-Carnitine L-Tartrate improves muscle recovery and repair times. This is probably due to a boost in nitric oxide (NO) production, which improves blood flow and oxygen consumption in the muscles. LCLT also increases androgen receptors in the muscle cells, which means more testosterone is recruited to build muscle.
Improves muscle recovery and repair between training sessions (probably due to a boost in Nitric Oxide and an increase in muscle oxygen consumption)
Increases androgen receptors in muscle cells, thereby recruiting more testosterone to build muscle
Improves insulin sensitivity
RECOVERY STACK CONTAINS
2 GRAMS
Clinically Effective Dosage: 1 - 2g
LCLT Clinical Studies & References
L-LEUCINE

- 6G
CLINICALLY EFFECTIVE DOSAGE: 2-10g
L-GLUTAMINE

- 10G
CLINICALLY EFFECTIVE DOSAGE: 0.5-15g
L-Theanine

- 200MG
CLINICALLY EFFECTIVE DOSAGE: 100-250mg
CONTAINS
200

MILLIGRAMS

MG
BETAINE ANHYDROUS

- 1250MG
CLINICALLY EFFECTIVE DOSAGE: 1200-1500mg
CONTAINS
1250

MILLIGRAMS

MG
Glucosamine Hydrochloride

- 800mg
CLINICALLY EFFECTIVE DOSAGE: 300-500mg
CONTAINS
800

MILLIGRAMS

mg
Chondroitin Sulfate

- 640mg
CLINICALLY EFFECTIVE DOSAGE: 4/5 ratio with Glucosamine
CONTAINS
640

MILLIGRAMS

mg
Cissus Quandrangularis

- 550mg
CLINICALLY EFFECTIVE DOSAGE: 300-600mg
CONTAINS
550

MILLIGRAMS

mg
Hyaluronic Acid

- 80mg
CLINICALLY EFFECTIVE DOSAGE: 50-200mg
CONTAINS
80

MILLIGRAMS

mg
Boswellia Serrata

- 50mg
CLINICALLY EFFECTIVE DOSAGE: 50-100mg
CONTAINS
50

MILLIGRAMS

mg
Omega-3

- 3g per daily serving
CLINICALLY EFFECTIVE DOSAGE: 2-3g
CONTAINS
3

GRAMS

g
per daily serving
REFERENCES
Harris WS. Fish oil supplementation: evidence for health benefits. Cleve Clin J Med. 2004 Mar;71(3):208-10, 212, 215-8 passim.

Watkins BA, et al. Dietary supplementation with n-3 PUFA attenuated musculoskeletal atrophy associated with disuse. Federation of American Societies for Experimental Biology, Washington D.C., April, 2004. Abstract #610.4.

Walser B, Giordano RM, Stebbins CL. Dietary supplementation with DHA and EPA augments skeletal muscle blood flow during rhythmic contraction. Federation of American Societies for Experimental Biology, #688.8, San Diego, CA, April, 2005.

Hill AM, Buckley JD, Murphy KJ, Howe PR. Combining fish-oil supplements with regular aerobic exercise improves body composition and cardiovascular disease risk factors. Am J Clin Nutr. 2007 May;85(5):1267-74.

Tartibian B, Maleki BH, Abbasi A. The effects of ingestion of omega-3 fatty acids on perceived pain and external symptoms of delayed onset muscle soreness in untrained men. Clin J Sport Med. 2009 Mar;19(2):115-9.

Schuchardt JP, Schneider I, Meyer H, Neubronner J, von Schacky C, Hahn A. Incorporation of EPA and DHA into plasma phospholipids in response to different omega-3 fatty acid formulations - a comparative bioavailability study of fish oil vs. krill oil. Lipids Health Dis. 2011 Aug 22;10:145.
RX-3 RECONSTRUXION
For enhanced muscle recovery, mix 1 scoop with 8-12 ounces of water and take daily. Use ReconstruXion daily as a recovery aid and to assist in blunting the effects of DOMS after sessions of intense training.
MECHAN-X
Take 3 capsules at night before bed.
DOCTOR C'S OMEGA 3'S
For anti-inflammatory benefits take 3 capsules with food everyday. Users who wish to exceed this dosage should consult with their physician.
RECOVERY STACK
RX-3
MECHAN-X
DOCTOR C'S