Estimated Read Time: 1 minute
If you ever wondered why you aren't making the gains you should, then you NEED to see this video. You may have missed the early warning signs!
It doesn't matter if you've been training for 5 months or 25 years; we are all susceptible to this. The crazy thing is, it's so easy to get a jump start on it and not let it get out of control.
The best part about this is that I'm going to show you a way to get instant feedback. No waiting, no complicated methods, and no expensive equipment required.
I think this is going to help you immensely going forward!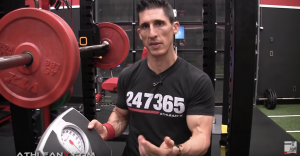 STAY STRONG…
JEFF
P.S.  There is nothing worse than dedicating your time to something and not having the results to show for it.  What if there were a warning sign that would have told you long before you started wasting your time that it was time to intervene? Well, there is one…
Don't Ignore THIS Early Warning Sign – MUSCLE LOSS!
P.P.S.  The key to making consistent gains is always to have a "smart" training plan.  It tells you when to push the pedal and more importantly, when you need to back off.  Match up your goals to the plans available here and I promise you'll be well on your way to plateau free gains starting today…
Pick the program that matches what you want to achieve starting now here…
Watch the YouTube version of this article