Builds Lean Muscle Mass
30G High Quality Protein
Great, Smooth Taste
Includes Creatine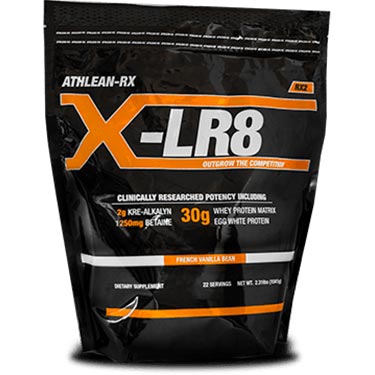 Builds Lean Muscle Mass
30G High Quality Protein
Great, Smooth Taste
Includes Creatine
One-Time Purchase
$59.99PLUS S&H
AX Autoship

Subscribe and save 5%

?
$56.99FREE SHIPPING
Save 10% on ALL Supplements - Cyber Monday ONLY!
VERIFIED BUYERS
4.9/5
118 RATINGS
Great taste and works well
I've been using this for about 2 months along with the preworkout and noticed a huge difference in my overall performance and recovery. This also has a good flavor I mix it with almond milk it tastes delicious
The only thing I don't like about this is the taste. It might just be me, but the frosted cinnamon bun flavor is sickeningly sweet. I've tried mixing it with milk a couple times and I pretty much have to force it down each time. But from what I can tell it does it's job.
Tastes great and great results
I blend this with 2% milk and I think it tastes amazing. Went through two containers and in the process have already noticed a difference in my composition and I believe this supplement has definitely helped. Highly recommend.

The flavour I got (frosted cinnamon) was pretty good, and I enjoyed the taste even more as time went on. The ONLY reason why I'm giving it 4 stars is because of the price; since I'm in Canada, the total price after tax and shipping came to a whopping $100 CAD. Besides that, the quality of this supplement is the best I've ever had, with no side effects. Only wished there would be more of it for the same price

Great product, Taste great, the tub is full to the top which is very pleasing when opening,
I will only be buying this from now on,
Best protein powder I have used.

Works well. Tastes great, but I wish there was an unsweetened option to avoid dealing with microbiota risks from stevia and sucralose.

Packed full and tastes amazing!!
You get your money's worth and it tastes amazing!! These tubs are literally full to the cap with no room to spare!! I only bought the chocolate fudge and can't speak to other flavours. I mix it in a nutribullet with milk and it works great, I haven't tried with water or mix by hand, so can't comment. Been using this for 5 months and just got 4 more. Also, for Canadians, the shipping is fast but be prepared to pay for the DHS shipping, which for me was $56.83 CAD (for 4 tubs). I get this within the week whereas anywhere else takes weeks.
Excellent taste, best I've had in 20 yrs
Taste great, and I feel a boost in my workout. It's mixes great with water or milk, consistency let's you know that it does not contain extra ingredients. As the label states. Trusting this product makes it completely worth the price. Plus you get as much as most protein products, except this one has no extra space to show off a large jug of nothing. This is the best protein I've ever used.

Massachusetts
,
United States
Love this protein, hoping for more flavors. Definitely seeing great results using Athlean products and workouts.

Tennessee
,
United States
5 stars if it cost less or we got more
This is THE BEST tasting protein i've ever had but you don't get a lot for your money. You won't be upset though, that's for sure!
Load More
The Power
Since it exploded onto the market, X-LR8 has continued to earn praise from the thousands of members of Team Athlean who have experienced its power. Nothing fancy, just the stuff you need.
The Science
Athlean-Rx X-LR8 contains an impressive 30g of protein per serving! If you're unsure whether or not you're getting enough quality protein in your diet, the truth is, you're probably not. Conservative recommendations for an athlete are around 1.5g of Protein per pound of body weight. So if you weigh 180lbs you're looking at over 250g a day, every single day! If you have a busy schedule that can be a daunting task.
The Facts
You asked and we answered with our most potent formulas and open labels so you know exactly which ingredients and how much of each you're getting. Athlean-Rx contains no proprietary blends, and as always, no fillers, no substitutes and no harmful chemicals.
The Results
We have tens of thousands of members of team athlean who have gotten great results from incorporating X-LR8 into their nutrition plan.
"I use X-LR8 as a post workout supplement or a meal replacement."

- Jeff Cavaliere M.S.P.T, CSCS
RX-2 X-LR8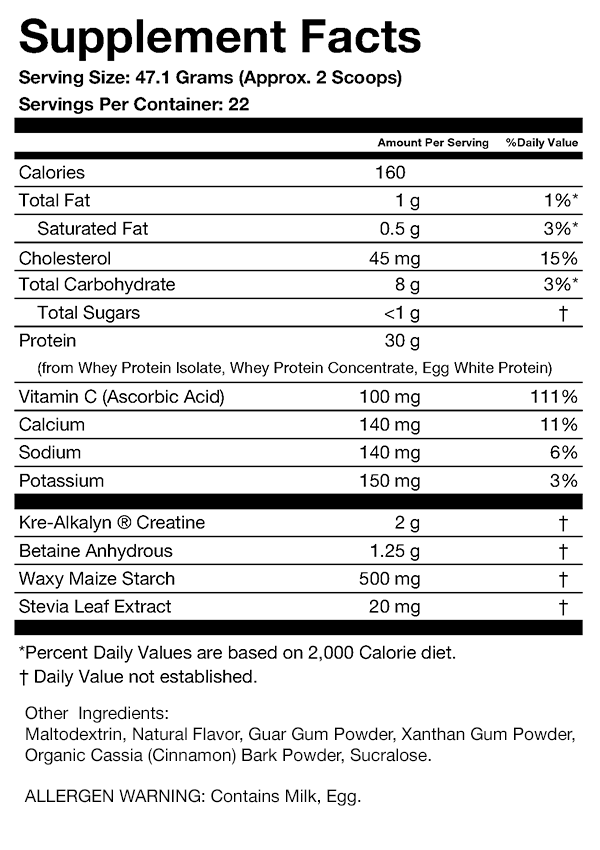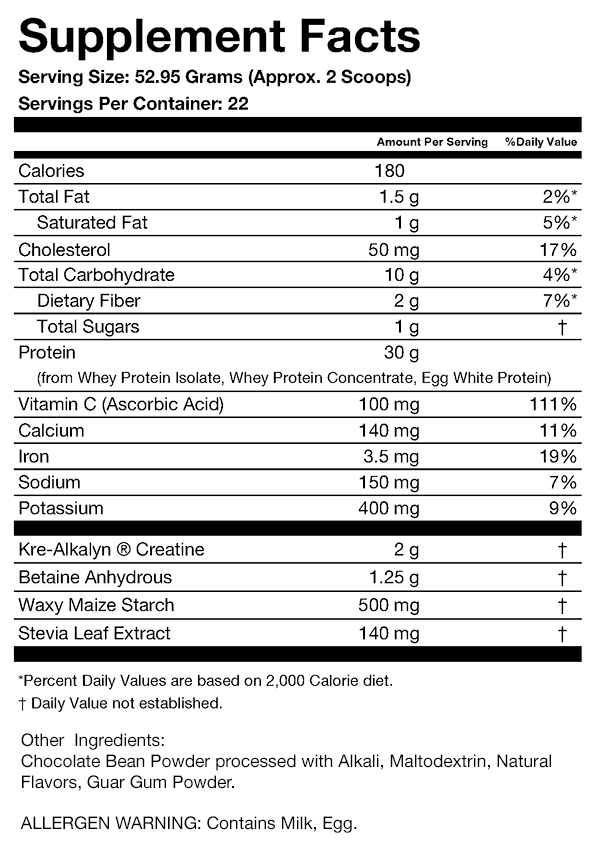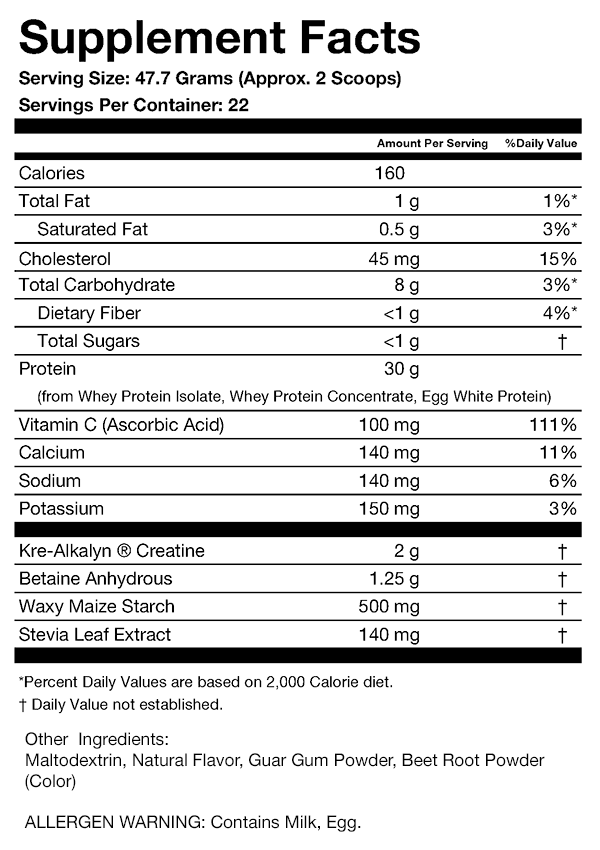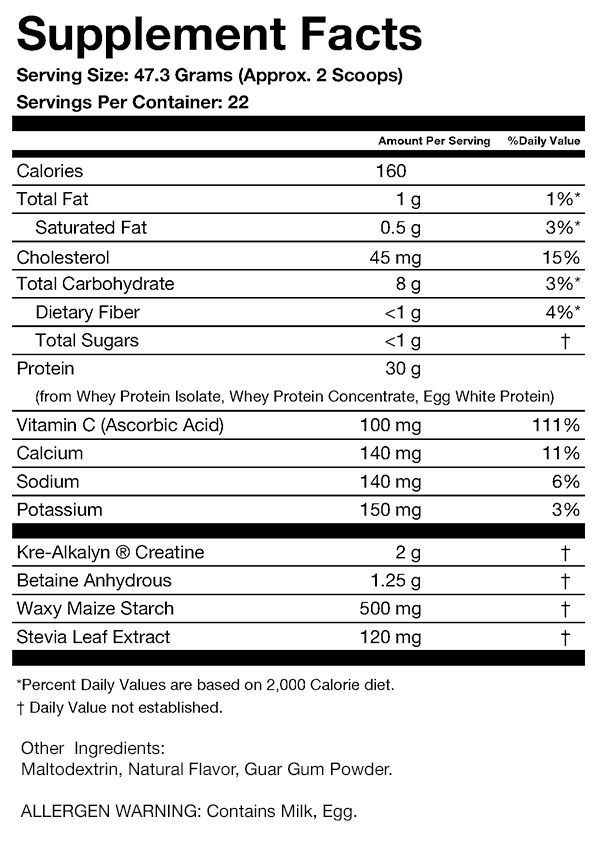 Ingredient
X-LR8 Contains
BETAINE ANHYDROUS

- 1250MG
CLINICALLY EFFECTIVE DOSAGE: 1200-1500mg
CONTAINS
1250

MILLIGRAMS

MG
One of the most important benefits of Betaine is its ability to improve muscle strength and power during training sessions. Some studies have shown that it can improve endurance, increase the number of reps that can be done with a given weight, and improve power and force with every rep. Evidence also indicates that Betaine improves protein synthesis following training sessions.
Improves muscle strength, power and endurance
Increases protein synthesis following training sessions
Increases growth hormone and insulin-like growth factor 1 production
May help promote fat loss
X-LR8 CONTAINS
1250 MG
Clinically Effective Dosage: 1200 - 1500mg
Betaine Anhydrous Clinical Studies & References
Kre-Alkalyn®

- 2g (4g when taken with Stack)
CLINICALLY EFFECTIVE DOSAGE: 2-5g
Mix 2 scoops with 8-12 ounces of cold water or milk. Mix with fruit or your favorite ingredients to create a protein dense shake. Add into oatmeal, pancakes or any other dry mix for an extra boost of protein. You can use X-LR8 with milk or water as a meal replacement, snack, as an additional protein source or as a post workout supplement for improved muscle growth.
REFERENCES
Lee E.C., et al. Ergogenic effects of betaine supplementation on strength and power performance. J Int Soc Sports Nutr. 2010 Jul 19; 7: 27.

Trepanowski, J. F, et al. The effects of chronic betaine supplementation on exercise performance, skeletal muscle oxygen saturation and associated biochemical parameters in resistance trained men. J Strength Cond Res. 2011 Dec; 25(12): 3461-71

Pryor, J. L., et al. Effect of betaine supplementation on cycling sprint performance. J Int Soc Sports Nutr. 2012 Apr 3; 9(1): 12.

Apicella, J. M., et al. Betaine supplementation enhances anabolic endocrine and Akt signaling in response to acute bouts of exercise. Eur J Appl Physiol. 2013 Mar; 113(3): 793-802.

Cholewa, J. M., et al. Effects of betaine on body composition, performance, and homocysteine thiolactone. J Int Soc Sports Nutr. 2013 Aug 22; 10(1): 39.