Estimated
Est.
Read Time: 5 minutes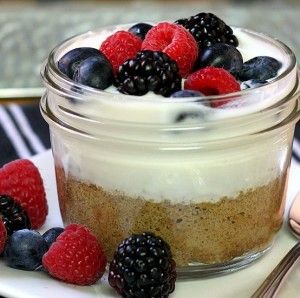 New here?  Like Athlean-XX for Women on Facebook to stay up to date with new posts, great fitness and nutrition articles, motivations and inspirations, fitness challenges, Q&As, giveaways and more!
Many of us tend to ignore breakfast. Either we don't eat breakfast at all, we eat a breakfast that's not big enough or nourishing enough (say a banana and a coffee).  At best, we eat the same tired breakfast every morning…plain scrambled eggs can get old fast.
Starting your day off with a good breakfast IS important. It helps you eat less overall throughout the day, and helps keep your energy levels high all day long, both of which are important to your weight loss and fitness goals.  Check out this article for all the details on why mom was right – breakfast really is the most important meal of the day.
Let's take a look at 10 Twists on Breakfast that are quick and easy to make and will get your day started off on a healthy foot.  Most of these can be made in advance and eaten throughout the week, or even can even be taken to work with you.  These breakfasts are also packed with protein.  Pair them with a protein powder smoothie and you'll be well on your way to meeting the .75g to 1g of protein per pound of body weight we recommend eating per day (click here to see why).  Check out our Pinterest page for TONS of great smoothie recipes!
1)      Basil and Veggie Mini-Quiches by CookinCanuck.com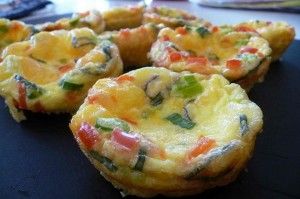 These tasty crustless quiches can be made in advance and eaten during the week!  They're made with eggs, milk, red pepper, green onion, basil and just a little cheddar cheese.  Yum!
2)      Banana Chocolate Chip Quinoa Flake Bake by HealthfulPursuit.com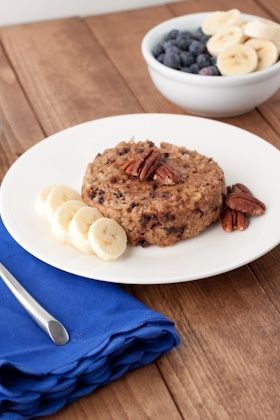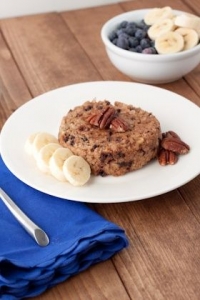 This recipe tastes as wonderful as it sounds.  Quinoa delivers healthy morning protein while banana, chocolate or carob chips, pecans, cinnamon and  nutmeg provide flavor and texture.
3)      Cocoa Nib & Pomegranate Overnight Oats by OhMyVeggies.com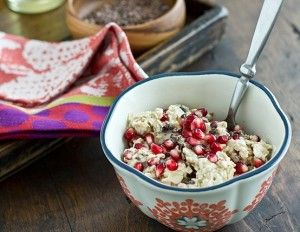 An interesting twist that will help make oatmeal interesting again!  The creative pairing of pomegranate and cocoa nibs makes this recipe tangy and chocolatey.  These oats are meant to be prepared at night and eaten the morning.  Easy to prepare and easier to take along with you to work!
4)      Healthy Breakfast Bread Pudding by TheYummyLife.com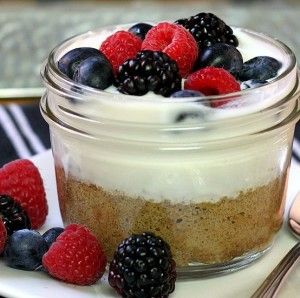 This bread pudding is perfect to grab and eat quickly in the morning or take to work.  It's very low in calories (less than 150 per serving) and its mixture of oat, brown rice and barley flours gives you a hefty serving of healthy whole grains to help keep you full.  Top it with the yogurt and the fruit of your choice and you're all set.  Can even be made ahead and frozen for a month's or more worth of healthy breakfasts!
5)      Carrot Cake Oatmeal by ChefInDisguise.com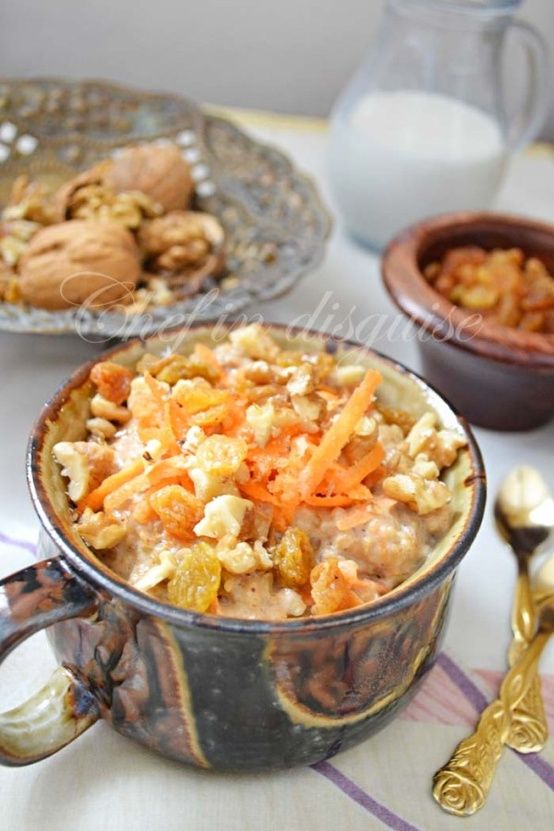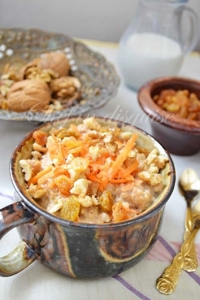 Another amazing way to make your oatmeal MUCH more interesting! Carrots, raisins, honey, cinnamon and cardamom give this oatmeal 'carrot cake' flavor.  Top with chopped walnuts, raisins and carrots.  This can be made with normal milk or coconut milk.
6)      Magic Breakfast Pudding by ChocolateCoveredKatie.com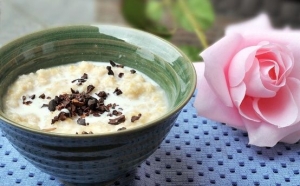 This breakfast pudding is made with bulgur (oats works too), non-dairy creamer, coconut extract and toppings of your choice.  She used cocoa nibs, but it also works well with fresh fruit, dried fruit or nuts!
7 )      Quinoa Coconut and Pecan Porridge by WolfandWillowBlog.com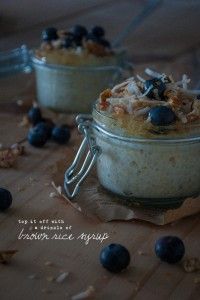 Super healthy and super tasty too!  She uses quinoa, coconut milk, pecans, shredded coconut, chia seeds, cinnamon and blueberries, along with some rice malt syrup for sweetener.  This can be made in advance and refrigerated to eat throughout the week!
Click Here for Full Recipe
8)      Clean Eating Black Bean Scramble by TheGraciousPantry.com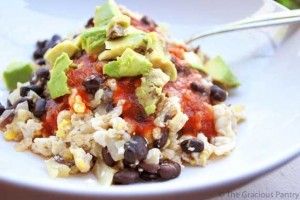 This is one of my all-time favorite blogs for healthy, tasty recipes and breakfast is no exception.  Give your breakfast a little Tex-Mex kick with this recipe which uses black beans, scrambled egg whites, red onion, salsa, avocado and a little olive oil!
9)   Healthy Breakfast Hash by GreenLiteBites.com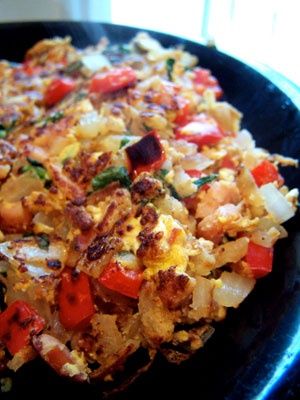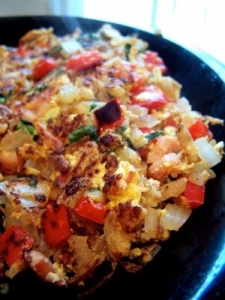 Hash is a breakfast that will keep you going strong all morning into the afternoon!  This recipe uses potatoes, sweet onion, bacon bits, Canadian bacon, bell pepper, spinach and a single egg.  Of course, you could switch up ingredients and add Serrano ham, tomato, mushrooms and whatever other types of veggies you like!
10) Fresh Herb Tofu Frittata by LunchBoxBunch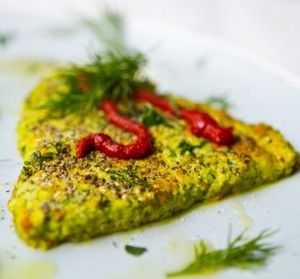 Packed with healthy superfoods, this frittata is a great way to start your day!  This egg-free vegan recipe uses tofu, soy creamer, chia seeds, maple syrup, nutritional yeast, tamari, black pepper, fresh herbs, kale leaves and truffle oil.  Great recipe!
At Athlean-XX for Women, we're all about healthy nutrition because it helps us lose weight and have energy for our tough workouts!  Our nutrition plan recommends combining proteins and slow-burning carbohydrates at every meal and snack to help keep you feeling full.  In fact, the Athlean-XX for Women nutrition plan is anything but a diet – we actually recommend you eat more – 5 – 6 times per day!  This type of diet will help turn your metabolism into a fat burning machine – when combined with our killer 30 minute workouts.  Yes, with Athlean-XX for Women, eat more, exercise shorter but harder and weigh less!  Join us on Team Athlean to start your lifestyle makeover now!
And finally, if you'd like to stay up to date with the AthleanXXforWomen.com blog, then please like us on Facebook, follow us on Twitter and follow us on Pinterest.
P.S.  We are a growing community dedicated to and passionate about realistic fitness and nutrition for REAL women.  If you enjoyed this post please feel free to share on Facebook, Twitter and Pinterest. It would be incredibly appreciated!