Estimated
Est.
Read Time: 7 minutes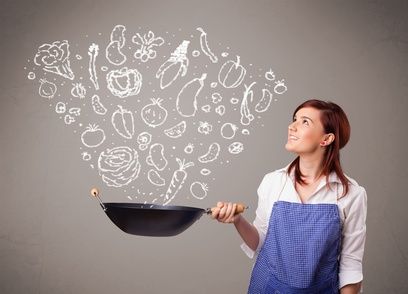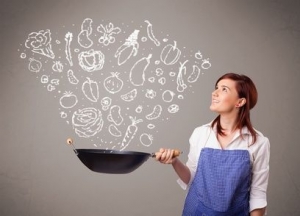 New here?  Like Athlean-XX for Women on Facebook to stay up to date with new posts, great fitness and nutrition articles, motivations and inspirations, fitness challenges, Q&As, giveaways and more!
Let's face it.  Most of us women lead extremely busy lives.  That leads many of us to eat out frequently or eat packaged foods at home or work for convenience.  While there are healthy restaurant and packaged food options out there, we all know that cooking fresh foods at home is:
Safest: You control what ingredients go into your food.
Healthiest: You can swap out ingredients to make your recipes as healthy as possible.
Cheapest: No restaurant or packaged food will ever be less expensive than preparing at home, especially if you've got a family.
However, none of those great reasons for cooking at home change the simple fact that cooking meals takes time. Even if you try to pre-plan recipes and do all your grocery shopping on the weekends, making dinner can still take up 30 – 60 minutes each night.
What if we could cut that dinner prep time down to 5 minutes?  Wouldn't that make life easier?
This week, we've got some great tips for you to help you plan and prep 7 days of meals in advance, so that when it's time to cook, most of the work is already done!  All you have to do is set aside 1 – 2 hours for prep on a weekend day, and you'll be set for the whole week.   Many folks that have tried these methods report that as time goes on, you get so accustomed to eating this way that the prep time decreases!
Give these tips a try and you'll be surprised how easy healthy eating becomes!
1)      Make a Shopping List
Yes, I know this one sounds like a given, but it's an important first step.  This system works best when you do all of your shopping for the week on a weekend day.
Before you hit the grocery store, you can calculate how much meat you need for a week.  For example, if there's two of you in the household and you each eat about 4 oz. of meat at each of two meals every day (lunch and dinner), multiply 8 oz. by 14 meals to get 112 total oz.  Divide 112 by 16 (the number of oz. in a lb.) and you'll find that you need to purchase 7 lbs. of meat for the week.
In time you'll also start to figure out how much of each fruit and vegetable you need for a week in your household, as well as other staples like tortillas, cheese, milk, etc.
If you don't have a ton of storage containers in your house, buy some of the inexpensive reusable plastic ones at the grocery store in a few different sizes.  You'll be needing them!
2)      Pre-Cook Your Meats
After you've bought your groceries, the prep work begins!  Some meats like chicken breast and ground meat (pork, turkey, chicken or beef) are great for pre-cooking.  You can then use them in quickie recipes later on.
To pre-cook your chicken breasts, boil them in water with salt until they're cooked all the way through.  Once they're cooled, you can either leave them intact (perfect for taking to work), or cut or shred them into smaller pieces to use in salads, stir fries or to warm up in sauces later in the week.
Ground meat can be fried in a healthy cooking oil with salt, pepper and a little cayenne if you like things spicy.  It can be used later in the week by adding it to pasta sauce or throwing it in a tortilla to make a taco.
Other meats that don't do well with pre-cooking (like fish and beef steaks) can be separated into portions and frozen.  That way, you can just pull one out of the freezer to defrost and then throw in the frying pan.
Frozen pre-cooked shrimp are another super convenient protein. They're great for salads, stir fries or to be cooked in sauces like curry.
3)      Pre-Prep Your Starchy Carbs
Your starches can also be prepared in advance for fast lunches and dinners during the week.  Make a week's worth of brown rice or quinoa and re-heat when it's time to eat.  This works even better when the rice or quinoa is mixed with a healthy sauce, since the sauce will help re-hydrate the starch.  Other make-in-advance options include mashed potatoes, mashed cauliflower or pureed squash.
Tortillas are also a great option for throwing together a quick taco or wrap.  For an easy at work meal, take some pre-cooked meat, sautéed or fresh veggies and a tortilla (stored separately) with you.  Just wrap up the ingredients and microwave for a minute and lunch is ready!
4)      Chop and Cook Your Veggies
If you're anything like me, veggies in the fridge get ignored unless they're prepped in advance, easy to grab and use.  First, wash all your veggies, chop them into usable sizes and then store in containers. Onions and tomatoes can be chopped up to use in tacos, wraps, salads and other recipes.  Broccoli, cauliflower and carrots can be chopped and left raw (just steam for 5 minutes in a steamer basket when ready to eat) or can be pre-steamed for 1 – 2 minutes and stored.  Pre-steamed veggies can be warmed on the stove with meat and sauce later in the week, or microwaved and eaten by themselves.
Many veggies can be purchased pre-chopped and ready to go, but if you're looking to save some money, buying and chopping yourself just takes a few minutes!
5)      Make and Freeze Sauces and Spice Mixes
Here's how to make this way of eating interesting!  Each weekend, prepare a large batch of one or two sauces that could be used during the week to combine with your proteins, veggies and starches.  Make enough to freeze and use for several weeks to come.  Some ideas are pasta sauce (can be bought in a jar, too), pesto sauce, curries or peanut sauce.  These can be easily separated into portions and frozen.  If you do two per week, you've got 8 sauces per month to rotate through!  Just mix together some pre-cooked meat, pre-steamed veggies and a sauce and dinner is ready to go in 5 minutes.
Other great options to make in advance include salsas that can go on top of fish, chicken or meat like salsas, guacamole or chutneys.
You can also put together special dry spice mixes to give an ethnic flare when sprinkled on your meat and veggies.  These might include Chinese 5 Spice mix, Mediterranean spices, Mexican spices, Italian, French or even Indian Garam Masala.  Penzeys has some great pre-made spice mixes if you prefer to purchase them instead of making your own.
As you can see, in just an hour or two on Sunday, you can prep and store everything you need for a week's worth of healthy meals.  With all of the spice and sauce options, healthy eating doesn't have to get boring!
At Athlean-XX for Women, we're all about healthy nutrition because it helps us lose weight and have energy for our tough workouts!  Our nutrition plan recommends combining proteins and slow-burning carbohydrates at every meal and snack to help keep you feeling full.  In fact, the Athlean-XX for Women nutrition plan is anything but a diet – we actually recommend you eat more – 5 – 6 times per day!  This type of diet will help turn your metabolism into a fat burning machine – when combined with our killer 30 minute workouts.  Yes, with Athlean-XX for Women, eat more, exercise shorter but harder and weigh less!  Join us on Team Athlean to start your lifestyle makeover now!
And finally, if you'd like to stay up to date with the AthleanXXforWomen.com blog, then please like us on Facebook, follow us on Twitter and follow us on Pinterest.
P.S.  We are a growing community dedicated to and passionate about realistic fitness and nutrition for REAL women.  If you enjoyed this post please feel free to share on Facebook, Twitter and Pinterest. It would be incredibly appreciated!