Estimated
Est.
Read Time: 5 minutes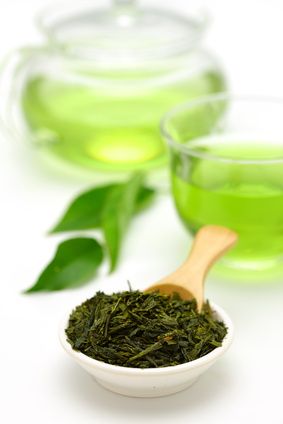 New here?  Like Athlean-XX for Women on Facebook to stay up to date with new posts, great fitness and nutrition articles, motivations and inspirations, fitness challenges, Q&As, giveaways and more!
For those of us who are working on weight loss, we're familiar with the phrase, 'Don't drink your calories.'  Drinks like bottled juices, sodas and fancy lattes and frappes contain empty calories and lots of sugar.  Studies show that even the artificial sweeteners contained in the sugar-free, calorie free versions can spike blood sugar and spark cravings.   That pretty much leaves you with water, right?
Actually, unsweetened green tea is calorie free just like water, and has some additional health benefits too! If you're not a green tea drinker yet, you may want to become one.  Green tea has some incredible health benefits including hydration, antioxidants and weight loss.
Green tea hydrates you just as water does, so if you must have some flavor in your beverages, green tea is the way to go.  Green tea does contain caffeine, but it's a lesser quantity and gentler than the caffeine in coffee.   It will help give you a pick me up without the jitters.
HEALTH BENEFITS OF DRINKING GREEN TEA
Green tea may have some heart health benefits, protecting against coronary artery disease, atherosclerosis, high cholesterol and hypertension.  It also has a long history of use as a natural method for controlling blood sugar levels.  Since green tea acts as an antibacterial agent and green tea leaves contain fluoride, the tea has benefits for dental health as well.  Green tea has also been found to prevent osteoporosis and bone loss.  Finally, the antioxidants contained in green tea help to protect against some cancers.  It is important to note that decaffeinated varieties of green tea may not contain as many antioxidants as caffeinated varieties.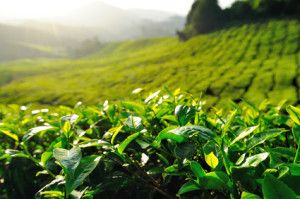 WEIGHT LOSS BENEFITS OF GREEN TEA
Green tea helps with weight loss in a few key ways.  First, it helps you to feel full, especially if you drink it warm.  Second, green tea contains EGCG (epigallocatechin gallate), an ingredient known to speed up metabolism.  Some sources state that drinking three cups of green tea a day can increase your metabolism by up to 10%.  Green tea also contains other antioxidants called catechins that may help weight loss in two ways:  by increasing fat burn and reducing hunger.  While black tea also contains catechins, green tea contains significantly more (142 mg in green tea versus 27 mg in black tea).  Other studies show that the catechins found in green tea may be more effective at burning fat when accompanied by exercise.  Sources say that catechins need the caffeine in green tea to function properly and that decaffeinated teas may not have metabolism benefits of caffeinated tea.

WAYS TO TAKE YOUR GREEN TEA
The traditional way of drinking green tea is to purchase and brew loose leaf tea and drink it hot, just like you would coffee.  If straight green tea is too bitter for you, specialty loose leaf tea stores like Teavana offer an amazing selection of healthy flavored green teas including flavors such as Blackberry Mojito, Peachberry Jasmine, Jinjaa Citrus Twist, Fruit Bomba and Coconut Cream.  Of course, they also offer many varieties of more traditional unflavored green teas.  If you've never brewed loose leaf tea before, you can also find all of the implements and information for tea novices at Teavana.
Of course, you can also buy green tea bags instead of dealing with the leaves.  At your natural grocery store, you're likely to find a wide variety of flavored and unflavored green tea bags.
If drinking warm tea throughout the day isn't your thing, or for when the weather's warm, making iced green tea is a great way to get your tea in.  In fact, you can make a weaker green tea and leave it in the fridge to drink in lieu of water.  Unsweetened iced green tea is really refreshing, especially in mint, citrus or berry flavors.  If you've been a juice or soda drinker for a while, you may find iced tea to be a great replacement!
Finally, if you know you'll have a tough time drinking enough green tea to reap the benefits, you can take green tea capsules.  Look for supplements that contain at least 70% ECGC.
At Athlean-XX for Women, we're all about healthy nutrition because it helps us lose weight and have energy for our tough workouts!  Our nutrition plan recommends combining proteins, fats and slow-burning carbohydrates at every meal and snack to help keep you feeling full.  In fact, the Athlean-XX for Women nutrition plan is anything but a diet – we actually recommend you eat more – 5 – 6 times per day!  This type of diet will help turn your metabolism into a fat burning machine – when combined with our killer 30 minute workouts.  Yes, with Athlean-XX for Women, eat more, exercise shorter but harder and weigh less!  Join us on Team Athlean to start your lifestyle makeover now!
And finally, if you'd like to stay up to date with the AthleanXXforWomen.com blog, then please like us on Facebook, follow us on Twitter and follow us on Pinterest.
P.S.  We are a growing community dedicated to and passionate about realistic fitness and nutrition for REAL women.  If you enjoyed this post please feel free to share on Facebook, Twitter and Pinterest. It would be incredibly appreciated!