Estimated
Est.
Read Time: 5 minutes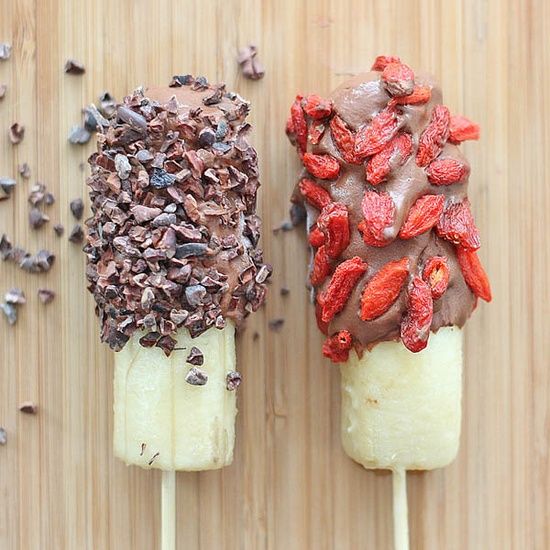 New here?  Like Athlean-XX for Women on Facebook to stay up to date with new posts, great fitness and nutrition articles, motivations and inspirations, fitness challenges, Q&As, giveaways and more!
Valentine's Day is all about love….and chocolate!  And we LOVE CHOCOLATE!  Chocolate can be considered one of the 'healthiest' sweet treats.  Dark chocolate in particular has the ability to annihilate a sugar craving with just a tiny piece or two!  It's also full of healthy antioxidants to keep your skin glowing and to clear our bodies of cancer causing free radicals.
There are also lots of healthy, decadent ways to enjoy chocolate.  This Valentine's Day surprise your loved one with a rich, tasty and healthy chocolate dessert.  OR, make it your Valentine's gift to yourself!
Let's look at 10 chocolate desserts that are made healthily, without refined sugar and even vegan and dairy free!
1)      Healthy Chocolate Banana On A Stick by LetsTalkFitness.com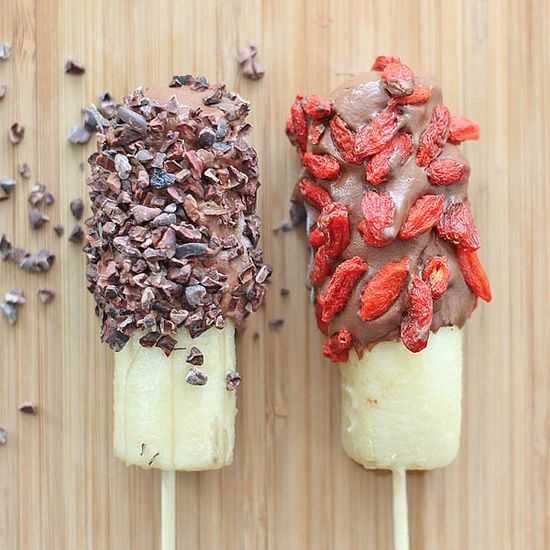 These chocolate bananas are as tasty as they look, and they combine dark chocolate with other superfoods like cacao powder, cacao nibs and goji berries.  These are completely sugar-free, sweetened with stevia.  If you prefer, you could make them by melting a dark chocolate bar – we recommend 70% or more.  The percentage on the chocolate bar indicates the ratio of cacao to sugar.
Click Here for Full Recipe
2)      Cocoa Dusted Dark Chocolate Coated Almonds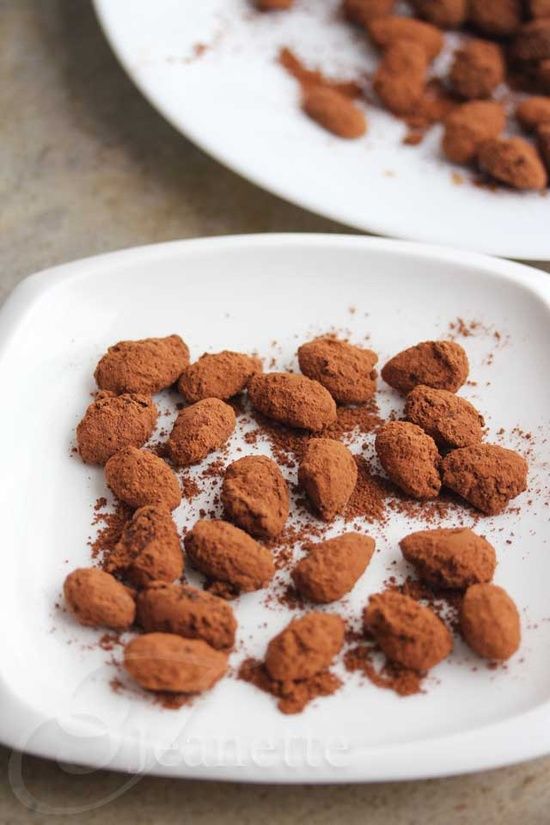 Chocolate and almonds go REALLY well together, and this recipe is no exception!  These make a perfect snack if you're having guests for coffee or even if you need a little pick me up after a good workout.  Almonds are considered a 'power food' because they are packed with nutrients that help reduce the risk of heart disease and bone loss, as well as promote bone and connective tissue health.  They're also a fabulous source of protein!
3)      Sweet Potato Chocolate Pudding by HealthyFoodForLiving.com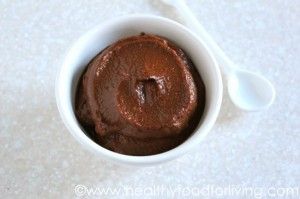 This recipe is made with sweet potatoes, cocoa powder, almond milk, espresso powder and vanilla, and is sweetened with maple syrup.  It is entirely dairy free, and you could swap out the maple syrup for a different sweetener if you desired.  The consistency of this pudding is perfect and the chocolate taste is divine!
4)      Citrus Cranberry Chocolate Truffles by FamilyFreshCooking.com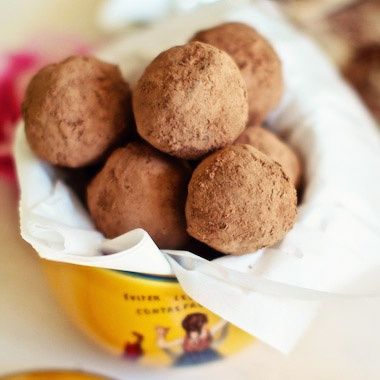 Choose your favorite chocolate bar (could be made with dark chocolate, milk or even white varieties), and make these incredible gourmet truffles!  They're made with almond milk, tangerines, coffee extract, orange extract, sea salt, stevia, cranberries, orange peel and cocoa powder.  Absolutely delicious!
5)      Healthy Chocolate Mint Squares by FoodConfidence.com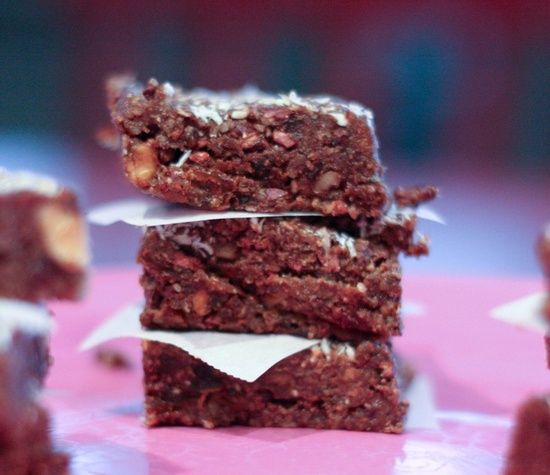 Completely grain free, dairy free and vegan, these chocolate mint squares make a healthy dessert OR protein bar!  They're packed with superfoods including dates, hemp seeds, chia seeds, cocoa powder, cocoa nibs and coconut milk.  Peppermint, walnuts, almonds and shredded coconut add texture and flavor.
6)      Coconut Chocolate Cake by CivilizedCavemanCooking.com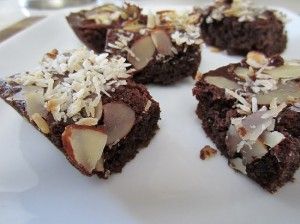 This gluten-free, grain-free cake is made using almond flour, dark chocolate cake, coconut milk, shredded coconut, almonds and eggs.  Although almond flour is higher in calories than grain flours, it's more nutritious and more filling, so you won't be tempted to eat the whole pan!
7)      Paleo Chocolate Chip Cookies by HealthExtremist.com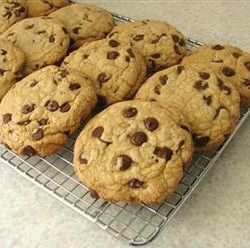 Healthy chocolate chip cookies?  YES, it is possible!  They're also totally grain free, dairy free and vegan.  These cookies are made with almond flour, baking soda, raw honey or mashed banana, coconut oil and chocolate chips.  I love the fact that you can use banana for sweetening this recipe!  These taste amazing!
8)      Almond Coconut Fudge by DeliciouslyOrganic.net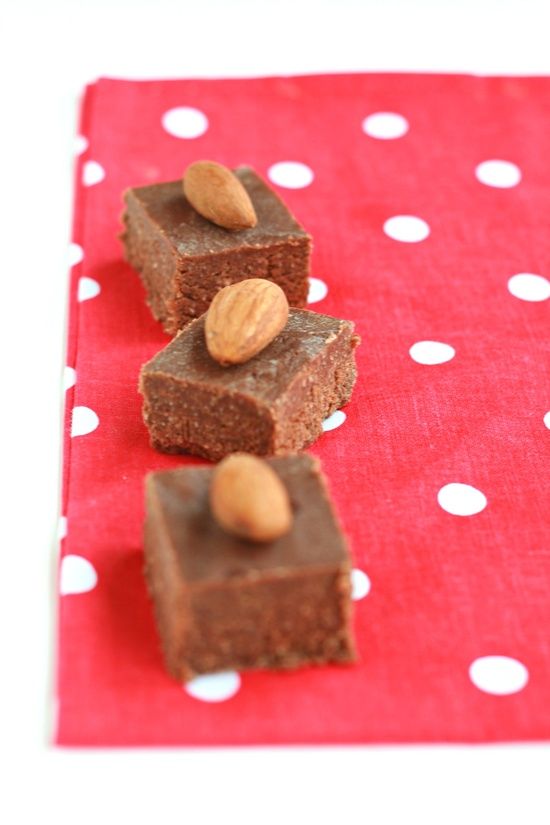 This incredible fudge is dairy free, grain free, sugar free and vegan.  It's made with shredded coconut, cocoa powder, vanilla extract, almond extract and maple syrup.  These are amazingly sweet and satiating – one square of fudge per day will keep the sweets cravings away!  They make the perfect Valentine's Day gift for a health-conscious fella!
9)      Chocolate Strawberry Truffle Pie by Paleoholic.com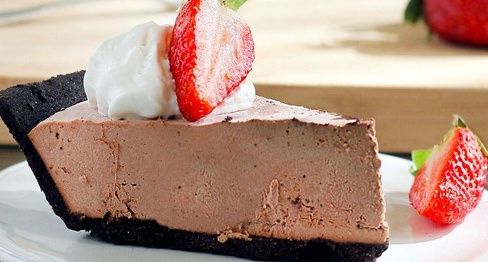 Ok, I'm not guaranteeing this is low calorie.  Nothing called 'truffle pie' could possibly be!  But it IS super healthy.  It's made with strawberries, cocoa powder, cashews, vanilla extract, and coconut, oil and is sweetened with agave.  You could also substitute maple syrup or honey for sweetener.  This is the perfect dessert for health-conscious dinner guests, or makes a fabulous, romantic Valentine's Day dessert.  Enjoy by candlelight!
10)   Sugar Free Chocolate or Carob Peanut Butter Cups by RealSustenance.com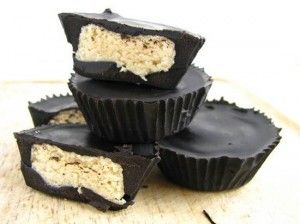 If you or your sweetheart loves peanut butter cups, you CAN make a healthier version at home and avoid all of the nasty additives!  This recipe uses cocoa powder, coconut oil, vanilla extract, any nut or seed butter you like and stevia to sweeten.  These taste amazing!
Click Here for Full Recipe
At Athlean-XX for Women, we're all about healthy nutrition because it helps us lose weight and have energy for our tough workouts!  Our nutrition plan recommends combining proteins and slow-burning carbohydrates at every meal and snack to help keep you feeling full.  In fact, the Athlean-XX for Women nutrition plan is anything but a diet – we actually recommend you eat more – 5 – 6 times per day!  This type of diet will help turn your metabolism into a fat burning machine – when combined with our killer 30 minute workouts.  Yes, with Athlean-XX for Women, eat more, exercise shorter but harder and weigh less!  Join us on Team Athlean to start your lifestyle makeover now!
And finally, if you'd like to stay up to date with the AthleanXXforWomen.com blog, then please like us on Facebook, follow us on Twitter and follow us on Pinterest.
P.S.  We are a growing community dedicated to and passionate about realistic fitness and nutrition for REAL women.  If you enjoyed this post please feel free to share on Facebook, Twitter and Pinterest. It would be incredibly appreciated!