Get the MAX/SIZE
90-day training plan
Max/Size is a high volume, high intensity, hardcore training program designed around the classic, old school lifts. Intended to force hardgainers into building muscle, Max/Size will also help seasoned athletes take their physiques to whole new levels and experience new gains. Whether you're just starting out or have been in the iron game for years Max/Size sets the old rule books ablaze and delivers scorching results.



Hardgainer to Muscular
Hardgainers face many challenges when it comes to changing their bodies. From improper diet to bad advice from bro-scientists. Max/Size tosses all the old notions about muscle building into the flames and forges a new template for max growth, max development and max size. Regardless of what results you've experienced in the past, Max/Size is scientifically designed to shift your body into growth mode. Create a body forged in the flames with Max/Size!
From Built to Jacked
Whether you're looking to burst through a training plateau or you just want to pack on a few pounds of muscle, experienced athletes will make all new progress using Max/Size's scientific approach to hypertrophy. With a combination of progressive overload principles, intensity driven techniques and cycling phases of hyper-volume, Max/Size will have you tossing your old clothes into the flames as you watch those old PR's go up in smoke!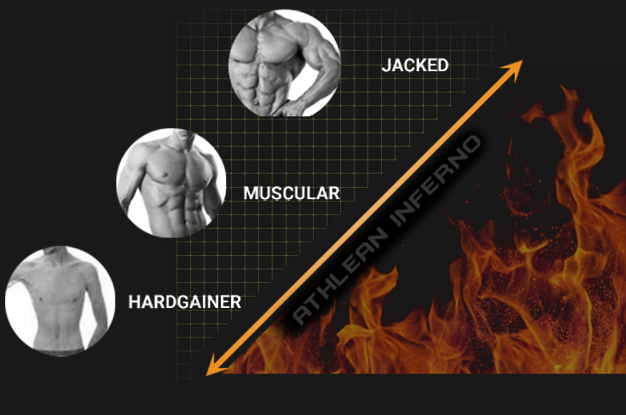 THE WORKOUTS
MAX SIZE EXCLUSIVE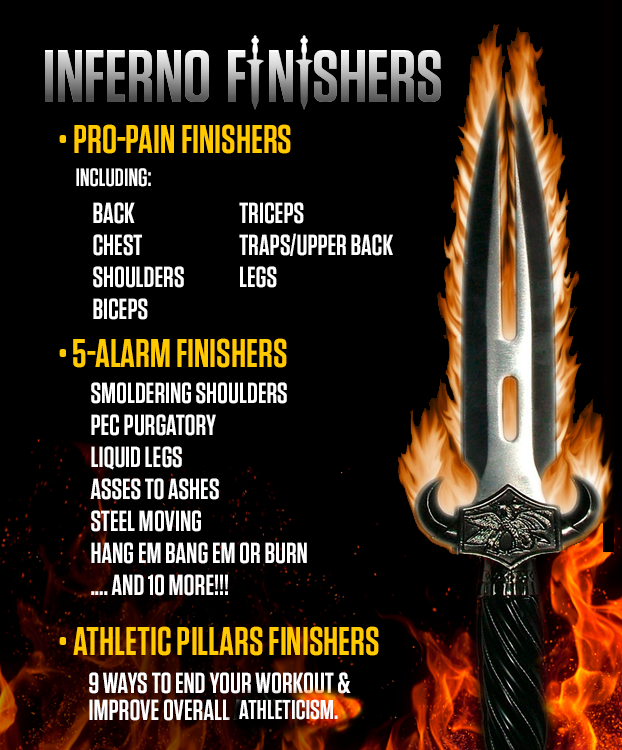 Building muscle is all about pushing your body to the max. The workouts in Max/Size are designed to do just that but if it's STILL not enough to blast your body into overdrive our 5-Alarm finishers will complete the job ensuring you have nothing left in the tank! Get ready for these incredible workout finishers available only with Max/Size.
3 SEPARATE PHASES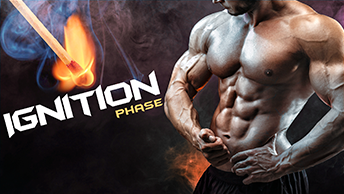 GET STARTED WITH VOLUME AND HARD WORK.
Weeks 1-4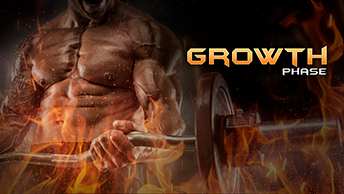 AMP UP THE GAINS WITH 5-ALARM FINISHERS.
Weeks 5-8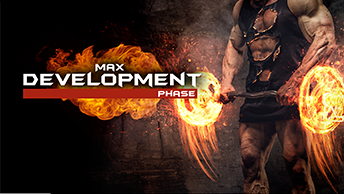 MORE TECHNIQUES FOR NEW MUSCLE GROWTH.
Weeks 9-12

ALL NEW CHALLENGES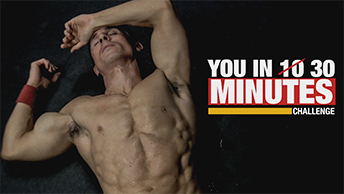 YOU IN 30 MINUTES CHALLENGE
Building off of the incredible success of our 'You in 10 min' YouTube challenge we've cranked the temperature up to 100º to deliver a total body version of those punishing workouts that will cause even the most loyal Athlean-X followers to go up in smoke.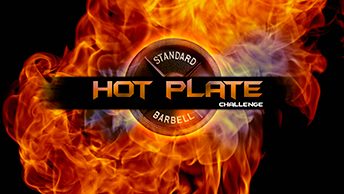 HOT PLATE CHALLENGE
The Hot Plate Challenge delivers an old school athletic favorite in the form of a true functional fitness challenge. You may look like a superhero but if you can't perform then all that muscle is worthless. The Hot Plate Challenge is the ultimate test of your ability to work in a real world scenario. Rise to the occasion or crumble on the field of battle.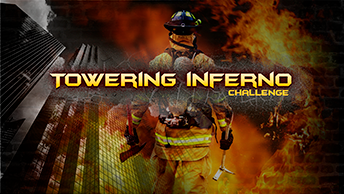 TOWERING INFERNO CHALLENGE
See how high you can climb as the walls crumble around you. Each floor of the towering inferno turns up the heat on the training as your body begs you to stop, drop, and roll up into the fetal position. Forge ahead and earn a top score or give up and perish in the flames. The burn is only temporary but the glory will live on for an eternity!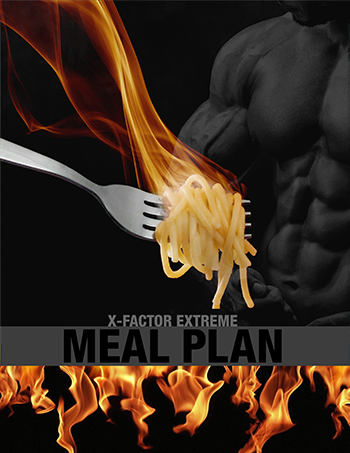 x-factor extreme Meal Plan
If there's anything we know at ATHLEAN-X, it's how to turn skinny guys into muscle building machines and the X-Factor Meal plan has been the foundation of that plan since day 1. Our all new Extreme swap out meals will help hardgainers learn to eat right to build muscle while the classic X-Factor foundation plan will help veteran athletes continue to build muscle without adding any unwanted fat.
Meal Plan Includes
Newly updated Day-by-day meal plan & supplementation guide
Easy to follow meals that produce results!
Never count calories, or measure and STILL get shredded!
All new "Size" meals to get you jacked like never before!

THE X-TRA MILE GUARANTEE
I want you to be totally confident in training with ATHLEAN-X. That's why we offer our Extra Mile Guarantee. For the complete 90 days, our team will answer questions, modify exercises and work to get you through the program. We take this very seriously and we're not going to go easy on you or let you quit, we're going to keep you focused and help you get the most out of your training!
If you commit to ATHLEAN-X, then we commit to you and your success!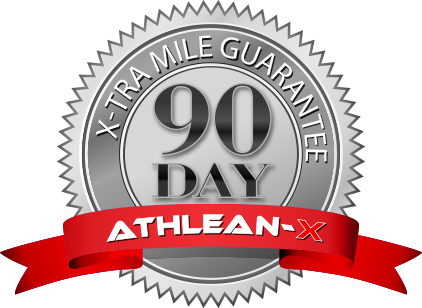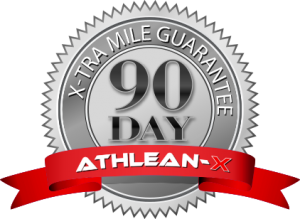 Customer Reviews

MAX/SIZE

|

Verified User
Practical program generating muscle definition & mass
Max Size is a great program. It integrates a practical means to determine your personal intensity level with the Rep Max calculator and establishes a plan that cultivates a routine to improve technique while still incorporating exercises for athletic performance (& appearance, if that is your goal). Follow the workout plan with the diet plan and the strength and athletic benefits will follow.

MAX/SIZE

|

Verified User
I wasn't sure what to make is this program when I first started. If Im honest it did take a moment to get into it. I think part of it was because I didn't have access to a full gym and was using primarily DB. That said, despite not having the full set of equipment it still produced results. I'm a looking forward to repeating this work out in the next couple of weeks as I have access to a full set of gym equipment and can apply all the techniques as prescribed!!

MAX/SIZE

|

Verified User
I've really appreciated the thoroughness and diversity of Jeff's approach. Previously, my knowledge of resistance training really came down to your basic bro splits. Through Athleanx and the Max Size program, I've really learned a lot about different kinds of splits, finishers, stretches, and much else. I love the instructional videos and Jeff has the perfect coach aura: confident, capable, and just a little intimidating. (A good thing: you want to rise to his challenges and no-bs presence.) I'm excited to try the next Athleanx program, and look forward to returning to this program in the future! A couple suggestions to improve potentially what is already a great program. First, the videos are great, but every once in a while I would have benefitted from seeing the movement from another angle. DB high pulls never felt quite natural, for instance, and a side angle might have really helped me nail the form. Also, I loved Jeff's explanatory commentary, and actually wanted more! For instance, some time talking about the change in routine each month, and diving into the philosophy behind the decisions for this or that split and the particular pairings, concentric vs eccentric splits, why we're doing what we're doing specifically following what we were just doing in the last phase, etc. A big reason I like Athleanx is the education I get along the way (I'm a professor, so I of course I'm a nerd about this), and being able to better understand the organization of exercises and how it leads to max hypertrophy would be even more awesome. In any case, many thanks to Jeff and the team at Athleanx!

MAX/SIZE

|

Verified User
Loved this program, the variety in exercises and rep/set ranges kept my interest. This was a challenge, but one that wasn't overwhelming or discouraging in any way. Highly recommend trying this one.

MAX/SIZE

|

Verified User
This is the first AthleanX program I have ever used and it was great. I started following Jeff's short videos to help with specific exercises and injuries, and was sold on his approach! This program was challenging and yet I never experienced an injury, rather have seen improvement in definition and strength – good news for a 60 year old. Thanks for making it easy to follow with both explanations, options, and videos.

MAX/SIZE

|

Verified User
brutal program with results
one of the hardest and most effective workouts have done in my life

MAX/SIZE

|

Verified User
So, when I first attempted Max Size, I was having a lot of difficulty with the program and I wasn't able to last through the workouts. However, recently I decided to buy Max Shred and it was truly difficult, but fun program. The reason why I chose it was because my endurance (cardio and muscular) was AWFUL. After I completed Max Shred, I decided to give Max Size another chance and not only have I never been more prepared, but I seem to enjoy it a lot more than when I initially tried it. I love the weekly workout split where it focuses on antagonist muscles each day (but with adequate rest of course). It's a great and well-structured program. As mentioned from before, I highly recommend doing Max Shred to prepare you for Max Size, as you will enjoy the program a lot more.

MAX/SIZE

|

Verified User
Great program, got me into shape

MAX/SIZE

|

Verified User
Jeff is the only man I know that delivers results. Highly recommend anything he produces.

MAX/SIZE

|

Verified User
I have worked out for over a decade on my own "program" but never really made huge gains. This program is the first professional program I have used and I can tell a huge improvement in my physique.
Load More


FAQ'S
The program average 5 days per week with each workout clocking in between 10 minutes (for some intense conditioning work) to about 60 minutes (depending on your ability to withstand the finishers!)
Both Max/Shred and Max/Size will require equipment. While there is a great deal of bodyweight training programmed, you will need the basics for a home gym such as some dumbbells, an adjustable bench, resistance band, pullup bar, and a barbell to complete the exercises as they are programmed.
That said, as with AX-1, exercise swaps can be made to overcome the lack of a barbell with dumbbell adaptations coming in as suitable replacements.
The Max/Size program is not designed to be fit into the existing AX-1 schedule or any other A-X workout, as it is a stand alone program with the perfect amount of volume included to achieve the goal of maximum fat loss without loss of strength or size.
Absolutely!
There has been a dramatic shift in recent years towards heavier training being advocated for women. This is great! That said, in a rush to do so, poor programming has resulted in many women getting hurt and injured from the improper guidance on how to do that. Max/Size provides you with the safest, most structured approach to lifting heavier so you can add lean toned muscle without sacrificing femininity. The program can also be used in succession with Max/Shred to reap the benefits of both maximum fat loss and lean muscle development should you choose to do so.
The Max/Size and Max/Shred programs are not designed to be performed at the same time, as they are stand alone 12 week programs, allowing you to focus your effort on one goal at a time. That said, they were designed to build off of each other and work perfectly when done in succession!
Whether you want to focus on fat loss or lean muscle gain first, the other program will smoothly pick up where one leaves off allowing you to create your own physique over 24 weeks!
Max/Size is designed to do one thing better than any other program, build muscle.
That said, with it's strategies rooted in the science of muscle growth and ensuring the intensity in every workout is high enough to create it…Max/Size can help even the hardest of hard gainers to put on muscle. The importance of recovery is key, and often overlooked by those eager to pack on the gains. Not in Max/Size.
That is a term that is often relied on to place an artificial limit on what you can achieve with your physique. Most of the time, even the most seasoned of lifters find that they have another level of intensity that they simply have not tapped into (because it's damn hard!).
Max/Size gives you no choice but to train in that realm…and in doing so, delivers results for anyone who dares tackle it!