Estimated
Est.
Read Time: 5 minutes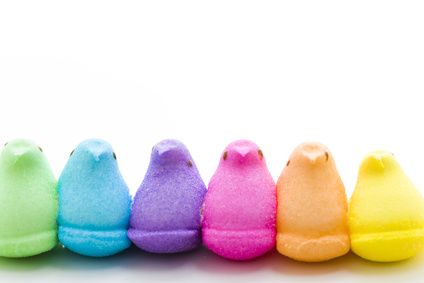 New here?  Like Athlean-XX for Women on Facebook to stay up to date with new posts, great fitness and nutrition articles, motivations and inspirations, fitness challenges, Q&As, giveaways and more!
Those Peeps bunnies and chicks sure are cute, but do you know what's in the things?  Sugar, sugar, sugar, and more sugar!  Just a couple a' peeps really add up!  While they may seem low calorie at just 28 calories per Peep, nearly every one of those calories is from sugar.  Add in some carnauba wax (the main ingredient in car wax), some artificial coloring and some preservatives and you've got a pretty unhealthy Easter treat.  Peanut butter eggs and crème eggs have tons of sugar AND added fat.  But not to fear…there are plenty of cute, healthy, homemade options for filling Easter baskets and the holiday dinner table!
Easter is all about chocolate so lots of the recipes below are chocolate inspired!  Easter is also all about bunnies, chicks and eggs, and they make their cameos in the recipes too! Below are 10 Easter themed recipes for treats, hors d'oeuvres, and side dishes.   Starting off with dessert first!
 1.       Healthy Chocolate Bunnies by ChocolateCoveredKatie.com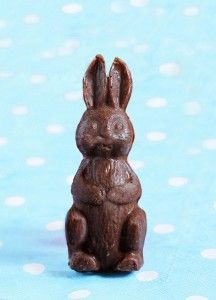 If you don't have a bunny candy mold, head down to your local kitchen store and grab one.  From there it's a snap to make these three-ingredient chocolate bunnies!  All you need is cocoa powder, coconut oil and some liquid stevia (any other liquid sweetener will work, too.)   You can also add in extracts for flavoring, nuts or cacao nibs if you like.
2.       Clean Eating Cream Eggs by PollyNoble.com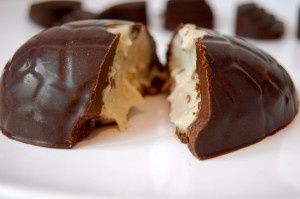 For those of you that love those Cadbury Crème Eggs (or who have kids that do) this is a fantastic clean eating version that in my opinion tastes even better!  Make your own chocolate shell with cacao butter, cacao powder, carob powder, rice malt syrup and vanilla, and use cashews, vanilla, rice malt syrup, coconut butter and sea salt for the crème.  These are raw, dairy free and gluten free as well as free of refined sugars!
Click Here for Full Recipe
3.       Coconut Cookie Chicks by ChocolateCoveredKatie.com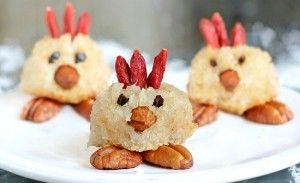 These are way too cute!  Made with shredded coconut, flour of your choice, coconut milk, maple syrup, vanilla and salt, these macaroons are easy.  She used pecans, almonds, cacao nibs and goji berries to decorate the chicks.  Tons of fun to make with kids!
4.       Healthier Peanut Butter Eggs by Detoxinista.com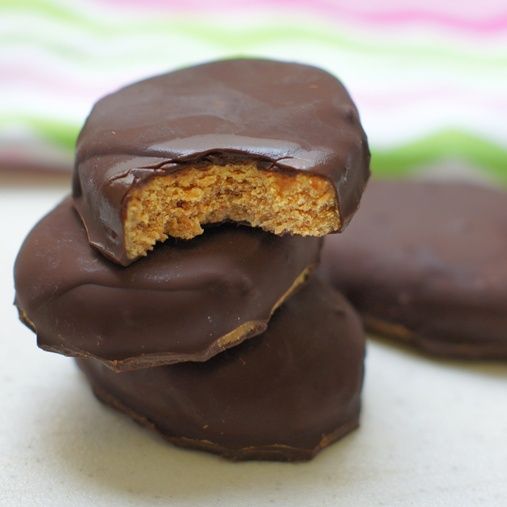 We all love the Reese's Peanut Butter eggs and while there's no way to make them totally fat free, we can make them much healthier!  This recipe uses natural peanut butter, maple syrup, coconut flour, sea salt, chocolate chips and coconut oil to make our favorite treat all-natural!
5.       Healthy Carrot Cake by BettyRawker.com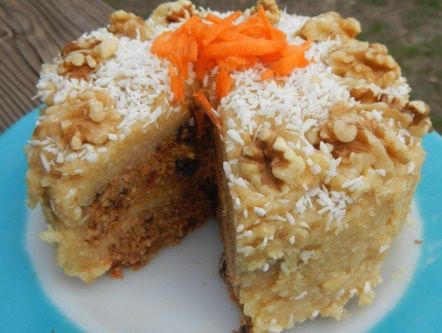 This carrot cake is to die for!  Made of grated carrot, walnuts, dates, shredded coconut, vanilla extract, raisins and Chinese five spice seasoning, it's super healthy.  Even the frosting is healthy!  It uses cashews, coconut oil, honey, vanilla and salt!
6.       Chocolate Coconut Nests by WholeNewMom.com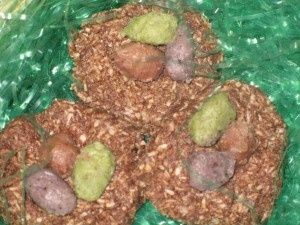 These cute little nests are made with coconut, coconut butter, cocoa powder and liquid stevia.  The eggs to go inside come from her Easter fudge recipe, and are made with coconut oil, nut butter of your choice, stevia, vanilla and salt.  These are easy to make and are great Easter gifts for friends or family!
7.       Handmade Chocolate Truffles by LivingHealthyWithChocolate.com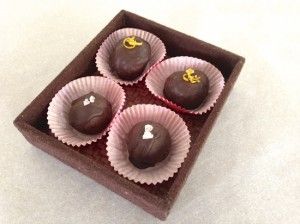 These elegant truffles are perfect for Easter baskets or family gatherings.  The insides are made with coconut milk, honey, cocoa powder and vanilla while the chocolate shell is made with cacao butter, cacao powder, raw honey and vanilla.  While the process is a little involved, it's worth it!  Garnish with sea salt crystals or grated orange.
8.       Easter Sweet Potato Bunnies by WithStyleAndGraceBlog.com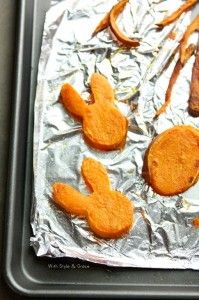 For these you'll need a bunny cookie cutter, sweet potatoes, olive oil and sea salt.  Nothing more!  They're super easy and the kids or guests will love them!
Click Here for Full Recipe
9.       Carrot Patch Quinoa by Mom Foodie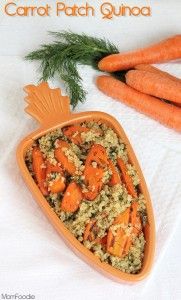 The perfect lunch or side dish, this healthy quinoa recipe is made with olive oil, garlic, stock of your choice, dill, carrots, fresh ginger, honey and a pinch of salt.  It's vegetarian, gluten free and dairy free too!
10.   Avocado Deviled Eggs by PaleoBakingCompany.com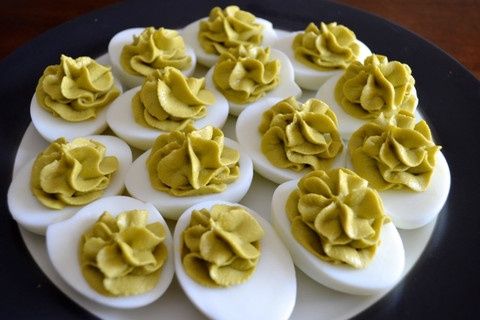 These make the perfect hors d'oeuvre for Easter or any gathering!  All you need is eggs, a couple avocados, lemon juice, hot sauce and a little salt!
At Athlean-XX for Women, we're all about healthy nutrition because it helps us lose weight and have energy for our tough workouts!  Our nutrition plan recommends combining proteins and slow-burning carbohydrates at every meal and snack to help keep you feeling full.  In fact, the Athlean-XX for Women nutrition plan is anything but a diet – we actually recommend you eat more – 5 – 6 times per day!  This type of diet will help turn your metabolism into a fat burning machine – when combined with our killer 30 minute workouts.  Yes, with Athlean-XX for Women, eat more, exercise shorter but harder and weigh less!  Join us on Team Athlean to start your lifestyle makeover now!
And finally, if you'd like to stay up to date with the AthleanXXforWomen.com blog, then please like us on Facebook, follow us on Twitter and follow us on Pinterest.
P.S.  We are a growing community dedicated to and passionate about realistic fitness and nutrition for REAL women.  If you enjoyed this post please feel free to share on Facebook, Twitter and Pinterest. It would be incredibly appreciated!