Estimated Read Time: 5 minutes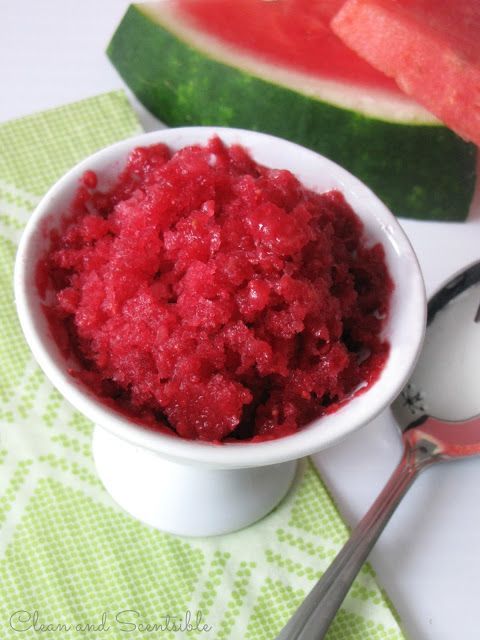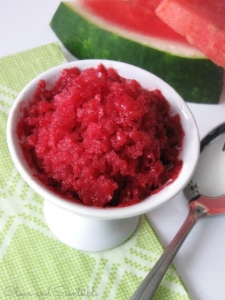 New here?  Like Athlean-XX for Women on Facebook to stay up to date with new posts, great fitness and nutrition articles, motivations and inspirations, fitness challenges, Q&As, giveaways and more!
Who doesn't love summer!  It's a great time to play with so many colorful fresh fruits and veggies that just aren't available any other time of the year.
Don't know about you, but summer inspires me to be healthier. There's nothing better than enjoying fresh summer foods, spending time outdoors, and sharing both with family and friends!
So why not host a healthy brunch or dinner party?  Invite your favorite people and share your healthy lifestyle with them!  With these recipes, everyone will see that healthy definitely still means tasty!
Here are 10 fresh summer recipes that are perfect for entertaining!
Lime Shrimp and Avocado Salad by Paleoholic.com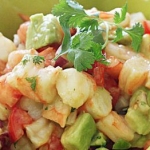 This healthy, protein packed salad is light and flavorful, perfect for a hot day!  Combine jumbo shrimp with tomato, avocado, red onion, jalapeno, lime juice, olive oil and cilantro. An easy recipe that is still elegant enough for entertaining!
 Basil Lime Chicken by GoodnessGracious.com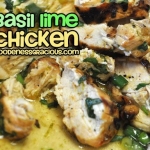 Summer is the perfect time to barbecue, and grilling your meat and veggies is as healthy and low fat as it gets!  Just marinate the chicken in lime juice, olive oil, mustard, Worcestershire sauce, soy sauce, onion and garlic for about an hour.  Then throw the chicken cutlets on the barbie!  Tasty and easy!
Grilled Asparagus with Sun-Dried Tomato Dressing by EdiblePerspective.com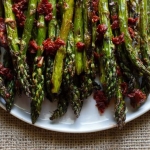 Grilled asparagus is a fabulous accompaniment to any type of grilled meat.  Top the asparagus with this dressing made of sun dried tomatoes, olive oil, lemon juice, garlic and slice almonds or pine nuts.  Amazing gourmet summer flavor!
 Grilled Zucchini Roll Recipe with Goat Cheese, Roasted Peppers and Capers by CookinCanuck.com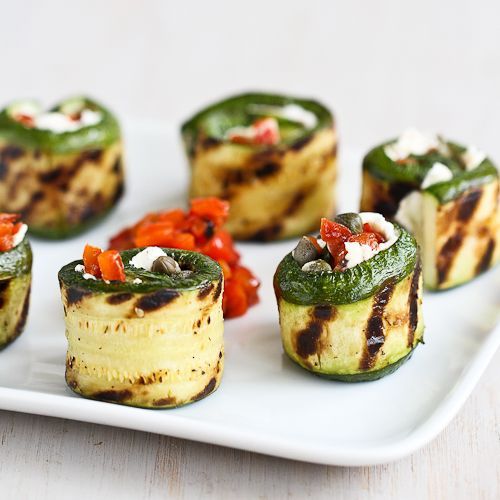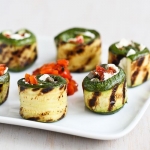 This grilled zucchini recipe makes a perfect summer hors d'oeuvre!  First you grill the zucchini strips and then roll them up with goat cheese, roasted red peppers and capers. Beautiful and tastes amazing!
Cashew Dill Dip by Domestic Charm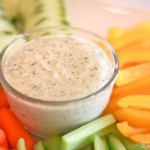 For another great hors d'oeuvre, just chop up some vegetable crudités and serve them with this awesome dairy-free dip.  It's made of cashews (chopped up in the food processor), grape seed oil, lemon, dill, mustard and garlic.  Fast and easy!
Clean Eating Roasted Summer Squash by TheGraciousPantry.com
If you don't have an outdoor space for grilling, roasting veggies in the oven is a great alternative.  This recipe is super easy! Just slice up the squash and zucchini, spray with olive oil, and sprinkle pepper, garlic powder and parmesan on top!  A few minutes in the oven and they're ready to serve.
Raspberry Watermelon Granita by Whipperberry.com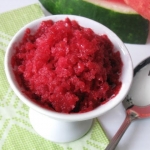 No hot summer day is complete without an icy fruity drink!  This one is sweet and alcohol-free, so it's perfect for family gatherings with the kids.  Just blend watermelon, raspberries, gelatin, cran-raspberry juice and sugar (could be substituted with Splenda, honey or stevia). After blending, freeze for a few hours and serve.
Canteloupe Mojito by SpicyRd
And now, a treat for the 'big kids.'  Make this icy drink with cantaloupe juice, rum, fresh mint, maple syrup, lime juice, sparkling water and ice.  Omit the rum and you've got an equally tasty drink for those who prefer not to drink!
Chocolate Dipped Fruit on a Stick by FamilyFreshCooking.com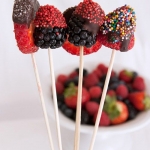 This beautiful dessert recipe is perfect for kids and adults alike. It makes for a light, elegant treat after brunch or dinner has been served.  Just wash and dry the fruit, and dip it in melted chocolate.  Roll the coated fruit in the toppings of your choice, like sprinkles, toasted nuts, course sugar or cacao nibs. Yummy!
Dairy Free Fudgsicles by RealSustenance.com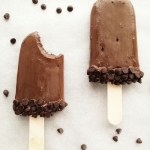 So creamy and chocolatey you won't notice they don't have dairy in them. They are made with avocados (the source of the creaminess), cocoa powder, dairy or non-dairy milk of your choice, vanilla extract and agave (could also use other liquid sweetener of your choosing). A perfect summer treat for children or adults!
Click Here for Full Recipe
At Athlean-XX We're All About Healthy Nutrition
At Athlean-XX for Women, we're all about healthy nutrition because it helps us lose weight and have energy for our tough workouts!  Our nutrition plan recommends combining proteins and slow-burning carbohydrates at every meal and snack to help keep you feeling full.  In fact, the Athlean-XX for Women nutrition plan is anything but a diet – we actually recommend you eat more – 5 – 6 times per day!  This type of diet will help turn your metabolism into a fat burning machine – when combined with our killer 30 minute workouts.  Yes, with Athlean-XX for Women, eat more, exercise shorter but harder and weigh less!  Join us on Team Athlean to start your lifestyle makeover now!
And finally, if you'd like to stay up to date with the AthleanXXforWomen.com blog, then please like us on Facebook, follow us on Twitter and follow us on Pinterest.
P.S.  We are a growing community dedicated to and passionate about realistic fitness and nutrition for REAL women.  If you enjoyed this post please feel free to share on Facebook, Twitter and Pinterest. It would be incredibly appreciated!