Estimated
Est.
Read Time: 5 minutes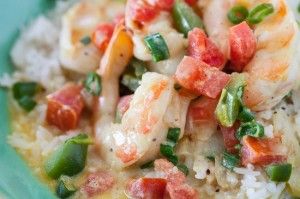 New here?  Like Athlean-XX for Women on Facebook to stay up to date with new posts, great fitness and nutrition articles, motivations and inspirations, fitness challenges, Q&As, giveaways and more!
Do the first airs of spring have you dreaming of the tropics? Cooking with coconut is a great way to enjoy the tropics all year round. Coconut tastes extremely decadent, and brings to mind sweet treats that should only be enjoyed occasionally.  But the fitness and nutrition community has begun to go crazy for coconut.  Why? It turns out that it's great for your health and helps with weight loss, too!
The oil in coconut is one of the most abundant natural sources of medium-chain triglycerides (MCTs), the easiest type of fatty acids for our bodies to metabolize.  These MCTs are metabolized very quickly as energy and don't tend to get stored as body fat.  MCTs have been shown in studies to increase metabolic rate by up to 48% for up to 24 hours!  Coconut milk and coconut meat also include high amounts of these health-promoting MCT oils.  Read more about the benefits of cooking with coconut.
Anyone who loves Thai food knows that coconut isn't just for baking.  Coconut tastes incredible in soups, with meats and vegetables, and in our breakfasts.  Here are 10 healthy recipes that incorporate coconut in creative and tasty ways:
1)      Granola with Coconut, Pistachios and Cranberries by Domestic Charm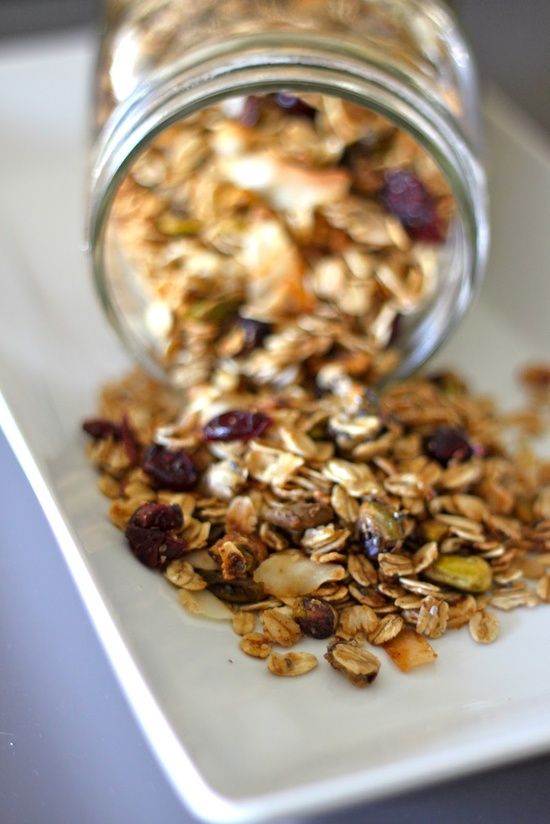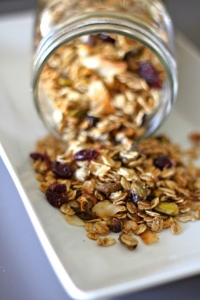 This granola recipe is full of healthy superfoods including oats, coconut, pistachios, flax seed, chia seed, cranberries, honey and coconut oil.  It does incorporate wheat germ, but if you're wheat-free you can omit it.  Start your day out on a sweet and healthy note with this awesome homemade granola recipe.
2)      Raspberry and Coconut Smoothie by ABeautifulMess.com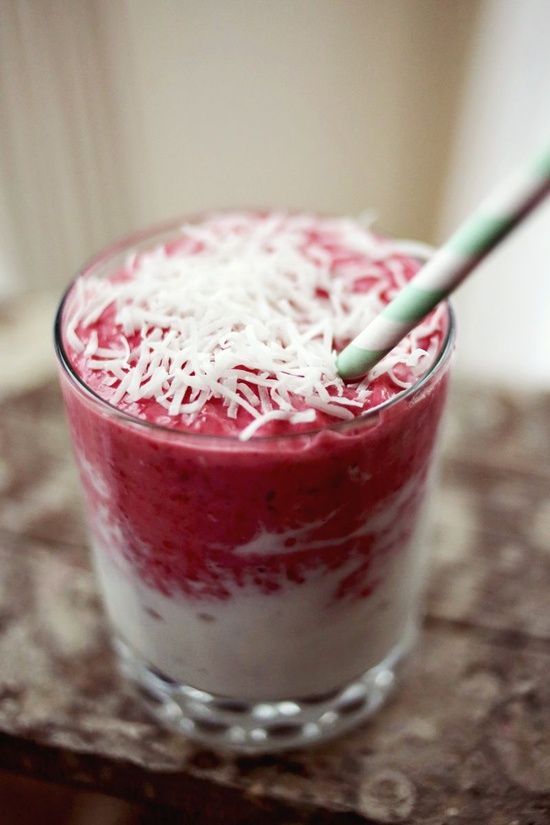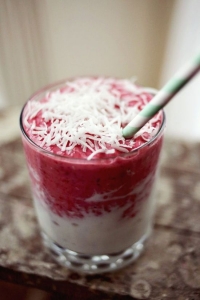 This super tasty smoothie is made with coconut water (frozen into ice cubes), Greek yogurt, coconut flakes, raspberries and frozen banana.  A perfect way to start your day!
3)      Coconut Oil Granola by HungryGirlPorVida.com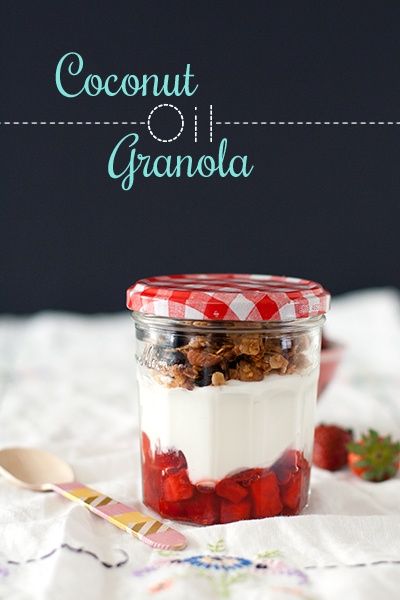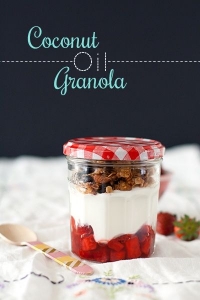 Here's another take on homemade granola that will help you reap the benefits of coconut oil.  The bulk of this granola is oats, almonds, macadamia nuts, sunflower seeds, sour cherries and coconut chips.  It's spiced with cinnamon, ground ginger, nutmeg, allspice and vanilla.  Egg white, coconut oil and honey bind the mixture together as it bakes in your oven.
4)      Coconut Curry Shrimp with Coconut Rice by SteamyKitchen.com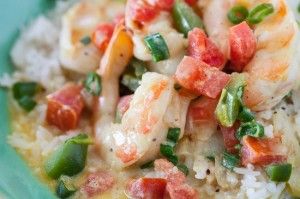 All I have to say is YUMMMMM!  If you like shrimp, this recipe is incredible.  It's made with coconut oil, coconut milk, garlic, ginger, onion, bell pepper and tomatoes, and employs curry powder, cardamom and hot sauce for spice.  Are you drooling yet?
5)      Coconut Almond Cranberry Chicken by TheGraciousPantry.com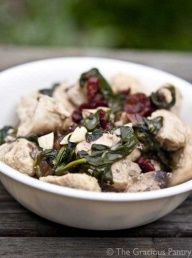 The combination of these three ingredients, coconut, almond and cranberry creates an incredible flavor.  This recipe also uses spinach, ginger and a bit of cinnamon.  I love this creative combination!
6)      Chilled Avocado Soup with Coconut by CookinCanuck.com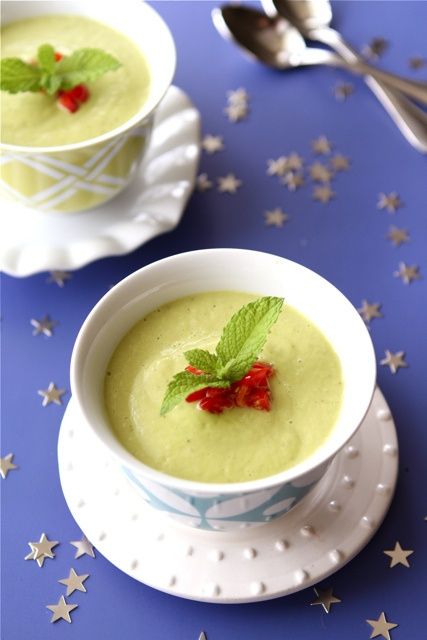 This is a perfect recipe for a warm summer day, but works any time of the year if you can find fresh, ripe avocados.  The recipe also uses olive oil, onion, jalapeno pepper, garlic, mint leaves and tomatoes if you wish.   Wonderfully creamy and filling!
7)      Thai Green Curry Salmon Cakes by Eat-Spin-Run-Repeat.com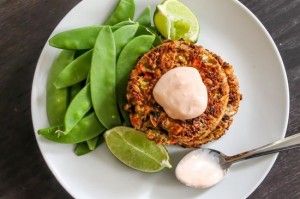 These tasty salmon cakes are made with canned salmon, celery, bell pepper, flaked coconut, basil, egg whites, ginger, cayenne pepper, Thai green curry paste, lime and bread crumbs or ground crackers (can use gluten free).  She also includes a recipe for the spicy Sriracha based topping.  Awesome recipe if you're looking to switch things up.  These make a great take-to-work lunch!
8)      Chicken with Coconut-Lime Peanut Sauce by FamilyFreshCooking.com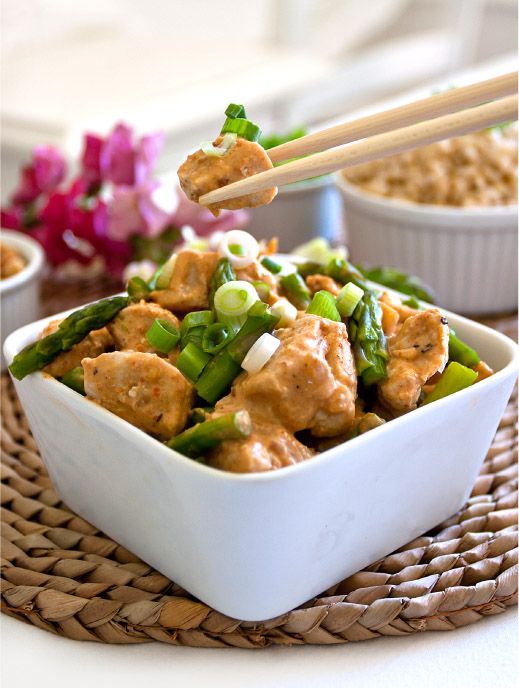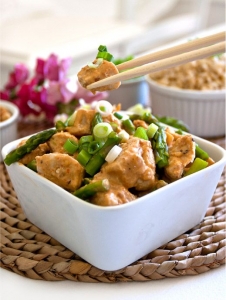 Here's another great Thai-inspired chicken recipe incorporating coconut.  It has an incredible satay-style sauce and that is made with peanut butter, Thai red curry paste, lime, soy sauce, fish sauce, sesame oil and cinnamon, pepper and cayenne for flavor.  Mix this sauce with chicken, onion, garlic, coconut oil and asparagus spears and you're all set!  Super tasty!
9)      Cherry Coconut Chiller by DailyBitesBlog.com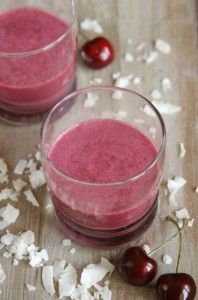 This recipe is great for summer or whenever you can find fresh sweet cherries.  The smoothie also includes beets, coconut milk and a little maple syrup to sweeten.  Tasty and refreshing!
10)   Mango Coconut Rice Pudding by CookRepublic.com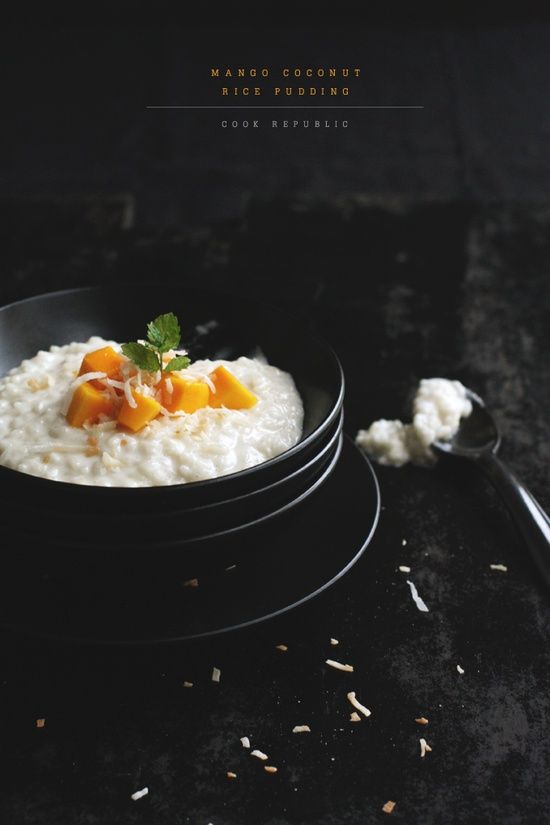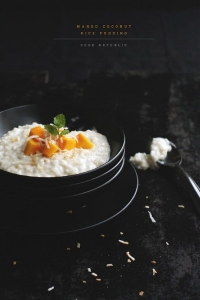 We all need a little treat from time to time, and this one is to DIE for.  The quintessential Thai dessert, it's made with jasmine rice, coconut milk, vanilla, a bit of raw sugar, ripe mango and coconut.  While it might be possible to use Splenda or Stevia for this recipe, I haven't tried these alternatives.  This recipe is dairy free, but the author says that if you prefer a thicker creamier rice, you can replace with water with milk or cream.
At Athlean-XX for Women, we're all about healthy nutrition because it helps us lose weight and have energy for our tough workouts!  Our nutrition plan recommends combining proteins and slow-burning carbohydrates at every meal and snack to help keep you feeling full.  In fact, the Athlean-XX for Women nutrition plan is anything but a diet – we actually recommend you eat more – 5 – 6 times per day!  This type of diet will help turn your metabolism into a fat burning machine – when combined with our killer 30 minute workouts.  Yes, with Athlean-XX for Women, eat more, exercise shorter but harder and weigh less!  Join us on Team Athlean to start your lifestyle makeover now!
And finally, if you'd like to stay up to date with the AthleanXXforWomen.com blog, then please like us on Facebook, follow us on Twitter and follow us on Pinterest.
P.S.  We are a growing community dedicated to and passionate about realistic fitness and nutrition for REAL women.  If you enjoyed this post please feel free to share on Facebook, Twitter and Pinterest. It would be incredibly appreciated!