Estimated
Est.
Read Time: 4 minutes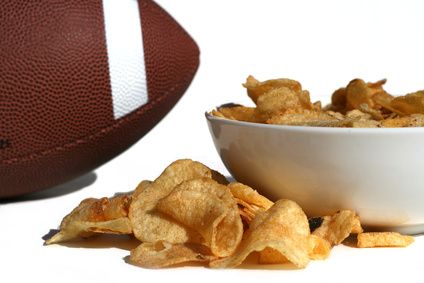 New here?  Like Athlean-XX for Women on Facebook to stay up to date with new posts, great fitness and nutrition articles, motivations and inspirations, fitness challenges, Q&As, giveaways and more!
Superbowl Sunday is practically a holiday in the United States.  But perhaps it's the 'holiday' with the least healthy food traditions.  Superbowl parties tend have lots of sports bar fare like nachos, hot wings, potato skins, chips and dip, sweets and other super high calorie finger foods.  Taking Superbowl Sunday as a 'cheat day' can be a dangerous prospect unless you really watch your portions!  Appetizers like these tend to be in front of us the whole day, so if we skip lunch, we might find ourselves snacking away at them without paying attention.
However, Superbowl Sunday doesn't need to be a diet disaster.  By planning ahead and eating smart, you can enjoy a Superbowl party and still eat healthy.  If you're hosting at your house, you can actually host a 'healthy' Superbowl party by making lighter versions of Superbowl Sunday favorites.
Here is our Athlean-XX for Women Superbowl Party Survival Guide, packed with tips and resources for a healthy 'holiday.'
1)      Eat a Healthy Meal Before You Go
Fill up on healthy foods before you leave for the party (or before the guests arrive).  Having an early dinner will go a long way toward minimizing your overall calorie intake during the party.  Make sure to include lean protein, and plenty of veggies in your meal, both of which will help keep you feeling full during the festivities. Fill up in advance and then snack lightly at the party.
2)      Bring a Healthy Snack
Prepare and take a healthy snack with you to the party ensure you'll have something healthy to snack on!  Consider taking a snack like guacamole with fresh cut veggies,  or try one of these healthy Superbowl Party appetizer options.  If you are hosting the party, make it a healthy one with these lighter twists on traditional Superbowl Sunday treats.  These recipes are so tasty, your guests won't realize that they're lighter, lower calorie versions of their old favorites.
Instead of taking an entire cheat day, you can decide to make Superbowl Sunday 'dinner' a cheat meal.  One cheat meal once in a while won't hurt your overall goals.  As Athlean-XX for Women program creator Jeff Cavaliere says, if you're eating 35 – 42 meals per week (that's right – we recommend women eat 5 – 6 times per day), "getting only one or at most two of these 'wrong' will still leave you at a damn near percentage of perfection!"  What matters most is what you eat on a day to day basis.  This article talks about how to manage your cheat day and take advantage of those extra calories too – by using them to fuel a challenging workout the following day! Even so, try to choose the healthiest options on the Superbowl Party snack table for the bulk of your 'cheat meal,' because calories do really add up.
4)      If You Decide To Snack – Know Your Portion Sizes
If you choose to partake in some Superbowl Sunday snacks, whether it's just a sampling or part of your 'cheat meal,' it's good to know portion sizes.  With the types of foods that typically show up on the Superbowl Party table, it's pretty amazing how many calories can be a VERY small portion.  This fun guide will give you a portion size reference for party appetizer portions.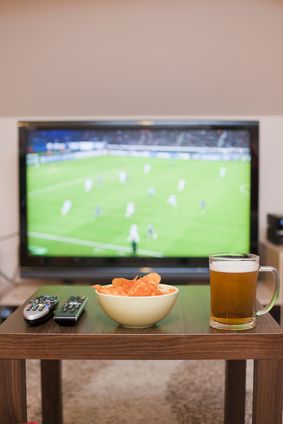 5)      Don't Call Attention To Your Choices
There's no need to explain away your eating choices to family and friends.  Just eat according to your plan, and try not to make a big deal out of it.  In social situations, sometimes well-meaning loved ones can place peer pressure to get you to try a special treat or to 'stop dieting' for a day. You'll feel best about it if you just stick to whatever plan you decide is best for you.  The whole idea is to make healthy eating a lifestyle choice that feels doable every day of the year.
At Athlean-XX for Women, we're all about healthy nutrition because it helps us lose weight and have energy for our tough workouts!  Our nutrition plan recommends combining proteins and slow-burning carbohydrates at every meal and snack to help keep you feeling full.  In fact, the Athlean-XX for Women nutrition plan is anything but a diet – we actually recommend you eat more – 5 – 6 times per day!  This type of diet will help turn your metabolism into a fat burning machine – when combined with our killer 30 minute workouts.  Yes, with Athlean-XX for Women, eat more, exercise shorter but harder and weigh less!  Join us on Team Athlean to start your lifestyle makeover now!
And finally, if you'd like to stay up to date with the AthleanXXforWomen.com blog, then please like us on Facebook, follow us on Twitter and follow us on Pinterest.
P.S.  We are a growing community dedicated to and passionate about realistic fitness and nutrition for REAL women.  If you enjoyed this post please feel free to share on Facebook, Twitter and Pinterest. It would be incredibly appreciated!