Estimated
Est.
Read Time: 6 minutes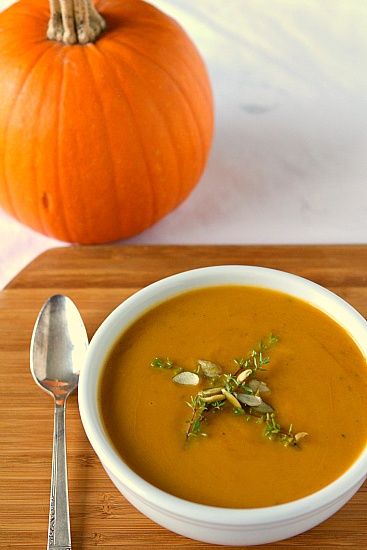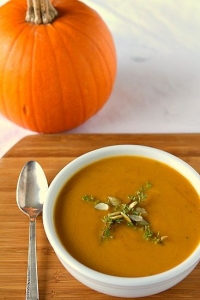 New here?  Like Athlean-XX for Women on Facebook to stay up to date with new posts, great fitness and nutrition articles, motivations and inspirations, fitness challenges, Q&As, giveaways and more!
Fall is such a wonderful time of year that brings with it all of the tasty harvest vegetables and fruits….including PUMPKIN!  Do you love the flavor of pumpkin, but find yourself tempted by all of the tasty looking high calorie pumpkin treats out there?  Yes, in fall we're bombarded with pumpkin spice lattes, pumpkin bread, pumpkin pudding and especially pumpkin pie.
However it IS possible to enjoy pumpkin and keep it clean by preparing pumpkin treats at home.  It can be difficult to find healthy sugar-free low calorie pumpkin recipes on the internet, so I've  done it for you!  Below are 16 healthy pumpkin recipes – some savory, some sweet – to put all of your pumpkin cravings to rest and keep your eyes off the pumpkin pie.  Yes you CAN you have your pumpkin and 'clean eat' it too!  Oh, and by the way, there is also a 'clean' pumpkin spice latte recipe down there…don't miss out!
BREAKFAST
1) Homemade Pumpkin Granola by KatherineMartinelli.com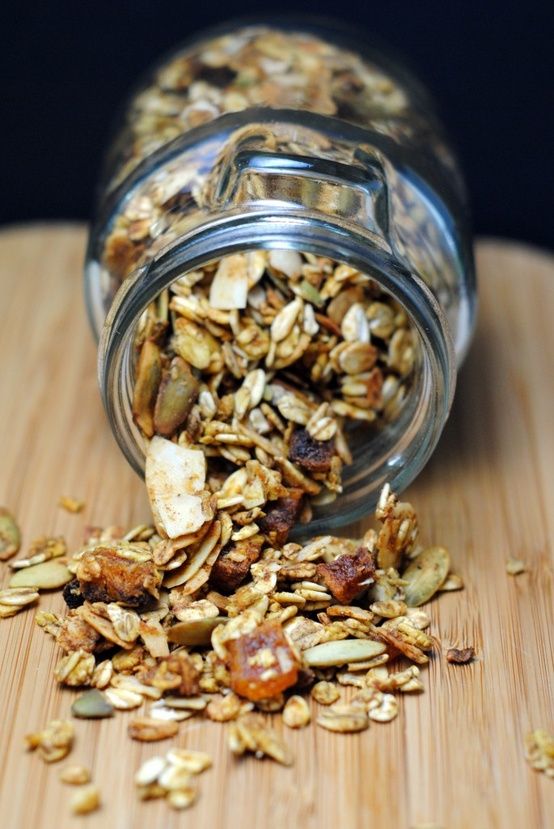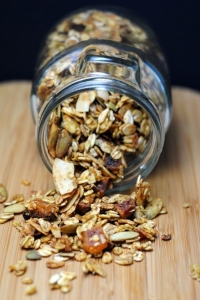 Making your own granola at home is wonderful because it puts you totally in control of the ingredients that go in!  Katherine Martinelli's home made granola recipe contains no sugar – it's sweetened with maple syrup and flavored with pumpkin puree, vanilla, cinnamon, nutmeg and cloves – all the tasty spices of fall!
2) Pumpkin Oatmeal by HoneyWhatsCooking.com
This oatmeal is the perfect rounded breakfast meal with fiber-filled oats and chia seeds, low fat milk and pecans for protein.  Honey What's Cooking reminds us that pumpkin is rich in vitamin A and fiber and that chia seeds are full of healthy omega 3 fatty acids and antioxidants!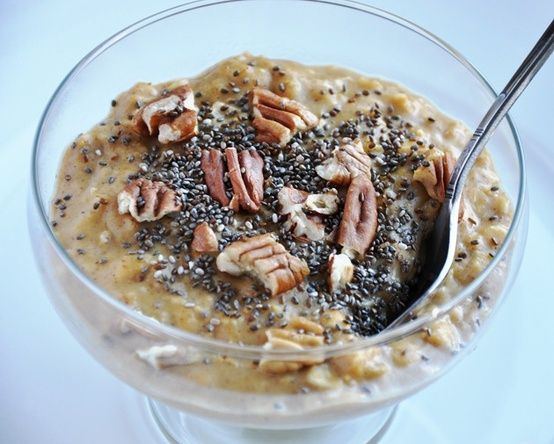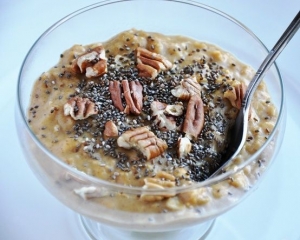 3) Pumpkin Vanilla Oatmeal by FloridaCoastalCooking.com
Here's another very simple way to give your oatmeal pumpkin flavor by adding a little pumpkin butter to it.  She also uses French vanilla yogurt for a creamy consistency and sweetens with stevia.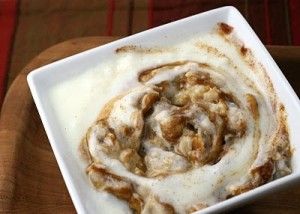 LUNCH
4) Pumpkin Soup by TheWanderingSpice.Com
This soup makes the perfect fall lunch to warm you up from the inside out on a crisp day.  She uses thyme, nutmeg and sage for spice and light cooking cream gives a creamy flavor to this soup.  Other recipes on her blog have a middle eastern flair.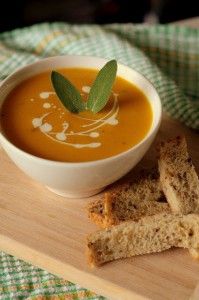 5) Easy Budget Friendly Pumpkin Soup by BudgetBytes.com
College students and anyone who wants to eat healthy on a fixed budget, take note!  This blogger includes exact price calculations for all of her recipes, both by recipe and serving.  This basic but tasty soup recipe costs just $4.29 per entire recipe or $1.07 per serving!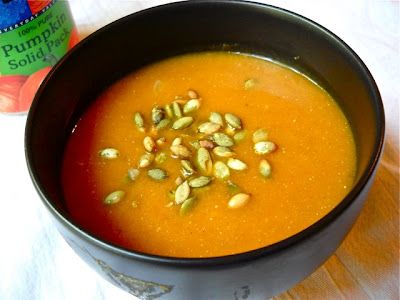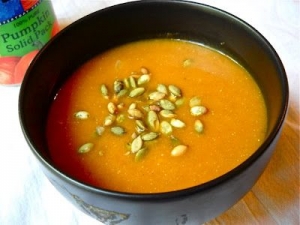 6) Pumpkin Salad by ItalianInTheMidwest.com
A perfect accompaniment to your fall lunch menu, this salad includes mixed greens, pumpkin (or any squash you like), chili flakes and toasted nuts.  The dressing is a simple, made of just orange juice, lime juice and olive oil.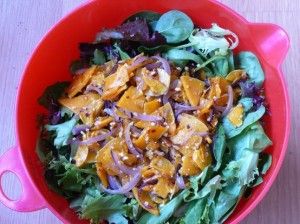 7) Roasted Pumpkin Salad with Maple Dijon Vinaigrette by TheFoodiePhysician.com
What could be better than a recipe blog written by a physician?  This incredibly tasty salad calls for pumpkin (or butternut squash), arugula, spinach, dried cranberries, pecans and goat cheese.  The sweet dressing is made with cider vinegar, dijon mustard and a bit of maple syrup.  Yum!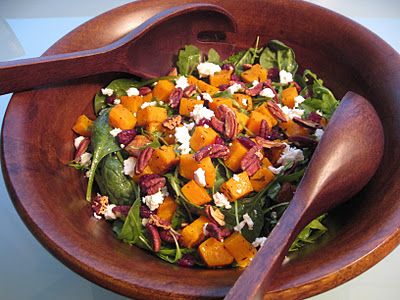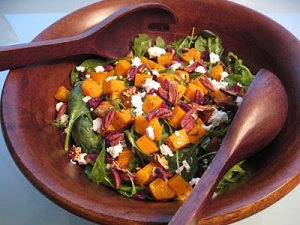 Want more ideas for fall-inspired salads?  Don't forget to check out our Fall Salad Recipe Roundup blog post!
SMOOTHIES
8) Pumpkin and Kale Beauty Smoothie by LaurasGlutenFreePantry.com
Made with pumpkin, almond milk, kale, chia seeds and coconut nectar, this smoothie will help your skin glow.  Says Laura, " Pumpkin is an outstanding source of Vitamin A, fiber and iron. Chard is jam packed with Vitamins A, C, E, K, magnesium and potassium. Vitamin A promotes skin cell turnover which helps bring new skin cells to the surface. It is a fabulous antioxidant that boosts your immune system and promotes skin health."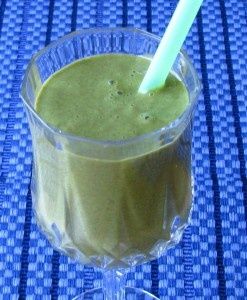 9) Pumpkin Banana Smoothie by RunningToTheKitchen.com
This tasty smoothie includes pumpkin puree, banana, almond milk, chia seeds and vanilla protein powder for a well-rounded breakfast, snack or post workout treat!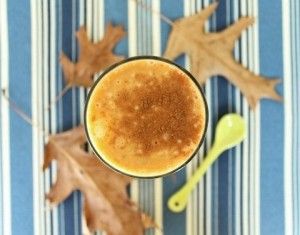 If you love smoothies, don't forget to check out our Best Healthy Fall Smoothies blog post for tons of healthy smoothie treats inspired by this season including a Pumpkin Pie Smoothie Recipe!
DINNER
10) Pumpkin and Chicken Curry by Paleo-Recipes.com
This tasty curry uses diced pumpkin, onion and garlic along with ginger, turmeric, coriander and cumin for flavor.  Swap out the chicken for tofu and you have a totally vegetarian or vegan dish!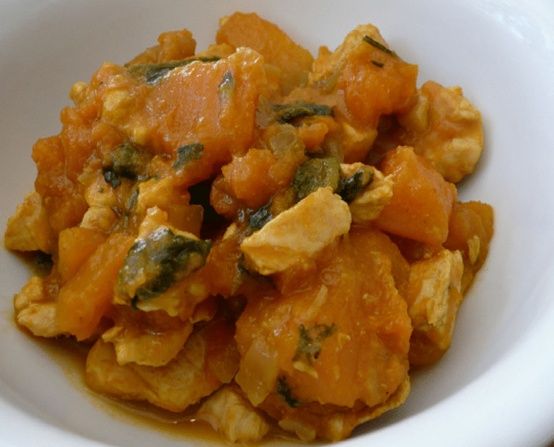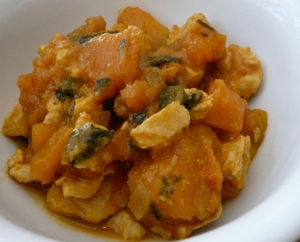 11) Thai Vegetarian Pumpkin Curry by ThaiTable.com
This Thai curry recipe includes pumpkin, coconut milk, Thai basil, chili pepper and red curry paste and is a perfect exotic dish to spice up your pumpkin repertoire.  Serve with jasmine rice.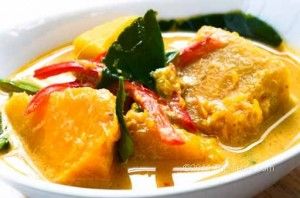 12) Smoked Pumpkin Chili by NeverHomeMaker.com
This chili sounds absolutely to die for and is totally vegetarian.  Ingredients include onion, garlic, kidney beans, canned corn, tomatoes, pumpkin puree, vegetable broth and paprika and sage for flavor.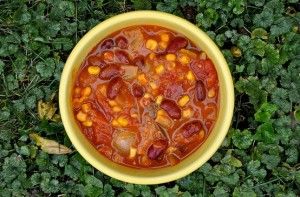 13) Pumpkin Risotto by ABeautifulMess.com
This beautiful blog is definitely worth a look and includes crafts, photography, recipes, fashion and more.  This simple recipe employs onion, red bell pepper, garlic, arborio rice, a bit of wine, pumpkin puree and parmesan cheese for a truly unique pumpkin-inspired flavor.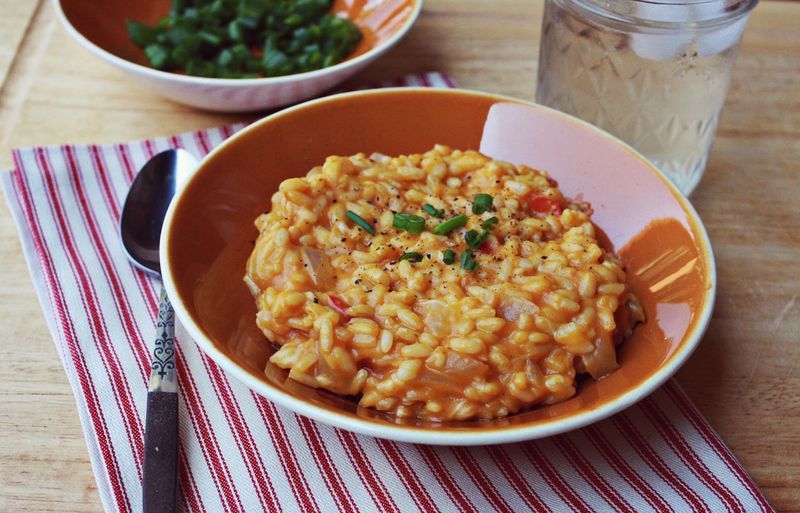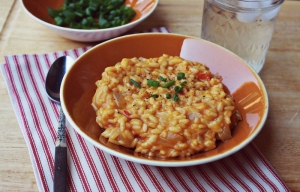 DESSERT
14) Raw Pumpkin Chia Pudding by EdiblePerspective.com
This pudding is totally sugar free and good for you.  It includes banana, ginger, raw honey, cinnamon, cloves, pumpkin puree and chia seeds.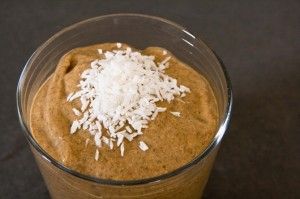 15) Pumpkin Spice Latte by MariaHealth.com
This latte is a low calorie healthy version of our favorite Starbucks Pumpkin Spice Latte.  However, the difference in calories is huge – 76 calories for your healthy latte vs. 288 calories for Starbucks!  In this healthy latte, you use vanilla, pumpkin puree, pumpkin pie spice and almond milk for fall time flavor!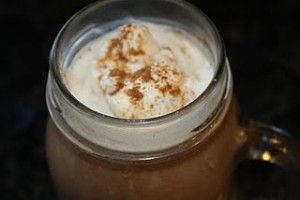 16) Paleo Maple Pumpkin Custard Cups by Health-Bent.com
This custard is sugar free and bake free too!  It uses pureed pumpkin, coconut milk, vanilla, maple syrup to sweeten and gelatin powder for texture.  YUM!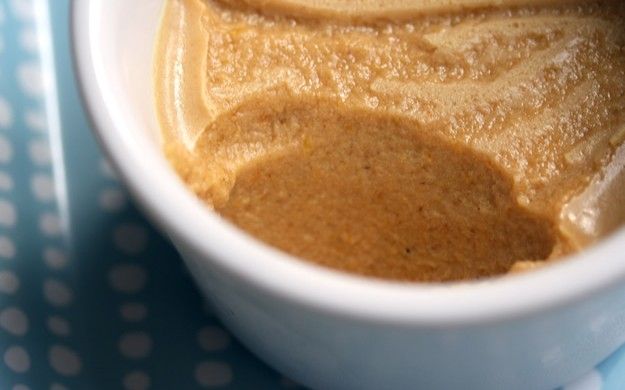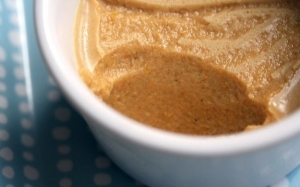 At Athlean-XX for Women, we're all about healthy nutrition because it helps us lose weight and have energy for our tough workouts!  Our nutrition plan recommends combining proteins and slow-burning carbohydrates at every meal and snack to help keep you feeling full.  In fact, the Athlean-XX for Women nutrition plan is anything but a diet – we actually recommend you eat more – 5 – 6 times per day!  This type of diet will help turn your metabolism into a fat burning machine – when combined with our killer 30 minute workouts.  Yes, with Athlean-XX for Women, eat more, exercise shorter but harder and weigh less!  Join us on Team Athlean to start your lifestyle makeover now!
And finally, if you'd like to stay up to date with the AthleanXXforWomen.com blog, then please like us on Facebook, follow us on Twitter and follow us on Pinterest.
P.S.  We are a growing community dedicated to and passionate about realistic fitness and nutrition for REAL women.  If you enjoyed this post please feel free to share on Facebook, Twitter and Pinterest. It would be incredibly appreciated!