Estimated
Est.
Read Time: 7 minutes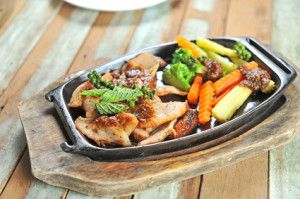 Whether you're embarking on a brand new fitness plan or planning to take it up a notch in your current plan, it's important to consume the right fuel.  I've been evangelizing lately on the importance of fueling your body because I've seen too many women restricting their calories too much.  They are not getting enough nutrients, nor are they fueling their workouts adequately to get the most benefit from all of their hard work!
If you want to see a real difference in your energy levels and waistline, give some of these weight loss superfoods a try.  These nutritional champions actually taste good and fill you up.  This is healthy food you can look forward to eating!
1.  Apples, Baby!
Not only are apples tasty, they contain 5 grams of fiber per serving which will help you feel full.  This fiber also helps remove debris from your gut, lowers cholesterol and normalizes blood sugar. Apples contain antioxidants which help your body rid itself of free radicals from environmental toxins.  Apples are also bursting with vitamins and nutrients including calcium, magnesium, phosphorus, potassium, folate and vitamins A and K.
You've all probably already heard me rant about my favorite super snack, apples with peanut butter.  For a treat, I also like to chop up an apple, sprinkling some cinnamon and allspice on top and popping into the microwave for about 90 seconds.  Yum!
2.  Awesome Avocado
Avocados might just be the most delectable superfood out there!  The good news is that they're also super good for you.  Avocados contain vitamin B6 which helps prevent anemia in women.  They are also chocked full of other vitamins including vitamin E, vitamin C, calcium and magnesium. Avocados can also give a great boost to your workouts.  The potassium in avocados helps your muscles to perform optimally, while the healthy oils and monounsaturated fats help to limit inflammation in your body.
These same fats also help the absorption of additional fat-soluble vitamins, so be sure to throw some avocado on top of your salad! Fresh guacamole with carrots sticks is so tasty it makes you feel like you're cheating on your diet.
3.  Yams, Ma'am!
A baked sweet potato is a treat that really delivers!  Sweet potatoes contain vitamin A, vitamin C, manganese, B vitamins, potassium and iron. These tubers are another great source of antioxidants and are lower on the glycemic index than white potatoes, rice and other starchy carbs, making them a great side dish on your balanced dinner plate.  Baked potatoes are also low in calories and fat, containing just 66 calories and 1 gram of fat in a ½ potato.
Put a yam on a baking sheet lined with foil and bake in the oven for about 45 mins at 400 degrees and VOILA!  OR, boil them and mash them up and store them in the fridge for the week.
4.  Bountiful Broccoli
Broccoli is full of calcium and vitamin K, both important for bone growth.  It also contains vitamin C, vitamin A, potassium and phosphorus, making it an extremely nutrient-dense veggie.  Broccoli is high in fiber too, which makes you feel full, helps maintain low blood sugar and curbs overeating.
Eat raw broccoli dipped in hummus (see below – hummus is another great superfood!) or steam it and sprinkle a little cheese on top.  Don't boil your broccoli though – it can remove the nutrients.
5.  Hearty Hummus
Hummus is made of chickpeas (also known as garbanzo beans) which are a great protein and fiber source rolled into one!  Hummus is a great source of iron, calcium, vitamin C and healthy unsaturated fats (from olive oil).  It's also low in calories at just 25 calories per tbsp serving.
You can dip veggies in hummus or spread it on bread or crackers.  I also like to use it on top of salads in lieu of dressing.
6.  Succulent Strawberries
In my opinion, strawberries are one of the best kept secrets for weight loss!  You can eat a ton of them (think two whole cups!) and you're only taking in 100 calories.  Strawberries are also full of water and fiber (your two cups contain 6g of fiber), so this is a snack that will keep you super satiated.  These berries are also full of vitamin C and antioxidants to boost your immune system.
Eat strawberries all by themselves to kill a sweets craving, and you'll never have to worry about 'overdoing it.'  They are also incredible on top of a spinach salad (see below) with a few walnuts and a little goat cheese.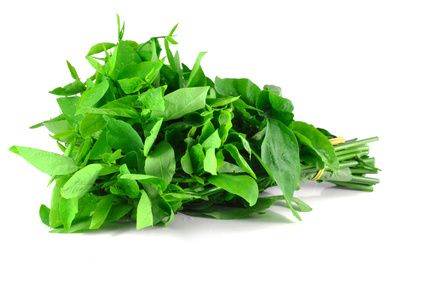 7.  Popeye Recommends: Spinach
Spinach is the king of superfoods, containing fiber, calcium, magnesium, iron, vitamins, A, B, C and E in a 41-calorie one cup serving.  WOW!  Popeye knew what he was talking about!
Chopped spinach salad with cucumbers and shredded carrot is super tasty and lasts several days in the fridge without wilting.  Also consider adding it to your sandwiches in place of lettuce, or even on top of homemade pizza.
As I'm sure you know, fish fats are full of Omega fatty acids which are great for your heart, but they also improve insulin sensitivity which gives your metabolism a boost, helping you to build lean muscle.
Just steam or bake it and drizzle a little lemon juice on top and you're ready to go.  Not wild about cooked salmon?  Give salmon sashimi a try at your local sushi spot, or buy some sushi grade salmon at the market if you can find it.  Roll some into nori seaweed paper with brown rice and you've got your own super-healthy sushi roll.
9.  Brilliant Bison
Bison is a great alternative to beef, delivering 50% fewer calories and half the fat of a lean beef burger.  Bison meat also serves up 15g of protein in a 3 oz serving.  Since bison isn't generally commercially raised, it's not likely to contain the additives, hormones and antibiotics that supermarket-bought beef may have.  It can also be a little tougher to find – look in your alternative/organic grocery store or look online to find a farmer near you.
Use ground bison to make tasty burgers or taco meat.  A bison steak on the grill is also to die for!
10.  Great Grapefruit
Like strawberries, grapefruit is another fruit you can eat LOTS of for very few calories.  A whole pink, white or red grapefruit only has about 100 calories and packs 4g of fiber.  Many scientific studies have proven that grapefruit is beneficial to help with weight loss, although the exact means by which it works are not known.
Grapefruit is great in fruit salad (try it with strawberries and apples for example!) or on top of a green salad for a little extra tang.  You can also eat it plain for breakfast in the morning, or with a little stevia sprinkled on top to sweeten it.
Bonus Superfood!…11. Quinoa
In case you missed my blog post about Quinoa last week – there's one more super food to add to your list!
Every now and then we can all use a little review of some of the healthy tasties out there that we might be neglecting. If you're looking for new ideas on how to eat to maximize your energy, supercharge your weight loss and prime yourself for high-energy workouts, give Athlean-XX for Women a try.  The Athlean-XX Nutrition Plan provides you with lists of recommended fruits and veggies, powerful proteins and slow-burning whole grains that you can incorporate into your diet.  The best part is that this is NOT a diet at all!  You'll be eating 5 – 6 times a day to rev up your metabolism, so you'll never be hungry.  We promise, this is the last 'diet' you'll ever need.  Even better, it's an eating plan you can stick to for life!