Estimated
Est.
Read Time: 4 minutes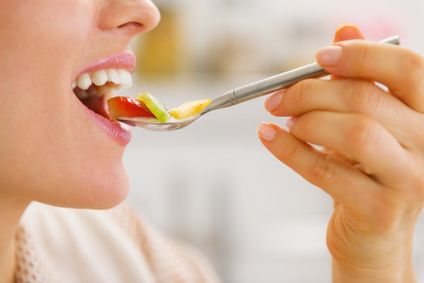 New here?  Like Athlean-XX for Women on Facebook to stay up to date with new posts, great fitness and nutrition articles, motivations and inspirations, fitness challenges, Q&As, giveaways and more!
If you're among the 60% of Americans that skip breakfast, you're definitely doing yourself a disservice if weight loss is your goal!  Skipping breakfast messes with your metabolism and can lead to overeating later in the day.  But even if you DO eat the 'most important meal of the day' you may not be eating the right foods!
A typical western breakfast is made up of mostly carbs…muffins, toast, cereal, granola and fruit.  Some folks might get their protein in by eating a couple of eggs, a breakfast sausage link or some yogurt.  But new evidence is showing that a breakfast significantly higher in protein may be best for weight loss.
A recent study conducted by researchers from the University of Missouri shows that a breakfast packed with protein – 35 grams or more of it – can help women feel fuller throughout the day, eat a smaller dinner and cut down on snacks.  The study compared followed 20 overweight and obese women for a three cycles of a week each.
The participants ate a high protein breakfast (with 35 or more grams of protein) during the first cycle, a low protein breakfast during the second cycle and ate no breakfast during the third cycle.  The women were required to take tests to demonstrate their hunger levels including questionnaires, blood samples, hormonal analysis and MRI brain scans.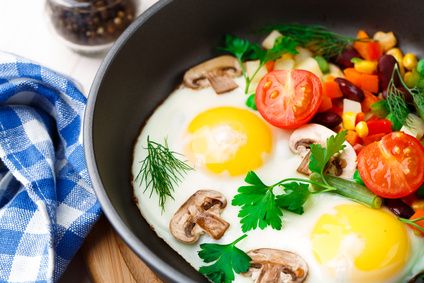 The study found that after a high-protein breakfast, there is a significant drop in the hunger stimulating hormone, ghrelin, well into the afternoon and evening. In the study, the women's behavior confirmed this finding….after high protein breakfasts they chose to eat smaller dinners and were less likely to snack.  Their MRI brain scans also showed reductions in brain activity associated with craving and reward-driven eating behavior.
While this study had a limited number of participants and more research remains to be done, its findings are strong indicators that high-protein breakfasts are favorable for weight loss.  The protein appears to decrease hunger throughout the day by affecting hormones related to appetite.
Many of us have experienced these effects anecdotally as well.  Ever noticed that after a sugary or high carb breakfast, you're hungry again in just a few hours?  Or maybe you've noticed that when you eat eggs for breakfast, you stay satiated for longer?
So, just how much protein is 35 grams?  Let's have a look at the protein counts of some potential breakfast foods:
3 oz beef – 23 g
3 oz pork – 23 g
3 oz chicken or turkey – 26 g
1/3 cup almonds – 3 g
1 egg – 7 g
1 sausage link 5 – 8 g
1 cup yogurt – 9 g
1 cup Greek yogurt – 15 g
1 cup milk – 8 g
1 cup oatmeal – 5 g
As you can see, getting 35 g of protein in at breakfast might seem like a challenge at first.  You could eat 3 scrambled eggs with two sausage links or a Greek yogurt to get your protein in at breakfast.  Or, if you're not opposed to the idea of having lunch for breakfast, you could eat a piece of lean meat and a yogurt.
Another good way to get a high dose of protein in at breakfast is to supplement your meal with a protein shake.  Our Athlean RX4 Women protein supplement contains a whopping 26 grams of whey protein per 112 calorie serving.  We've also added additional supplements specific to women's unique needs including calcium and Vitamin D, anti-aging antioxidants like Co-Q-10 and Resveratrol, and papaya enzyme to aid in digestion.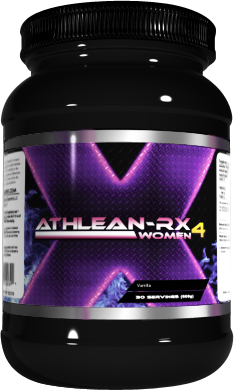 An Athlean RX4 Women protein shake combined with your morning oatmeal, yogurt or eggs will be enough to get those 35 grams of protein.
Know what else those high-protein breakfasts will help with besides appetite? Muscle growth! A strength training program like Athlean-XX for Women will help you get that lean, toned athletic body you want, and a high protein breakfast will help your muscles grow more quickly so that you can be fitter and firmer in less time.
With the Athlean-XX for Women program, just 30 minutes of workout time per day is enough to produce the results you want to see: weight loss and a toned athletic body.  Our workouts are based on circuit strength training, which allows you to get both strength and heart-pumping cardio in one shot!  The best part is that they can be done either at home or at the gym – whatever works best for you.
Our nutrition plan is equally flexible, providing 90 days of meal plans that you can follow, or allowing you to simply create your own meals from our lists of healthy foods.  We actually encourage you to eat more frequently – 5 to 6 times per day, and no calorie counting!  Eat more, work out less and get lean and toned with Athlean-XX for Women!
And finally, if you'd like to stay up to date with the AthleanXXforWomen.com blog, then please like us on Facebook, follow us on Twitter and follow us on Pinterest.
P.S.  We are a growing community dedicated to and passionate about realistic fitness and nutrition for REAL women.  If you enjoyed this post please feel free to share on Facebook, Twitter and Pinterest. It would be incredibly appreciated.