Estimated
Est.
Read Time: 7 minutes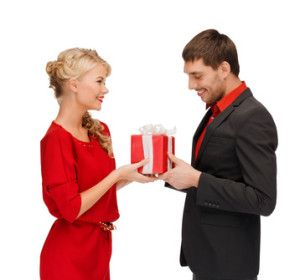 New here?  Like Athlean-XX for Women on Facebook to stay up to date with new posts, great fitness and nutrition articles, motivations and inspirations, fitness challenges, Q&As, giveaways and more!
Valentine's Day is just around the corner and we all know how difficult it can be to choose gifts for HIM.  It can be tough to figure out what type of gift your guy wants (or needs), and worse yet, to find an appropriate present for this romantic holiday.
So, what type of gift do guys find romantic?  As we all know, when it comes to receiving gifts, guys don't tend to get wrapped up in the gushy feelings of a gift like chocolate or flowers.  Guys find it romantic when you choose a gift that is just right for them, even if it's not traditionally romantic in nature.  A guy can even find exercise equipment or technology 'romantic' if he knows the gift was chosen with him in mind!
If your guy is a fitness buff (or aspires to be) a fitness related gift can be an awesome Valentine's Day Gift.  Let's have a look at some great fitness related 'guy gifts' that will be perfect for the man in your life.
Some guys will work out in whatever junky clothes they have lying around….that is, until they experience the joy of working out in good sweat-wicking, technical clothing!  Some great brands for men's gear are Under Armour and Lululemon, and Nike and Adidas also offer a wide selection of sport-specific men's workout clothing.
If your fella struggles with healthy eating as many guys do, a healthy meal delivery service can be a great gift for him, particularly for lunches.  Instead of him having to take the time to pack a healthy lunch, he can simply grab a one out of the freezer and head out the door.  Many meal delivery companies exist locally, so an internet search of "healthy meal delivery (insert your city here)" should yield several results.  One national company that provides delivery to many US cities is Chef's Diet.
Whether the man in your life travels regularly or just once in a while, a set of Aquabells travel dumbbells will help him keep fit on the go.  They pack very lightly and he can fills them with water at his destination.  Each dumbbell can be filled to weigh up to 16 lbs.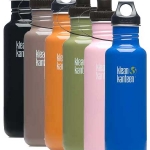 4)      High Quality Stainless Steel Bottle
A good quality, attractive stainless steel bottle that keeps its contents cold will be the type of gift that your guy will make use of every day.  Kleen Kanteen camping bottles are double-wall insulated, and can keep iced drinks cold for up to 24 hours.  These bottles come in varying sizes up to 64 oz and in varying mouth opening sizes or cap types, including a sport top.
If your guy does his workouts at the gym, a good quality gym bag that makes personal organization easy is an excellent gift.  Ogio makes a perfect bag that's shaped to fit well into any skinny locker and has lots of compartments for towels and other shower supplies.  Lululemon also has some good bags including some gym backpacks with water repellant material that he can strap on to walk or ride his bike to the gym.
A good pair of headphones for gym or workouts is an ideal gift for any guy.  Most ear bud headphones fall out during extensive movement, so the best type of headphones for an active man are the type with a piece that goes around the ear to keep them snug.  Sony has a few good models including this one which is also sweat proof and water resistant.
If your fella works out at home, the Iron Gym device will allow him to do pull ups, dips, sit ups and pushups without having to permanently modify walls in the house.  This device fits in any doorway and is removable to allow for floor exercises.  If your guy is currently doing Athlean-X and is using an old style pull up bar, he'll prefer the comfort and practicality of this tool.
While the financial commitment is larger than some of the other gifts on this list, your man will definitely love this present.  The Powerblock is the ideal home gym dumbbell set, taking up only a few feet of space and costing just a fraction of the price of a full set of traditional dumbbells.  They go from 5 lbs to 90 lbs in 5 lb increments, and are extremely versatile for any man who is committed to a full strength training program.  These are the weights that Athlean-X creator Jeff Cavaliere uses for his own home workouts.
Does the guy in your life want to get ripped but finds it difficult to come up with the time to make it to the gym every day, or even the expense of a monthly gym membership or personal trainer?  With Athlean-X he can make huge muscle gains at home in just 90 days working out 30 minutes a day, 5 days per week.  All workouts are available online, so he can take them with him on his iPad, iPhone, Android device or laptop wherever he goes.  The meal plan is also totally guy friendly – no crazy cooking, insane measuring or nutrient counting.  He gets lifetime access to the online program, and new videos are added weekly, so he can make Athlean-X his workout program for life.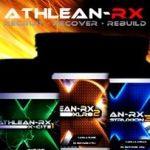 10)   Athlean-RX Men's Supplements
If the man of your life is already committed to Athlean-X or another strength training program, he'd definitely love Athlean-RX supplements which are designed to take his strength gains to the max.  It can be tough for guys to get enough protein in to meet their needs, so protein shakes are the way to go.  Athlean offers three supplements: pre-workout, post-workout and pre-sleep.  Each of these has their own specific purpose for optimal muscle growth, but I won't bore you with the nitty gritty details in this article.  Instead, we recommend starting him off on our specially-priced pack of all 3 supplements called RX Complete.  We use only the highest quality ingredients and choose the best flavors for these high performance protein powders.  We know your guy will LOVE them!
Just Started Dating Bonus Gift
If you just started dating and you're looking for a smaller gift, consider the Athlean-X 6 Pack Promise i-Phone App.  With over 100 ab exercises, this app will get him well on his way to six pack abs in just 8 weeks.  You and he both will be amazed at how valuable this app is for just .99!
On Valentine's Day, don't forget to buy yourself a present!  Valentine's Day is a great time to start Athlean-XX for Women because it's just a few short months before summer! We designed Athlean-XX for Women to be a REALISTIC plan for REAL women.  Our workouts are just 30 minutes per day, but they'll get your heart pumping and get you in shape FAST!  Our diet plan is actually not a diet at all.  We want you to eat more!  Eat healthy foods 5 – 6 times per day, and you'll get your metabolism revved like a well-oiled machine.  We also keep you inspired with our daily blog posts and our active Facebook community.  Join us on Team Athlean – we'll keep help keep you motivated and reach your goals!
And finally, if you'd like to stay up to date with the AthleanXXforWomen.com blog, then please like us on Facebook, follow us on Twitter and follow us on Pinterest.
P.S.  We are a growing community dedicated to and passionate about realistic fitness and nutrition for REAL women.  If you enjoyed this post please feel free to share on Facebook, Twitter and Pinterest. It would be incredibly appreciated!