Estimated Read Time: 1 minute
You guys have been asking where Jesse has been and ow his progress is coming along? So instead of being the messenger and telling you about him; he wanted to tell you himself!
Yep, that's right. Jesse "hijacked" the video this weekend and decided to give you not just an update but some helpful lessons he's learned. As you'll see all kinds of gains are being made…
Strength gains.
Leg gains.
Confidence gains.
Brain health gains.
All of them are coming along nicely. You'd have to be a real a**hole to not be proud of what he's overcome and be rooting for him!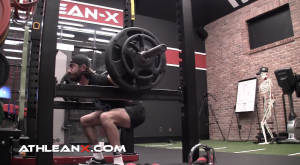 STAY STRONG…
JEFF
P.S.  If you are motivated by what Jesse is doing and think it would be helpful to someone else you know who is struggling with either putting on size or their own personal health issues, please share this with them…
Jesse Transformation Update and Lessons Learned
P.P.S.  If you're looking for a program that will take you step by step through every workout and every meal to help you make your own transformation click to find the one best suited to your goals here…
Pick the program that matches your goals and watch your gains begin here…
Watch the YouTube version of this article