Estimated
Est.
Read Time: 5 minutes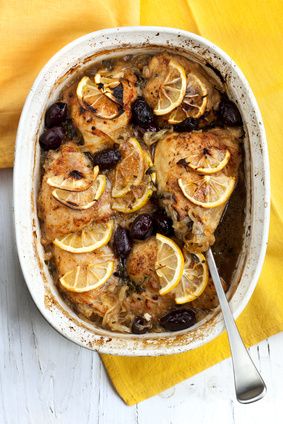 Whether your current goal is weight loss or building toned muscle, chicken breast is an excellent source of lean protein in a healthy woman's diet. For starters, chicken breast is low in fat, at only 4g per 4 oz serving. Compare this with chicken thighs, which have 12g of fat per serving, extra lean ground beef at 7g per serving, or a pork chop which has 13g per serving.
Chicken breast is also packed full of protein, at 25g per 4 oz serving. As you know, lean protein is crucial for muscle gain and recovery. The protein in your diet provides the amino acid building blocks you need to make myosin and actin, which are muscle cell proteins. Your muscles use protein to repair and grow muscle after you exercise.
Chicken breast is also very low in calories. With only about 150 calories in 4 oz, it is a very protein-dense food. To compare, chicken thighs have 236 calories per serving, extra lean ground beef has 185 calories, and a pork chop has about 250 calories. With chicken breasts, you're getting a lot of bang for your nutritional buck, so you can afford to dress them up a little bit to keep things interesting!
If you're anything like me, you're always looking for new chicken recipes – grilled chicken can grow old! Here are 5 tasty and easy internationally flavored dishes to include in your recipe rotation to help spice up your chicken breasts!
Thai Grilled Peanut Chicken
This recipe is a bit of a spin on Thai saté chicken. The peanut flavor combined with the curry and cayenne pepper give this chicken a real kick. But if you're not a fan of spicy, you can leave the curry and/or the cayenne out, and the recipe is still tasty.
Ingredients
• 2 tablespoons natural creamy sugar-free peanut butter
• 1 tablespoon fresh lime juice
• 2 teaspoons soy sauce
• 1 clove chopped garlic
• 1/3 teaspoon curry powder
• 1 dash ground cayenne pepper
• 4 skinless, boneless chicken breast halves
Directions
1. Preheat grill for high heat.
2. In a bowl, mix the peanut butter, lime juice, soy sauce, garlic, curry powder, and cayenne pepper.
3. Lightly oil the grill grate. Place chicken on grate, and brush with 1/2 the sauce. Grill 6 to 8 minutes. Turn chicken, and brush with remaining sauce. Continue grilling 6 to 8 minutes, until chicken juices run clear.
Note: If you prefer, this can also be made on the broiler inside the oven. Simply broil until cooked through.
Chinese Szechwan Chicken
Do note that this recipe requires an overnight marinade. The following day it can be grilled or fried in a frying pan and served with brown rice and stir-fried veggies.
Ingredients:
• 4 tbsp rice wine vinegar
• 4 tbsp vegetable oil
• 4 tbsp low sodium soy sauce
• 2 tbsp chili paste with garlic
• 2 tsp sesame oil
• 2 tsp minced fresh ginger
• 1 lb boneless skinless chicken breast
Directions
1. Mix all ingredients together in a bowl
2. Add chicken breast and spoon liquid over top of chicken
3. Refrigerate overnight
4. Grill or broil until cooked through the following day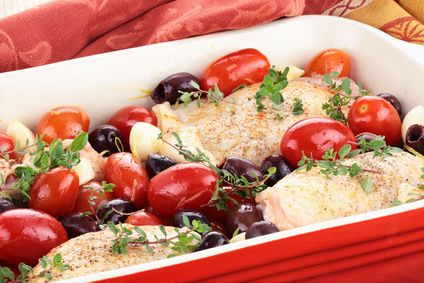 Italian Chicken Cacciatore
Serve this dish with pasta (or substitute spaghetti squash instead of noodles) and you'll feel like you cheated on your diet!
Ingredients:
• 2.5 lbs boneless, skinless chicken breast
• 2 tbsp olive oil
• 1 8-oz can tomato sauce
• ¼ lb sliced mushrooms
• 1 large minced garlic clove
• ¼ red wine
• ¾ tsp oregano leaves
• 1/8 tsp pepper
• Salt to taste
Directions
1. Heat oil in skillet and cook chicken over medium heat until browned on all sides
2. Add tomato sauce and next 6 ingredients, heat to boiling on high heat
3. Reduce heat to low, cover and simmer 30 minutes or until chicken is fork-tender, stirring occasionally
4. Salt to taste
Mexican Tequila Cream Chicken
This easy dish is a great one for entertaining and can be served with rice or salad. While there is quite a bit of sour cream in the sauce, the sauce is used as a topper, so guests (or hostesses) watching their waistline can choose how much sauce to take.
Ingredients:
• 1 tbsp butter
• 2 cups low fat sour cream
• 2 avocados
• 4 hot, cooked chicken breast halves
• ½ cup of clear tequila
• 2 medium jalapeno peppers, seeded and chopped
• ¼ medium onion, chopped
• Juice of one large lime
Directions
1. Melt butter in a medium size pot
2. Add jalapenos and onion, sautéing over medium high heat for 2 – 3 minutes stirring until vegetables are softened
3. Reduce heat. Add lime juice, salt, pepper and sour cream. Whisk until mixture comes to a boil
4. Add tequila to cream sauce and heat through.
5. On each serving plate, place ½ a sliced avocado and top with one sliced hot chicken breast.
6. Top chicken breast and avocado with sauce and serve.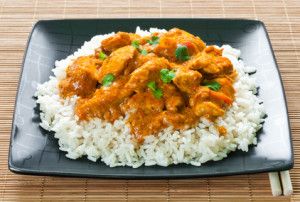 Easy Indian Curry Chicken
Curry powder is a magic ingredient that will transport your chicken breast from boring to exotic in no time! This recipe has only 5 ingredients but packs a ton of flavor.
Ingredients
• 6 skinless, boneless chicken breast halves cut into strips
• 1/4 cup olive oil
• 2 large onions, diced
• 1/3 cup curry powder, or to taste
• 1 – 2 cups mushrooms
Directions
1. Heat the olive oil in a large skillet over medium heat.
2. Add the onion and sauté until soft and golden brown.
3. Slowly stir in curry powder, blending all ingredients together.
4. Add chicken breast strips, covering skillet and simmering over medium low heat for about 45 minutes or until chicken is cooked through.
5. Remove cover from skillet, add mushrooms and cook for an additional 15 minutes, until sauce reduces. (Note: Make sure that you stir and that dish does not burn, as curry powder burns very easily!)
As all of us women have experienced, keeping things interesting in the kitchen is an important key to feeling satiated and satisfied with our healthy diets. If you're looking for a diet plan that will keep things interesting and not make you feel deprived or limited, give the Athlean-XX for Women plan a try. You have the choice between eating our set meals for 90 days or choosing from or extensive lists of healthy foods to make up your own meals. The high levels of protein and frequent (5 – 6 times per day) meals we recommend will keep you feeling energetic and primed for the challenging 30 minute workouts that are the basis of the Athlean-XX for Women plan. Does eating frequent, flexible meals and working out for just 30 minutes per day sound like it'd fit into your lifestyle? Give Athlean-XX for Women a try!