Estimated
Est.
Read Time: 9 minutes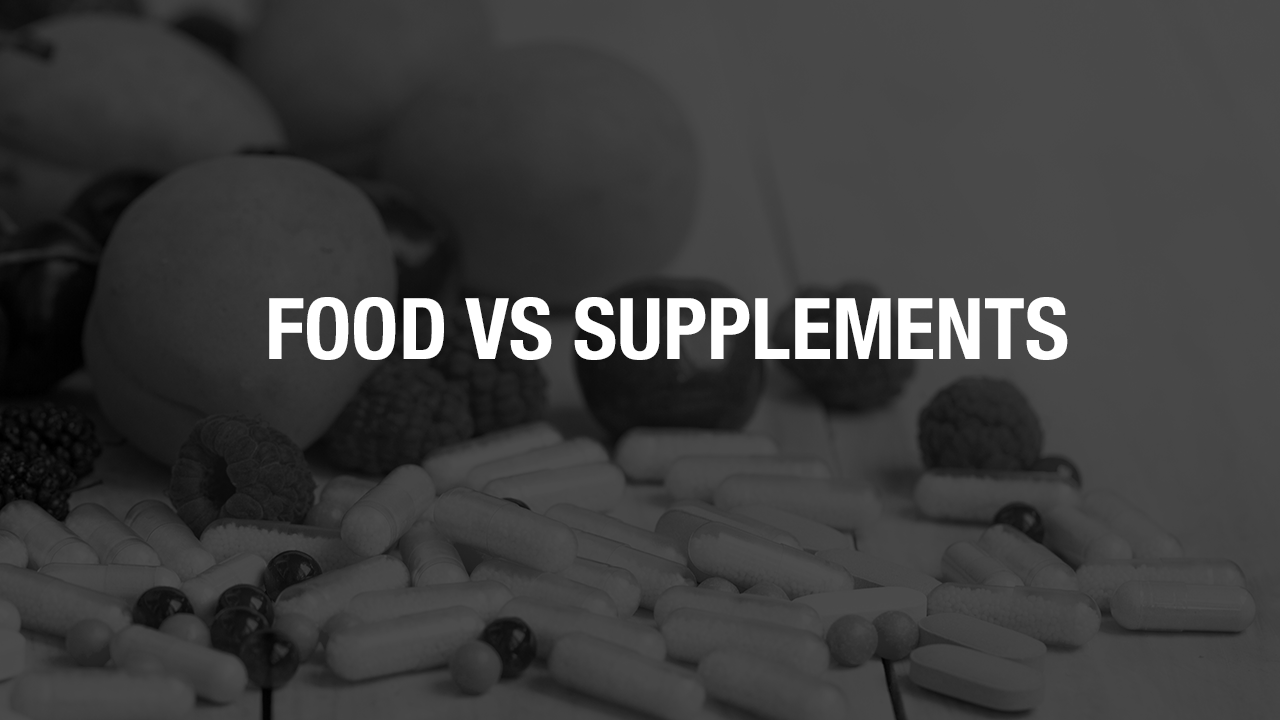 DO YOU REALLY NEED SUPPLEMENTS TO BUILD MUSCLE?
True or False? "You don't need supplements; you can get all your nutrition from food."
The beliefs about supplements are strongly held by both sides of the debate.
That debate continues, so I think it's time that we take a little bit of a closer look by using some no-nonsense analysis.
I'd like to use math to show you why it's not true that you can get all the nutrients you need from your food alone, especially if you're training hard.
I'd like to use math to show you why it's not true that you can get all the nutrients you need from your food alone, especially if you're training hard.
We will not be getting into a long discussion about all the different types of vitamin supplements available: multivitamin supplements, beta-carotene supplements, Vitamin C, supplements to address Vitamin D deficiency. That list could go on and on.
For our purposes here, I'll narrow the discussion to four of the most debated nutrients in the athletic training world: Creatine, Omega-3, Glutamine, and Protein.
The beneficial health effects, average requirements, and dose-response associations for creatine, Omega-3, glutamine, and protein have been backed by strong studies published in the literature.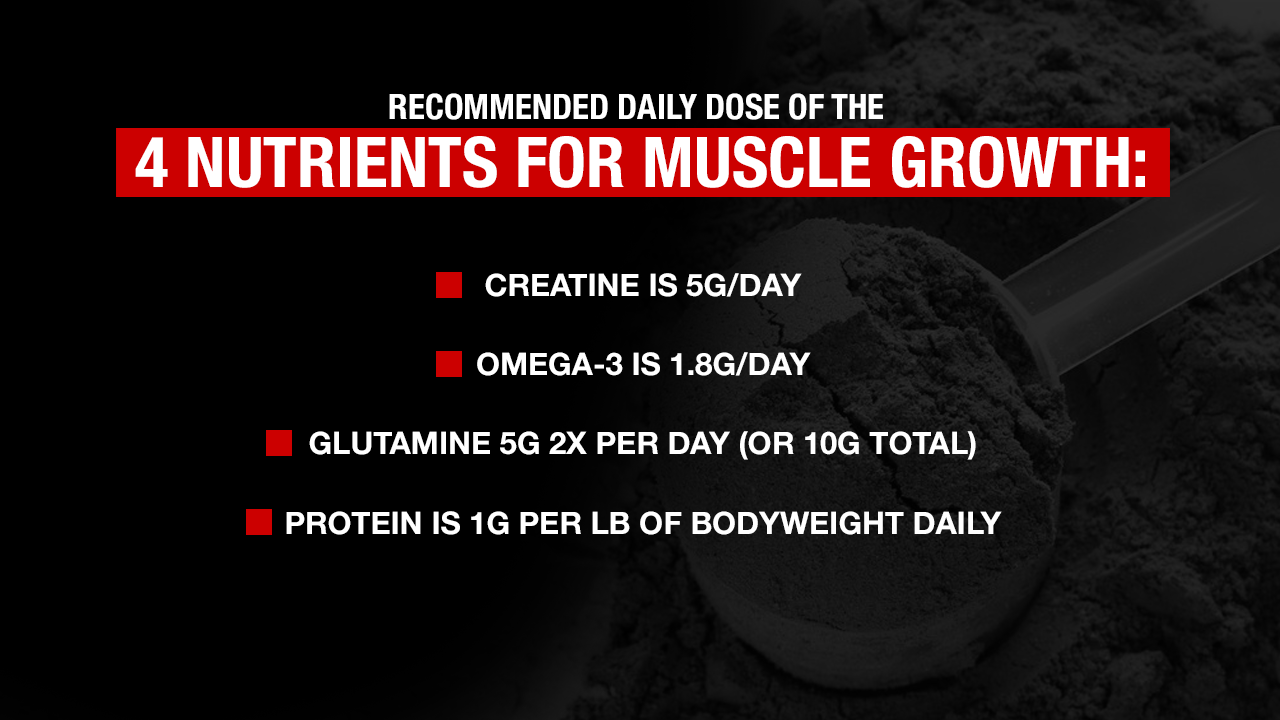 HOW MUCH CREATINE DO YOU NEED TO BUILD MUSCLE?
If you're training hard with the goal of building muscle, you need 5 grams of daily creatine for optimal benefits.
Beef is a great source of creatine, but you only get 2 grams of creatine for every pound of beef that you eat.
Let's do some math. To get the 5 grams for the maintenance daily supplement dose of creatine, you'd need to eat 2-1/2 lbs of beef.
My dogs would be happy about that, but that's a lot of meat for you to eat in one day, not to mention the expense, all the extra saturated fat, and that amount of meat to fit in your stomach during a single day.
HOW MUCH OMEGA-3 DO YOU NEED PER DAY?
Omega-3 has been shown to be effective in the prevention and reduction of risk of cardiovascular disease.
While it may not have a direct effect on muscle growth, omega-3s are important. We need the recommended dose of about 1.8 grams per day of the active ingredients, EPA and DHA.
In a can of tuna you have .27 grams of the active ingredient. You would need to eat 6 cans each day to get your recommended dose of Omega-3. Beyond the impracticality of that, you have to be careful about safety limits of mercury and other heavy metals found in canned fish. (To help consumers assess risk, fish canneries provide additional documentation on the cans about the safety of their products.)
With all that said, you're better off supplementing any Omega-3 you're getting from dietary sources with a high-quality Omega-3 supplement.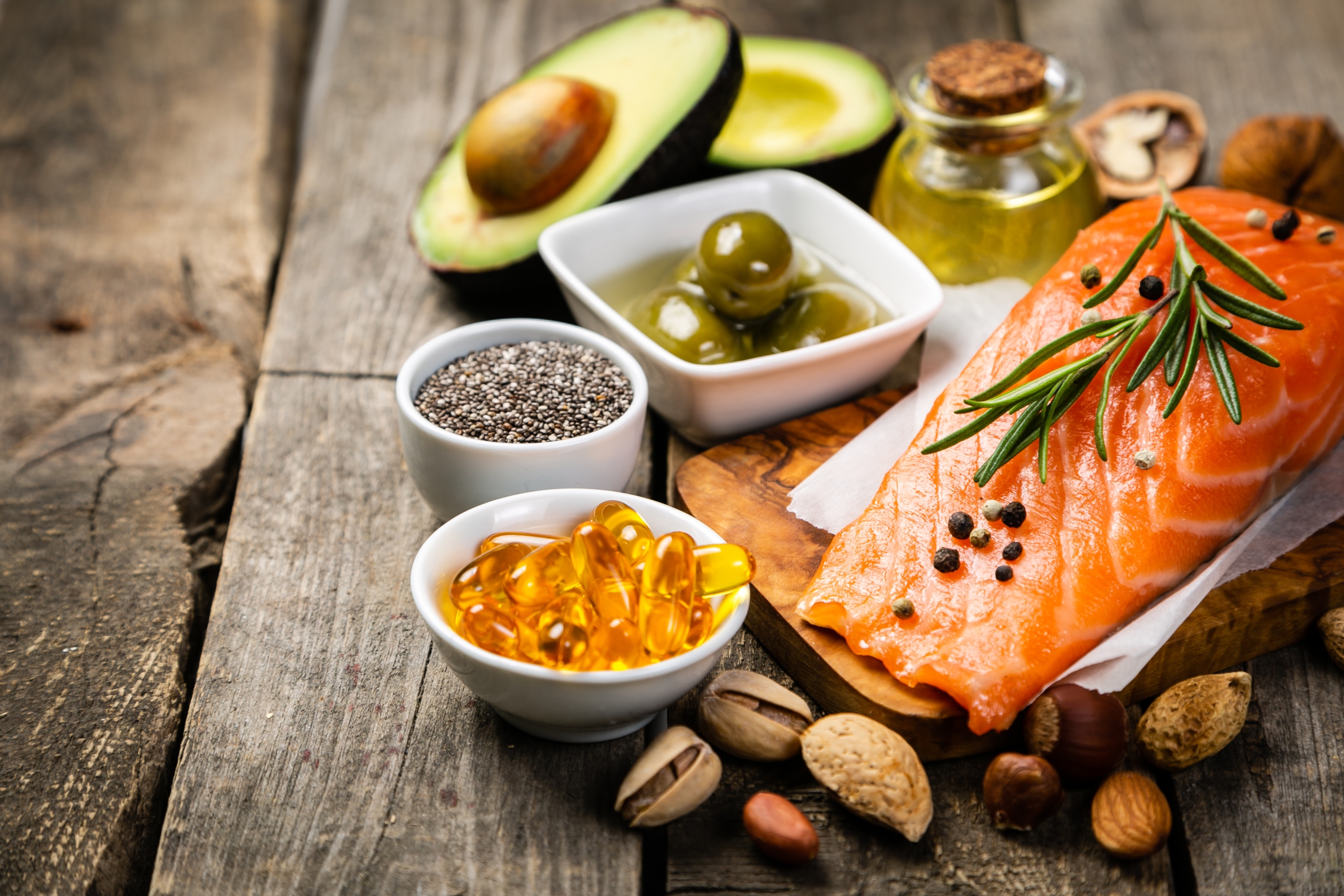 HOW MUCH GLUTAMINE DO YOU NEED DAILY FOR MUSCLE GROWTH?
Glutamine is a constituent of protein, and it's very helpful for muscle repair and growth.
The effective dose of glutamine is 5 grams twice a day, for a total daily supplement dose of 10 grams.
First, know that glutamine accounts for roughly 3% of protein consumed.
To calculate your glutamine intake, multiply your daily intake of protein by .03. So, for every 100 grams of protein that you take in, you're looking at 3 grams of it being from glutamine.
To get near that same daily supplement dose from your diet, you'd need 300 grams of dietary protein. That would yield 9 grams of glutamine, which is still short of the 10-gram daily supplement dose.
To give you an idea, 6 oz of chicken breast has 52g of protein, so consuming over 300 grams of daily protein intake may not be possible for some, if not most.
HOW MUCH PROTEIN A DAY DO I NEED FOR MUSCLE GROWTH?
Now let's discuss protein itself. The rule-of-thumb ratio is one gram per lb. of body weight per day.
Study after study supports that ratio.
Using that formula, let's just say you are a 180 lb guy, you are going to need about 180 grams of protein each day.
Let's just break it down simply using chicken for our example.
Chicken is one of the more affordable foods that is high in protein. My sources tell me that chicken breast costs $4.35 per lb.
Let's adjust the number down to $4.00 per lb. to make the math simple.
The average chicken breast is 3-1/2 ounces of chicken, which equals 30 grams of protein.
To get 180 grams, we would basically multiply these 3-1/2 ounces by 6; I believe that comes out to 21.
So, we basically need 21 ounces, which is 1-1/4 lbs per day. At $5.00 (1.25 * 4), times 30 days, you're spending $150 per month on protein from chicken, which is less expensive than beef or fish.
It's pretty boring to eat only chicken every day and gets even more expensive if you opt for other animal proteins for some of your meals. That's another reason I advocate supplements.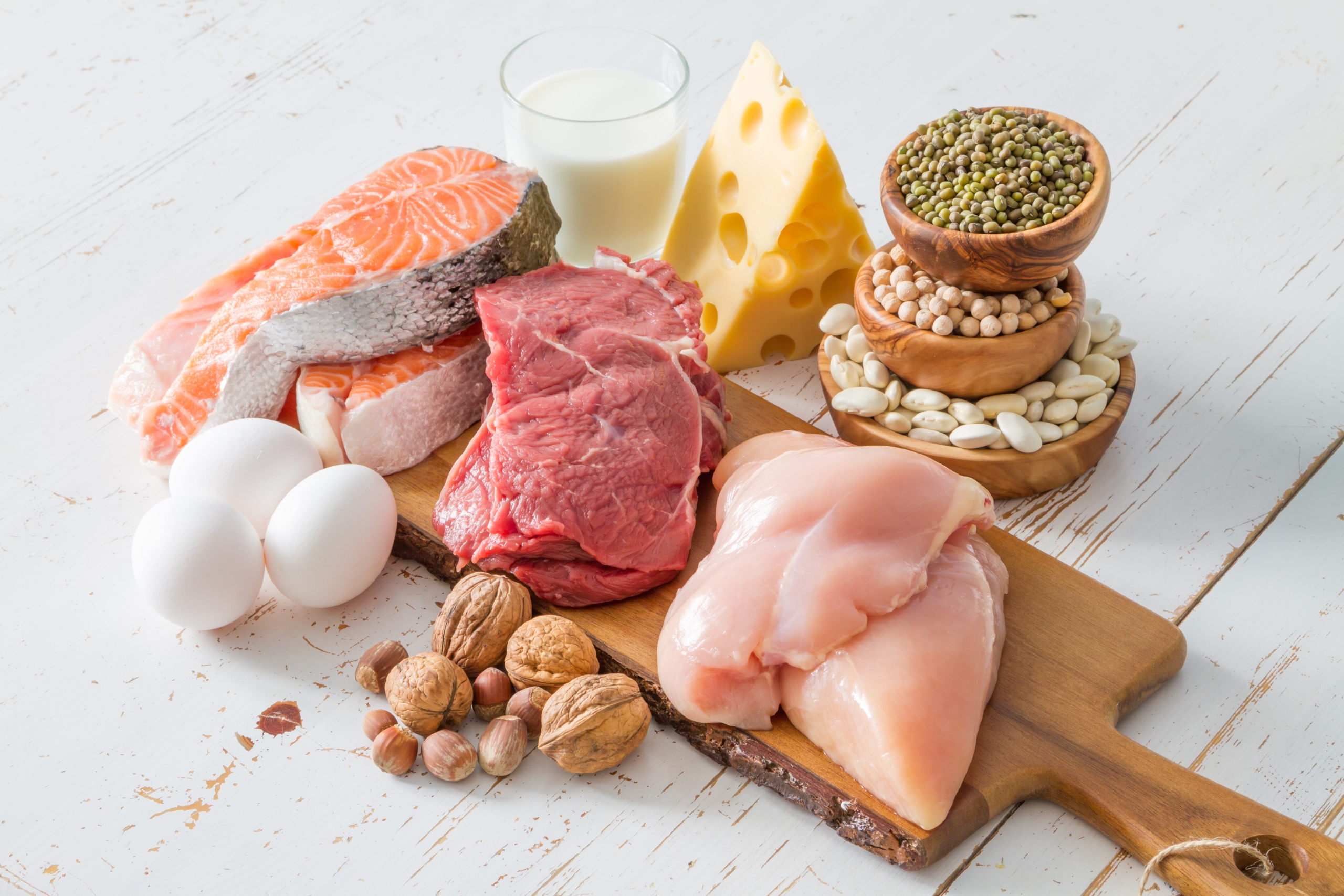 DO I NEED TO TAKE SUPPLEMENTS?
So, are dietary supplements necessary? Only if you want to get the recommended level of each for creatine, glutamine, Omega-3, and protein that you need for optimal training and muscle mass.
If this has convinced you that you should also take dietary supplements, feel free to shop around and take whatever brand you like.
I'm not saying you need to take our supplement brand. I take them every day and see the benefit from supplement use.
I'm not saying that the role of supplements is to completely replace food components in the diet. You've got to have the proper balance between food and supplementation.
Regardless of brand, be sure to give them time to work so you can gauge the associations between inclusion of supplement sources and your results.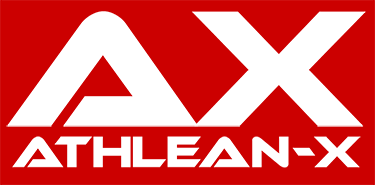 THE HIGHLIGHT REEL:
SUPPLEMENTS VS. FOOD
To supplement or not to supplement, that's the question we try to answer here.
We limit our debate to creatine, Omega-3, glutamine, and protein, all of which have beneficial associations in the athletic training world.
Our math shows that getting the correct amount of these nutrients from food alone is difficult if not impossible in some cases.
Getting an adequate level of creatine, Omega-3, glutamine, and protein would require overeating in most cases. Some foods, if over-consumed, can have harmful effects, as with high levels of mercury from fish consumption.
Consuming the amounts of protein required to get these nutrients would also be very expensive. Supplements are more economical and convenient as well.
SUPPLEMENTS VS. FOOD FAQS
No. Supplements are exactly as their name suggests: supplemental to a nutritious, balanced diet.
While supplements may contain individual nutrients absent or missing from the diet, they are not substitutes for healthy whole foods.
That depends. If your diet, health condition, or lifestyle dictate that you need additional nutrients not found in your normal diet, then yes.
Women, for instance, can benefit from iron supplements because they are often deficient in that mineral. Pregnant women are often encouraged to take mineral supplements like folic acid in particular.
It depends. How much does the supplement cost, and what is its net benefit?
Generally speaking, if you're unable despite your best practical efforts to get all the essential nutrients you need by your intake from foods, then yes, supplements are probably worth the investment.
Maybe. Are you missing any essential nutrients in your diet? Are you training hard enough to need the extra protein or creatine?
The typical American diet often lacks some of the basics like Vitamin C, and folic acid, the latter being especially important for pregnant women.
Consult the U.S. Food and Drug Administration (FDA) guidance for nutrients needed daily.
If you're not eating a balanced diet, or not getting all your nutrients from food, supplements make sense.
If you're training very hard and are already getting a balanced food intake, there are still some nutrients scarce enough even in healthy foods that warrant supplementation. Examples we covered here are protein, creatine, glucosamine, and Omega-3. Omega-3 has been shown to be helpful in prevention of heart disease.
If the question is "can you survive" off protein shakes and multivitamin supplements, the answer is a qualified "yes." If reasonably good health is your goal, then "no."
Supplements have their place, but they do not replace a healthy diet. There is a role for supplement use. Overall supplement contribution to the diet should be within reason.
The difference between food and a supplement is that supplements compensate for nutrient deficiencies. They're not the primary form of nutrition. They are intended to assure adequate intakes of nutrients.
Food is "any nutritious substance that can be consumed to maintain life and growth." The fundamental difference is that food is intended to be the primary source of beneficial nutrients for the body and a supplement compensates or "supplements" dietary deficiencies of essential nutrients.
Food sources can be plants or animal. Some supplements can be purely chemical.
Food is typically thought of as naturally occurring or prepared ingredients for dietary consumption, where supplements are processed products. A supplement can come in capsule form, powder form, liquids like fish oil, or food-like form such as protein bars. Supplements can contain individual nutrients or several.
Watch the YouTube version of this article
Popular & Trending