Estimated
Est.
Read Time: 7 minutes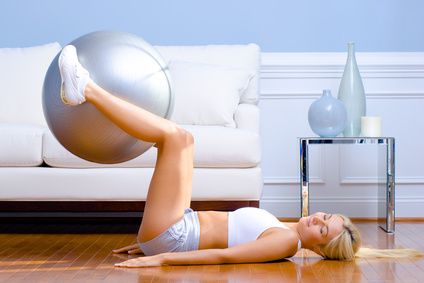 New here?  Like Athlean-XX for Women on Facebook to stay up to date with new posts, great fitness and nutrition articles, motivations and inspirations, fitness challenges, Q&As, giveaways and more!
Last week we discussed 8 great reasons why women should set up a gym at home.  From health concerns to improved workouts to saving time and money, there are a whole host of reasons to purchase home exercise equipment, whether or not you plan to leave the gym membership behind.  But what are the most important and versatile pieces of home exercise equipment that women should consider purchasing?
Do you need to buy an expensive cardio machine or weight equipment?  Absolutely not!  In fact, you can set up your entire home gym for $200 or less.  When you add it up, in the long run this is a lot less expensive than a gym membership!
Below are 5 crucial pieces of home gym equipment that are inexpensive, will allow you to get a complete workout and won't take up a ton of storage space.  We'll  not only tell you what the best options are, we'll tell you how to get the best bang for your buck!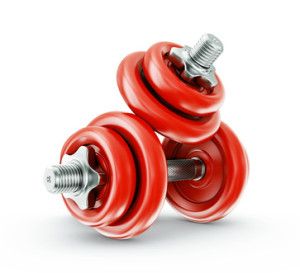 1) Adjustable Dumbbells
While there's nothing wrong with the neoprene or vinyl covered dumbbells, purchasing adjustable weights gives you the flexibility to scale up as you get stronger, or to add and subtract plates for working different muscle groups.  You can consider purchasing an adjustable set, such as the ProForm SpaceSaver 25 lb set (around $80 on Amazon.com).  However, each of these dumbbells max out at 12.5 lbs each.  There are other more expensive options like the Universal Power-Pak (around $250 on Amazon.com) that go up to 45 lbs, but you can only increase in 5 lb increments which is a pretty big jump for smaller muscles like biceps, triceps or shoulders.
Our recommendation?  Consider purchasing a pair of threaded dumbbell handles with a hex nut on each side and plates.  This way you can simply purchase more plates to scale up as needed. For a woman beginning a new fitness program, four 5 lb plates and four 2.5 lb plates will give you plenty of flexibility.  The total investment for this (purchased on Amazon.com) should be under $50, however additional shipping charges may apply, so it's worthwhile to compare prices with your local sporting goods store.  One other note of caution is to make sure you buy plates with the correct size hole for your dumbbell handles.  They come in 1″ and 2″ sizes.
2) The Step
Yep, we're talking about the same step you used for your aerobics classes back in the day. While you may not do a lot of Jane Fonda videotapes these days, the step has a variety of other uses that make it a worthwhile piece of equipment.
First of all, it doubles as a weight bench to allow you to some key chest exercises without the extra expense of purchasing a bench.  It's also great for doing a variety of strength and conditioning moves like box jumps, lunges, stretches, side leg lifts, tricep dips, and more.  You can use the bench for specific stretches too, such as a calve stretch.
You can get a 'generic' step for as little as about $20 on Amazon which will work fine for most exercises.  As a weight bench, we prefer the original gym or home versions of The Step which come with two risers for each side.  The Step is a bit longer than generic steps, so it will better support your back.  The Step will run you between $50 – $100 depending on which version you purchase, so it's a bit more expensive.  HOWEVER, The Step can be frequently found used at Goodwill stores, on Craigslist or at yard sales for dirt cheap, so look around a bit before you buy!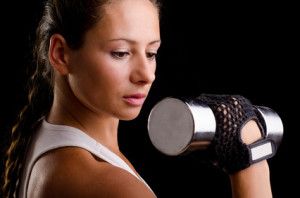 3) Weight Gloves
Here's a time when you can skimp and buy the most inexpensive option.  At about $10 for a decent pair of gloves, if they start to fall apart, just buy another pair.  Weight gloves will protect your hands while you're using dumbbells and also help keep weights from slipping out of your hands when your hands begin to sweat.  Gloves are also particularly helpful for body weight exercises performed on your exercise mat or on a non-carpeted floor surface because they'll keep your hands from slipping and sliding.
When choosing gloves, go with what's comfortable.  Gloves should neither be too tight nor too loose.  Choose gloves with a bit of padding in the palm and with a surface that will help keep you from slipping (suede is great).
4) Exercise Ball
The exercise ball has several uses in your home gym.  It can serve as a weight bench for certain exercises, offering some instability to increase level of challenge.  It's a great tool for abdominal exercises as the spherical shape helps you tap into your ab muscles while protecting your back.  The ball is also ideal for some stretching exercises for the back, chest, abs, arms and legs.  Finally, you can use the ball as a chair to improve posture and abdominal strength.
The most important consideration in purchasing an exercise ball is size.  A good general guideline is to choose a 55″ ball if you're shorter than 5'4″ and a 65″ ball if you're up to 5'11" tall.  For those few women who are 6′ feet or taller, choose a 75″ ball.  If your goal is to use the ball as a desk chair sometimes, 55″ is likely too small.  Most exercise balls will cost between $20 – $30 (at a sporting goods store or on Amazon.com) and there's probably not a ton of difference from one ball to the next.  A good rule of thumb is that if the ball looks to be poor quality, it probably is.  Choose one that looks sturdy, as though it won't puncture easily.  You may also wish to purchase one that comes with its own air pump for inflation.  Inflating your ball can be a great workout in and of itself while you enjoy your favorite TV show!  If you're not into it, you can take it to the closest gas station to fill it with air.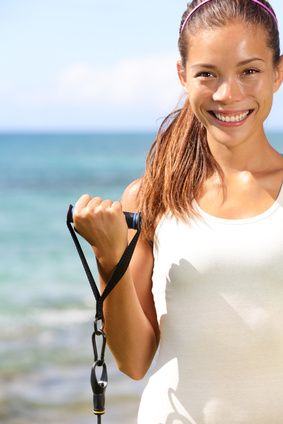 5) Resistance Bands
Resistance bands are the most portable piece of equipment in your home gym.  Not only can they be used to help strengthen almost any part of your body, they can be tossed in a suitcase to travel with you!  Don't underestimate the effectiveness of bands for building strength, while at the same time protecting your joints.
Exercise bands come in several 'resistances' or weight loads.  While you can buy different resistances at your local sporting goods store, it's less expensive and more convenient to buy a set of several bands with detachable handles.  Some sets also come with an attachments for the door and for your ankle.  You can find a resistance band set for around $30 on Amazon.com.
These 5 pieces of equipment are all you need to get a super effective workout at home.  And in fact, they're the exact pieces of equipment we use for our Athlean-XX for Women DVD workouts.  You'll be amazed at what you can do for your body in just 30 minutes per day at home.  30 minutes might sound short, but our workouts are challenging strength circuits.  You'll get your strength training and your heart-pumping cardio in one fell swoop!  Join us on Team Athlean and check out our Athlean-XX for Women SuXXess Stories to see what others have been able to do with minimal equipment and 30 minutes per day.  Will you be neXXT?
And finally, if you'd like to stay up to date with the AthleanXXforWomen.com blog, then please like us on Facebook, follow us on Twitter and follow us on Pinterest.
P.S.  We are a growing community dedicated to and passionate about realistic fitness and nutrition for REAL women.  If you enjoyed this post please feel free to share on Facebook, Twitter and Pinterest. It would be incredibly appreciated!