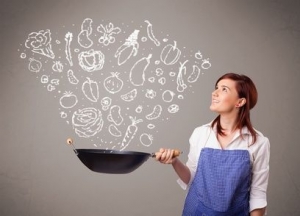 New here?  Like Athlean-XX for Women on Facebook to stay up to date with new posts, great fitness and nutrition articles, motivations and inspirations, fitness challenges, Q&As, giveaways and more!
Let's face it.  Most of us women lead extremely busy lives.  That leads many of us to eat out frequently or eat packaged foods at home or work for convenience.  While there are healthy restaurant and packaged food options out there, we all know that cooking fresh foods at home is:
Safest: You control what ingredients go into your food.
Healthiest: You can swap out ingredients to make your recipes as healthy as possible.
Cheapest: No restaurant or packaged food will ever be less expensive than preparing at home, especially if you've got a family.
However, none of those great reasons for cooking at home change the simple fact that cooking meals takes time. Even if you try to pre-plan recipes and do all your grocery shopping on the weekends, making dinner can still take up 30 – 60 minutes each night.
What if we could cut that dinner prep time down to 5 minutes?  Wouldn't that make life easier?