Estimated Read Time: 1 minute
Ok, since we're friends; I feel like I can share something really embarrassing with you. Well, you see, it all started in the 1990s…
For anyone that has been looking for more Jesse, you're getting him! Oh yes, you're getting him. Zubaz, Gold's gym tank, fanny pack and all!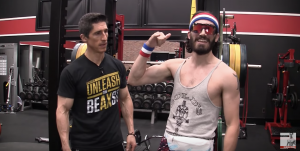 STAY STRONG…
JEFF
P.S.   The fun part about this video is you didn't even have to grow up in the 90's to remember these things. Some are so bad, they've stood the test of time!  See how many of them you can remember…
8 Things I Don't Miss About 90's Bodybuilding!
P.P.S.  If you're like me and glad that science has helped to guide us to much more effective training methods without the harm to our bodies, then I'd love to coach you through your next 90 days and get you in the best shape of your life…
Train like an athlete for the next 90 days here…
(Your Best Results Ever Await!)
Watch the YouTube version of this article