Estimated
Est.
Read Time: 2 minutes
I've got a question for you…Do you believe in magic?  See the ONLY thing magic has to do with you getting abs! Now…I'm NOT talking about that corny "1 simple trick to a flat stomach" crap you see everywhere.
I mean the kind that you pay to see in Vegas or at a friend's birthday party! Real Magicians.
Well…If you've ever fallen for one of their tricks…It may have a lot to do with why your abs aren't as sharp as you'd like them to be (especially heading into Summer!)  Trust me…the two are related!!  See the Ab Workout "Magic" Trick I use!!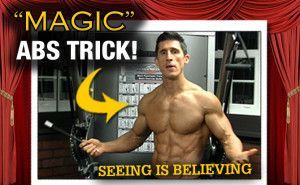 Plus one popular "trick" you should never fall for and different from most magic tricks where the magician doesn't tell you "how he does it"… I'm going to show you exactly what to do. Step by Step.
Do this…And you'll immediately feel your abs working (maybe harder than they've been in a long time.)
Meantime, I hope you're "entertained" by the video and most of all, take the important points from it!
Have a great week!
STAY STRONG…
JEFF
P.S. As you'll see in this video, spending a lot of time focusing on the wrong things in your workouts can REALLY delay the type of results you should be seeing. This totally happened to me. I always say "If I only knew then what I know now"…I'd have made some serious gains a lot faster! Well, you can let me coach you and skip the wasted time.
Follow my exact step-by-step nutrition and workout plan here. Train like an athlete and unleash the athletic physique inside of you!
P.P.S. Summer is officially just 34 days away (here in the States) Now is NOT the time to slack! Let me push you to the greatness you're capable of. Starting today.
Watch the YouTube version of this article
Popular & Trending