Estimated
Est.
Read Time: 1 minute
Pullups?!? Huh? Not what you expected is it. If not, then you definitely have to check out this new video. You see…The best core exercises are likely the ones you're not doing! People spend so much time focusing on direct core/ab work that they totally overlook the indirect. And that is a HUGE MISTAKE.
See 5 of my favorite "indirect" ab exercises. Are you overlooking this very important piece of the puzzle? If your abs aren't quite what you wished they would be…This could be exactly the reason why.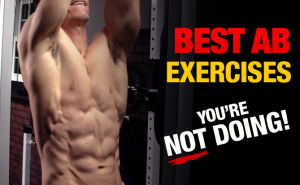 Give this a watch and enjoy the rest of your week my friend!
STAY STRONG…
JEFF
P.S. As a physical therapist, I place a very high importance on ab training. They do way more than just help you look ripped! That said, I incorporate over 115 ab movements into the ATHLEAN-X Training System (yes that's a ton of them).
Unleash an all-out ab attack (while building athletic muscle from head to toe) Start training like an athlete with the ATHLEAN-X System here
Watch the YouTube version of this article
Popular & Trending