Estimated
Est.
Read Time: 2 minutes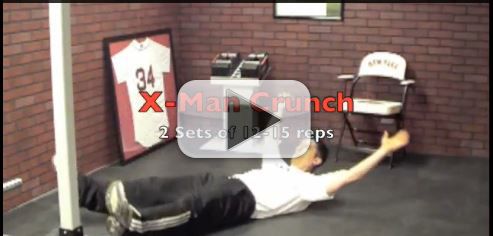 Get 6 Pack Abs at home here: www.athleanx.com Week 1 of the "Home Abs Workout" series. When people search for an "6 pack abs workout" they usually look for one that they can do at home. "Abs workouts" are by far the most requested workouts since the elusive "6 pack abs" is one of the most recognizable symbols of fitness. See any guy on the cover of Men's Fitness magazine and the first thing you'll notice is a etched out set of six pack abs. The quickest way for you to get into the same shape is with an equal balance of good nutrition and a unique set of abs exercises.
[youtubeVideo]
Yes, I said unique. The problem with too many "abs workouts" is that they are telling you to simply do the same exercises you've been doing over the last months and years in the gym with little to no results. As the old saying goes, if you keep doing what you've been doing then you'll keep getting what you've been getting. In this, the first week of 12 of the Home Abs Workout Blitz series, trainer to the stars Jeff Cavaliere will walk you through a step by step course he put together to get you your six pack abs! Once you've seen the results we're sure you'll get with the Blitz…we invite you to head over to http to get your complete system and get your entire body in great shape. With AthLEAN-X style training, you can now get your six pack abs in just 90 days using this training system developed by a physical therapist who trains pro athletes from all major sports.
Watch the YouTube version of this article
Popular & Trending