Estimated
Est.
Read Time: 2 minutes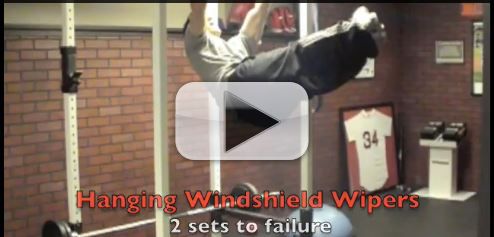 Get 6 Pack Abs at home here: www.athleanx.com. At the halfway point of this killer "home abs workout" blitz series and it's time to raise the bar….literally! In this week number 6 of your 12 week transformation to "6 pack abs" I'm going to teach you how to target the lower abs using a series of hanging bar exercises. A ripped midsection is within your grasp now….no time for quitting. Keep up the hard work and continue to do these ab exercises up to 6 times this week and be the best on the beach this Summer with your new 6 pack!
[youtubeVideo]
You might say to yourself that you don't have access to a giant squat rack with a pullup bar in it and therefore won't be able to do these ab exercises in your home. That's not true at all. You can get this home abs workout done by simply hanging one of those doorway pullup bars between any doorway in your house and instantly be able to target those lower abs with lower ab exercises like hanging knee raise variations, hanging leg ab exercise, etc. You'll also probably notice this week that once again, Jeff Cavaliere and AthLEAN-X are bringing you unique abs workouts and not the same old boring ab exercises that haven't been getting the job done for you. By switching up the way that you train your core, you will see faster results and a more noticeable six pack stomach by finally training the abs the way their meant to be trained. Already seeing huge results at the halfway point and want to take all of your workouts to the next level?
Watch the YouTube version of this article
Popular & Trending