Estimated
Est.
Read Time: 1 minute
Yep…you read it right! An ab exercise that builds your upper body at the same time. The thing is, I wish this wasn't such a strange concept.
You see….I think the major flaw with most training programs these days is that they try to make muscles that are meant to work together…work alone.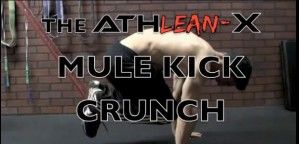 BIG MISTAKE That is…if building lean muscle as quickly as possible is your goal! For example…This "Mule Kick" Crunch Exercise in this video is the epitome of what AthLEAN-X Style Training is all about.
Efficient, intense, and most of all….EFFECTIVE that ANYONE can do ANYWHERE! "No Equipment" version of the exercise is included in this video as well!
The key to maximizing athletic muscle growth (the goal of AthLEAN-X Training) is to train the muscles…well… athletically! That means getting the core involved on almost every exercise, keeping intensity high and most of all…integrating muscles that naturally work together to actually work together (instead of in isolation) to produce a bigger effect than either could do on their own.
1+1 = 10 with AthLEAN-X Training and 90 days + your commitment can equal an entirely new YOU!
Stay Strong,
Jeff
PS. Break out of any workout rut you might be in (permanently!) by putting your body through "AthLEAN-X Style Training".
START GETTING RESULTS TODAY!
Watch the YouTube version of this article
Popular & Trending