Estimated Read Time: 1 minute
Does this ever happen to you? Your back feels stiff and you know that it would feel so much better if you could just crack or pop it?? If so, you're in luck today!
I'm going to show you how to this first with Jesse as the model. Don't worry (it's not painful, he's just a wimp, haha!)  And then… how to do this to yourself!
You're going to hear quite the pop on Jesse. That's what happens when you play gold instead of working! Hear the noise and see how to fix your own back when it's feeling extra stiff. This will come in super handy, I promise!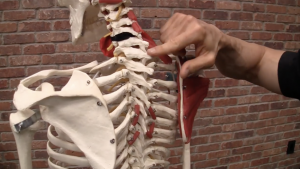 STAY STRONG…
JEFF
P.S.  Being stiff in your upper back is actually one of the worst things you can be when training. It impacts every lift you do.  Especially your OHP, Squat, Rows and Deadlifts.  See how to fix that in seconds here…
Relieve a Stiff Back in Seconds – Back Crack Technique!
P.P.S.  As a physical therapist, I can appreciate what happens when the body is aligned properly to do what it is you're asking it to do.  Much better results await.  If you're looking for a total workout plan that helps you do this every workout, click the link below to get the program suited to your goals.  I'll do the rest.
Click here to pick the program that suits your specific goals
Watch the YouTube version of this article