Estimated
Est.
Read Time: 8 minutes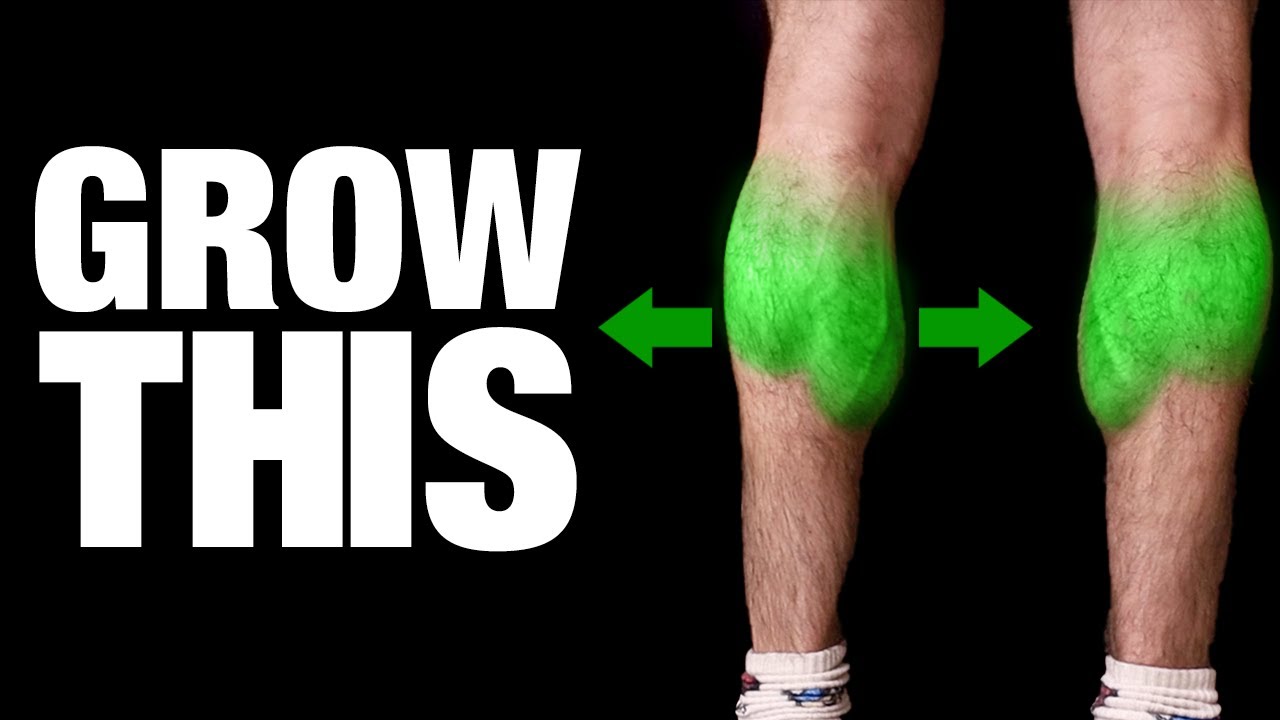 DO THIS FOR BIGGER CALVES
There are the "Haves" and the "Have Nots", and the "Calves" and "Calf Nots".
If you're not one of the lucky people naturally predisposed to muscular calves, you're a Calf Not.
Calf muscle size is largely determined by our genetics.
The "Calf Nots" have a lower percentage of slow twitch fibers that limit the aesthetic of full beefy calves. Or, they have high insertion points for the calf muscles.
Not everyone can have calves like Arnold Schwarzenegger. But no problem, I have a solution for you.
To build bigger calves, you need intensity. One of the best ways to increase the intensity is through volume, using a simple standing calf raise done every single day.
I've demonstrated effective calf exercises in the past, like the Calf Launcher that requires a high-quality bench. There are also a number of calf raise variations you could do, like the seated calf raise, but they often require special equipment.
But, some people don't have the set up to do these, or they feel it too much in the hamstring because there is hamstring involvement.
As a physical therapist who wasn't blessed with the genes for big calves, I can tell you that to build bigger calves, you need intensity. One of the best ways to increase the intensity is through volume, using a simple standing calf raise done every single day.
They won't take you long, but you have to perform them correctly.
You don't need any special equipment like a calf raise machine or dedicated donkey calf raise machine. An aerobic step, stair step, or any elevated surface you can stand on will do, as long as it allows your ankle joint to flex.
Read on to learn how to do the Standing Calf Raise correctly with no equipment required!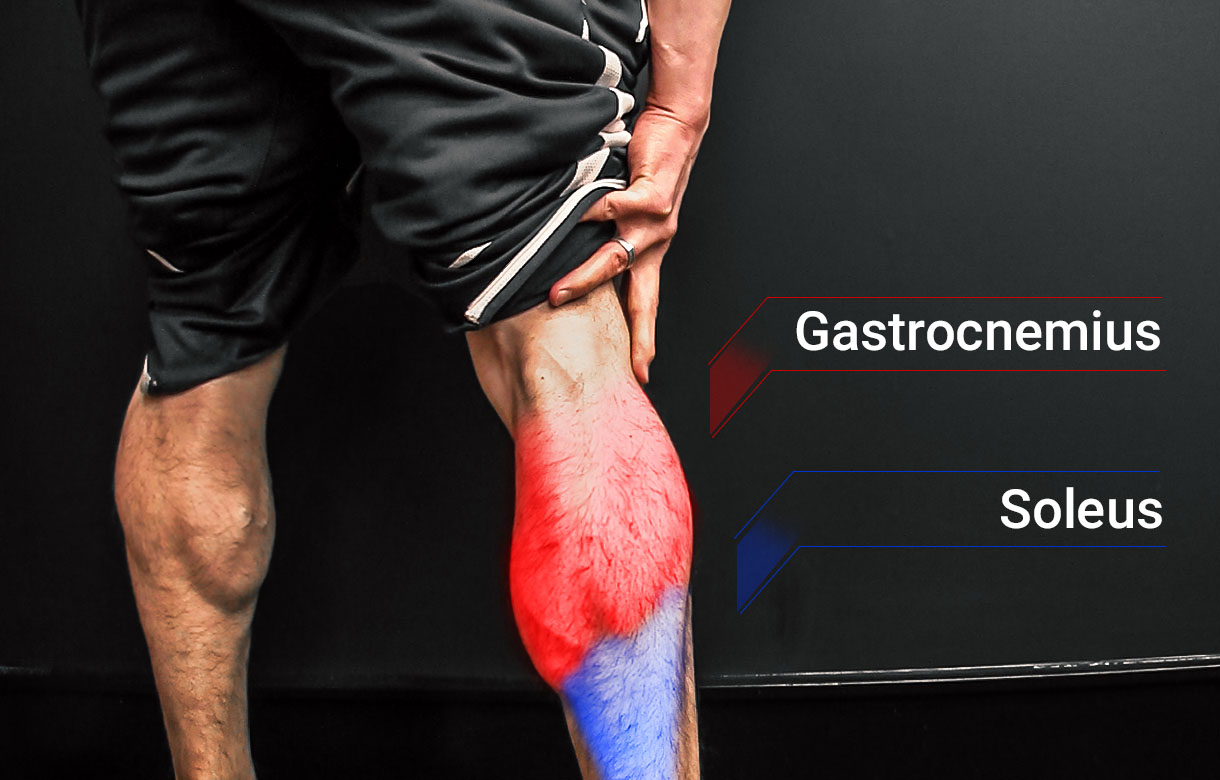 THREE-STEP PROCESS TO GET BIGGER CALVES
If you fall into the 'calf-not' category, there's a three-step process you can follow to overcome your genetics. 
Follow these guidelines to start growing your calves.
1) EVALUATE YOUR CALF RAISES
When it comes to direct calf training, calf raises are usually the most effective exercise that the majority of lifters choose. But, it's important you need to critically evaluate how you're performing these lower body exercises.
Doing the standard high repetition, low weight, bouncy approach does nothing more than transfer the load to your Achilles tendon and away from your calves. You're essentially robbing your calves of any benefit. Rapid-fire calf raises are one of the most common mistakes people make in calf training.

But it also robs the calf muscle itself of a lot of the tension that can be used to grow calf muscles.
So, rapid-fire, bouncing calf raises are inefficient calf builders because the Achilles does its job and takes the load off the target muscle that you actually want to receive that load. Fast calf raises typically lack full range of motion also.
What's the trick to loading the calves instead of the Achilles?
2) DO SINGLE-LEG CALF RAISES
One of the most effective calf isolation exercises is the Single-Leg Calf Raise.  Doing single-leg calf raises delivers more tension into each calf than a barbell or dumbbell calf raise using both legs at a time. It also has the added benefit of challenging ankle stability and balance. Two-leg calf raises hide imbalances in strength, hinder complete calf development and the bouncing increases risk of injury.
Single-leg calf raises are a variation of a standing calf raise.

No bouncing motion… make the calf do more of the work. Move slowly between dorsiflexion, up to the top into plantarflexion.
You'll feel it after only a couple of reps, and it really doesn't matter how many reps you get.
Do three sets for each leg. Once you can do 10 reps per side, increase the weight. Progressive overload always applies.
Three sets is all you need. You can use body weight until you need more.
You can do these at home on a stair step, without special equipment. Wherever you choose to do single-leg calf raises, assure ankle stability and hold onto a stable object like a chair for balance.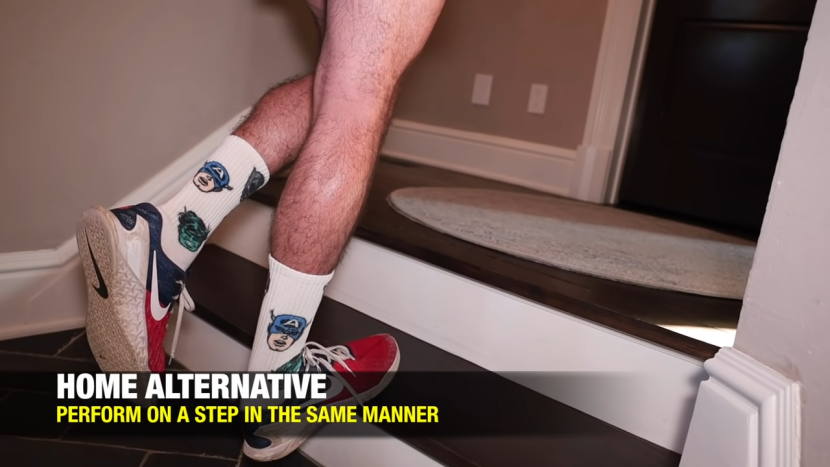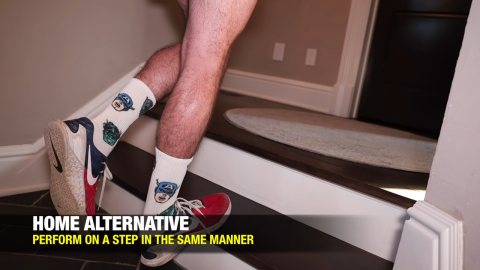 Don't count reps for this exercise. Make the reps count, or count the reps. Do high-quality reps by going all the way to the bottom and slowing down the cadence, removing the distribution of force that usually gets robbed by the Achilles tendon.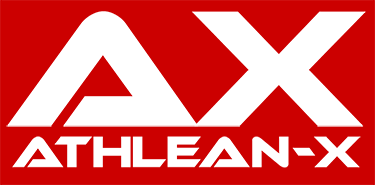 THE HIGHLIGHT REEL:
HOW TO DO STANDING CALF RAISES
Calf size and shape are set genetically. Some lifters have muscular calves and some are "Calf Nots".
A common mistake when training calves is to speed through the movement, bouncing up and down.
Bouncing up and down transfers the work to the Achilles tendon and unloads the calves. Using a slow controlled speed works best for calf muscle strengthening.
Do single-leg calf raises as a bodyweight exercise or use a dumbbell if you need to add weight.
Starting position is on a step with a deep stretch, raise up to plantarflexion and hold for four seconds, then squeeze at the top.
Descend to the bottom and hold again for four seconds. Concentrate on getting a full range of motion.
Do three sets for each leg, and don't worry about the number of reps. Make the reps count instead of counting the reps. Do these daily.
When you can do 10 reps, increase the weight.
STANDING CALF RAISES FAQS
Calf raise exercises are simple to perform.
Begin in the starting position by standing on a step or other elevated surface. Standing on the ball of the foot, let the ankle and heel sag downward until you feel the back of your lower leg stretch. Then slowly and using controlled motion throughout the range, press all the way up.
Add a pause at the bottom and top of the range of motion to increase the time under tension will increase the muscle-building effect.
How many calf raises you do isn't nearly as important as how you do them. Do them slowly on each leg until fatigued. Do three sets of these daily. Once 10 repetitions can be performed, add weight to increase the intensity.
Calf raises have been a standard weight training exercise for many lifters. They're usually performed on a step or other elevated surface by standing on the balls of the feet and pressing upward. Seated calf raises are less effective because you don't have the benefit of bodyweight, gravity and the entire leg working in concert.
No. Calf raises will not make you taller.
Calf raises cause the calf muscles to flex under tension, which encourages the muscles to grow in response. Done properly, they can add shape and size to the lower leg between the ankle and the knee.
Yes. Calf raises work to build the calf muscles, even in the presence of genetically smaller calf muscles. They must be performed correctly, slowly and without bouncing.
Watch the YouTube version of this article
Popular & Trending