Estimated
Est.
Read Time: 3 minutes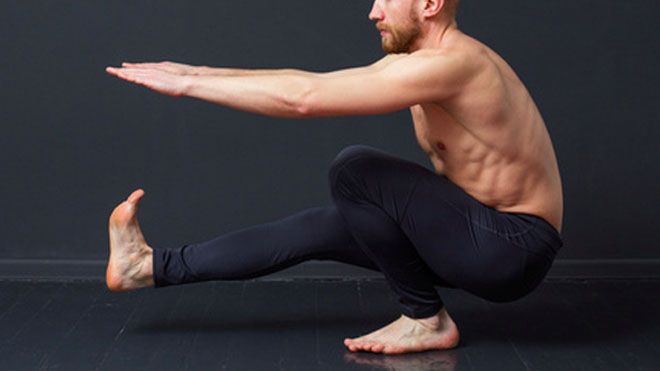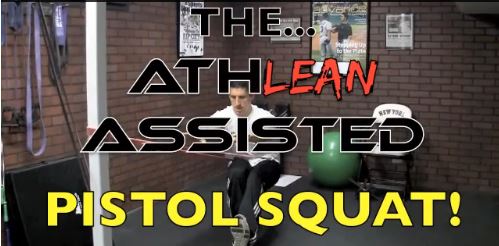 One of the hardest exercises you can do for your lower body is the pistol squat.  This one legged exercise requires a combination of balance, enormous glute strength and the ability to reverse momentum at the drop of a hat and go from a controlled descent into an explosive ascent!
The reality is…due to the high demands of this exercise (and everything I just mentioned that's needed to pull it off) most people just skip this and move onto other leg options in their quest for bigger legs.  That is a BIG mistake!
Why Single Leg Training Is SO Important
As I've spoken about many times before, there is no better way to train your legs than with single leg training….for two reasons really.  The first is that by doing so, you immediately are able to decrease the load that's necessary to challenge the legs.  No more 300 pound back squats necessary to spark leg growth.
In fact, take the strongest buddy you know and ask him to do a single leg squat holding just 45 lb dumbbells at his side and I guarantee you he struggles.  The point is, the legs only know what the stress FEELS like and not really what the stress IS!
As long as it FEELS like a challenging task…it is.  Since single leg training can up the ante much quicker than double leg…we don't have to subject our spines to the excessive weights that are needed to be borne across the shoulders from a heavy back squat.
The second advantage of single leg training is the ability to recruit more glute involvement into the exercise and to isolate weaknesses right side vs left.  Believe me…if you're right side is a whole heckuva lot weaker than your left, you'll know it with single leg training and you might be able to hide it with two legged exercises.
Pistol Squat – The King of Single Leg Movements
So that said, we know how good single leg training is….and I'm telling you that the Pistol Squat is the King of the Single Leg movements…so how do you do it (especially if you can't do it!!!).  Good question.
Check out my latest youtube video where I show you exactly how you can start pulling off this incredible leg builder TODAY, even if you can't do one right now.
Yep, just another example of "finding a way" here at AthLEAN-X to pull off anything if you can just put a little creativity into your training.  Take a look:
Once again, AthLEAN Elast-X bands come to the rescue and make the impossible…possible!  If you still haven't gotten yours then you better act quickly because the first shipment of these do-everything training aids is almost entirely sold out.  You can get them at /elast-x-resistance-bands
The point is guys…no matter what you're currently doing for your leg training…it's time you start to highly consider adding single leg movements to your routine.  They are not only incredibly effective but in the long run…will protect the health of your knees and back much more than the alternatives.
As you can probably imagine, it's hard to squat at all when you're back or knees won't let you.  Keep them happy and you'll keep your leg growth consistent as well.
Stay Strong,
Jeff
PS.  Have your knees and/or back been telling you for years now that whatever you've been doing in your leg workouts is necessarily "working"?  Looking for some new and creative ways to get bigger and stronger legs that don't destroy your joints in the process?  Then it's time you checked out the AthLEAN-X Training System.  Developed to get you that athletically built, strong, and powerful physique of the pros…from the guy that actually trains the most elite pro athletes in the world.  Be ripped, be athletic looking…be "AthLEAN" in the next 90 days!
Popular & Trending