Estimated
Est.
Read Time: 3 minutes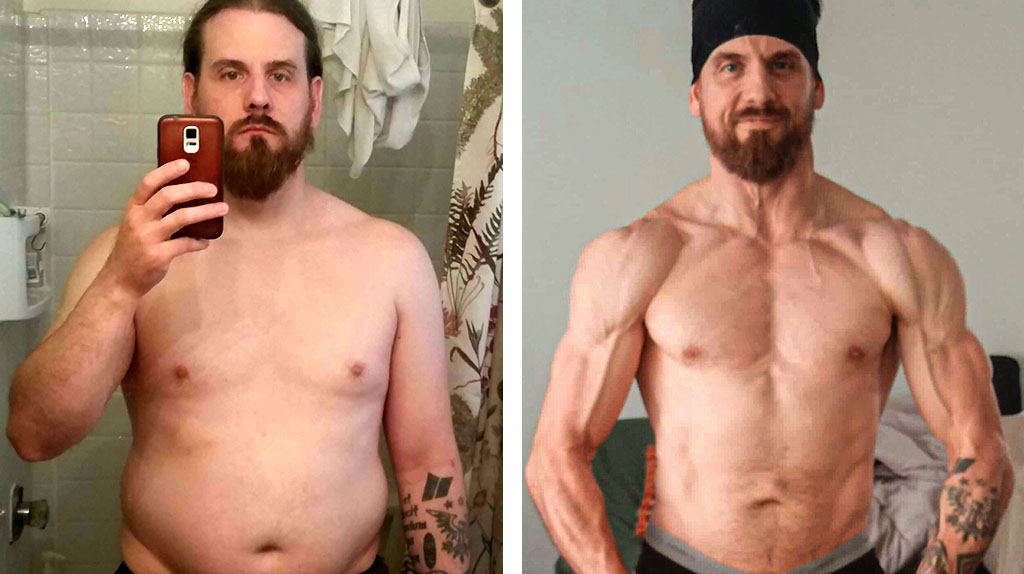 THIS WAS ME AT AGE 40…
I'm a 9-5 age 40+ father of 3. Unhealthy. Overweight. Out of shape. Dad bod. This was me at age 40.
ATHLEAN-X changed all of that for me.
I am absolutely blown away by the transformation that I have made with the AX-1 Training Camp program.
I took the 3-month program and turned it into 9 months (I did each of the 3 phases 3 times). With nearly 10 inches off my waistline and 50 lbs. lost plus muscle gained, at age 41 I look and feel better than I did at any point in my 20s or 30s.
I never imagined it would be possible for my body to show any kind of vascularity or definition, but ATHLEAN-X gave me exactly that!
I am without a doubt TEAM ATHLEAN for life and can't wait to try my next program! THANK YOU COACH CAVALIERE!
want to see the program that helped with Mike Usher's transformation?
Q&A
1.) What was your age, height, weight and body transformation before and after starting the ATHLEAN-X Training System?
Before: Age 40 / 6'2″ / 229.0 / I didn't know how to check bf%
After: Age 41 / 6'2″ / 177.2 / just under 10% (calipers)
**I did AX-1 for a total of 9 months**
2.) What made you want to start using the ATHLEAN-X Training System?
Jeff's YouTube videos provided so much knowledge and were so helpful, I figured the training programs HAD to be good. I wasn't wrong!
3.) What did you like about the meal plan?
Pumpkin oatmeal! Need I say more? The meal plan gave me a lot of new ideas for food choices.
4.) Did you like the workouts?
I loved them! Before Athlean-X I would spend an hour and a half to two hours in the gym and left feeling like I had been run over by a truck. As a working man and a father of three, that was no longer an option. AX-1 showed me that it was possible to get a full workout done in under an hour and leave the gym feeling great.
5.) Which AX-1 workout was most difficult for you?
The Final X-AM was absolutely BRUTAL; a true test of an individual's fitness ability. Completing the challenge in the required time and passing the AX-1 program was one of the greatest feelings of accomplishment I've ever had.
6.) What did you find most challenging in the process of your transformation?
Taking a break! I felt so good doing AX-1 that I had a tough time relaxing on my rest days. I couldn't wait for my next workout! But I learned from Jeff just how important rest and recovery are.
7.) What was the biggest takeaway from your ATHLEAN-X experience?
I never imagined that I could get into the best shape of my life over 40 years old. ATHLEAN-X showed me that I could do exactly that.
8.) Would you go through this program again?
I plan to go through it again and "compete against myself" by aiming for new personal records on all of the challenges.
9.) Which ATHLEAN-X program are you using now, or planning to use next?
AX-2 is definitely on my radar and I would love to go through NXT at some point as well.
10.) Would you recommend this program to others? If so, what would you tell them?
I have recommended it to many and will continue to do so. I describe AX-1 as a truly life-changing program; one that can transform you from average to athlete. If you are ready to put in the work, then I can guarantee ATHLEAN-X will give you the very best results you've ever had!
Watch the YouTube version of this article
Popular & Trending